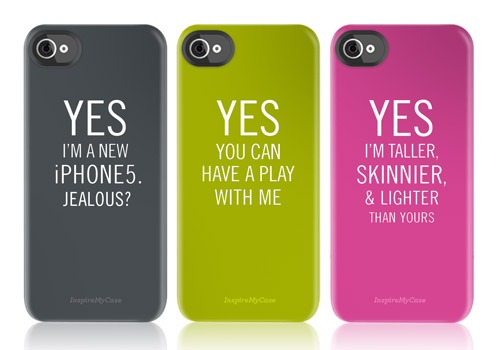 With the arrival of the new iPhone 5, lucky tech-lovers across the globe are no doubt cherishing the world's the hottest and most-wanted, new accessory; and whilst Apple retailers everywhere were surrounded by block-long line-ups, those who did queue for the iPhone 5 will no doubt be feeling rather smug.
InspireMyCase (www.inspiremycase.com) has launched a range of tongue-in-cheek case designs, for those who want to care for their phone, and are daring enough to flaunt them. Phone-lovers – sick of people asking if theirs is a 5, can let their case say it for them:
Slogans include: "YES I'M A NEW IPHONE5. JEALOUS?"; "YES YOU CAN HAVE A PLAY WITH ME?"; "YES I'M TALLER, SKINNIER & LIGHTER THAN YOURS"
Joint-Founder of InspireMyCase Andrew Simpson, offers tips on protecting your iPhone5 should you be lucky enough to have one, whilst still maintaining the sleek sexy style for which apple is renowned…
InspireMyCase's Top 5 Tips for protecting your new iPhone5
1)      Keep it intact
There's nothing worse than a new phone with a smashed screen. And with the iPhone 5's new longer design, cases from old models simply won't fit. While it will be tempting to keep that sleek iPhone look, 75% of people will still buy a protective case, according to ABI Research. Slim fit hard cases are available for the more looks-conscious, or for the clumsier there's always the super tough, but slightly less sexy, heavy duty range of cases. Look at getting a good screen protector also, to stop annoying little scratches on the front glass.
2)      Keep it thin
At an impressive 7.6mm, compared to the iPhone4s at 9.3mm, the iPhone5 is the thinnest smart phone on the market. That might not sound like much, but it makes a real difference when you pick it up, and something you don't want to ruin with a weighty case. For the trendsetters out there, there are many slim fit case designs on the market that can protect your phone while still keeping it sexily thin.
3)      Keep it light
The first thing you notice when you pick up the iPhone5 it is that it's much lighter than the 4S. Apple has made the iPhone 5 lighter than its predecessor — weighing just 112g, compared with the iPhone 4S' 140g weight. When choosing a case try and make sure it's still super lightweight and it doesn't undo all the great work Apple has done in getting the phone so featherweight. There are many lightweight plastic cases on the market that offer protection, while weighing almost nothing.
4)      Keep it secure
The most basic precaution you can take is to enable passcode lock, and set it to automatically engage after a brief period of inactivity. In the event of a physical theft, this will increase the effort required to compromise your iPhone 5. Also make sure you regularly update the iPhone's firmware, Apple provides frequent firmware updates for bug and updated security fixes and features.
5)      Keep it yours
An individual case will make both make you feel special and create a great talking point in the office or the pub. Be inspired by your phone and make it an extension of your original style, by putting your own image on the case, or buying a readymade case that fits your personality at www.inspiremycase.com. Now that you've gone to all that effort to protect your case, make sure to download one of a number of apps available that can track your phone just in case it's stolen.