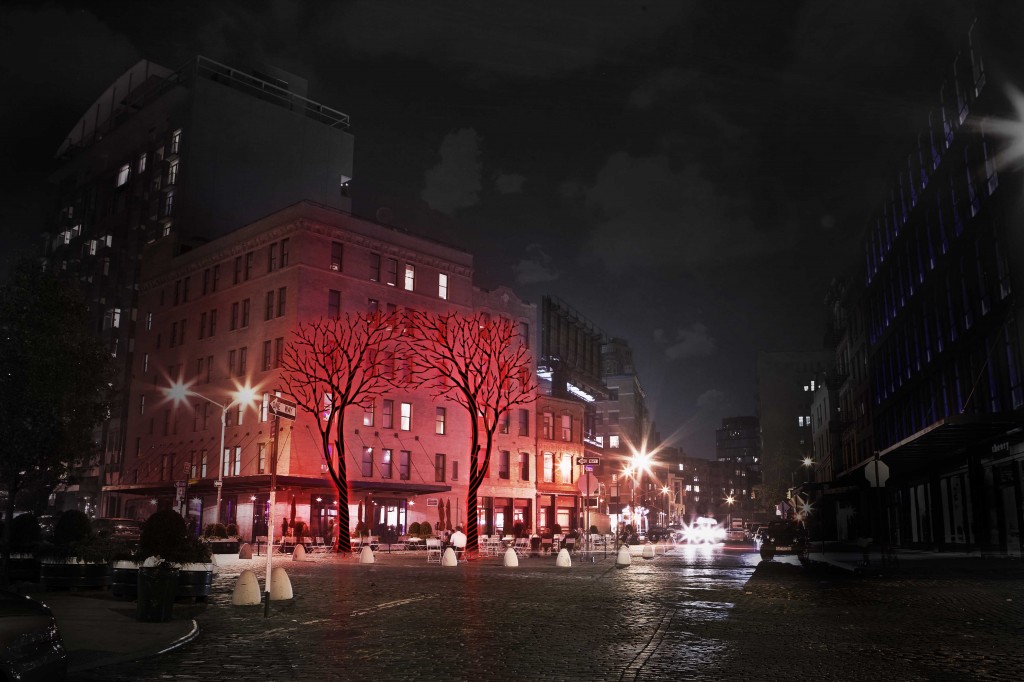 Manhattan's famed Meatpacking District is about to be taken over by Belevedere Vodka with an extraordinary art installation in support of (RED)TM and World AIDS Day. This holiday season, the world's first super premium vodka will be transforming the district into an interactive art experience and outdoor nightclub featuring a live, spectacular light show that will illuminate the area in red, 20ft white neon trees and a one-night-only DJ performance from electrofunk DJ duo Chromeo.
(BELVEDERE)RED Night Lights, was set up by Belvedere Vodka to help raise awareness around the beginning of the end of AIDS – meaning the virtual elimination of the HIV virus from mothers to their babies and the first AIDS-free generation born by 2015. The Gansevoort Plaza will be immersed in music and light from every direction whilst watching Chromeo play in a free, outdoor nightclub in the heart of the city as a tribute to (RED)TM.
The event will also see the unveiling of a 250 liter (BELVEDERE)RED bottle whose red metallic design will tower over the revelers but not cloud the light show. Belvedere's iconic white trees will remain lit in Gansevoort Square until 1st December 2012 (World AIDS Day).
Oh how I wish we were there for this one!!! If you're lucky enough to be in NYC, put this date in your diary – Thursday 29th November.