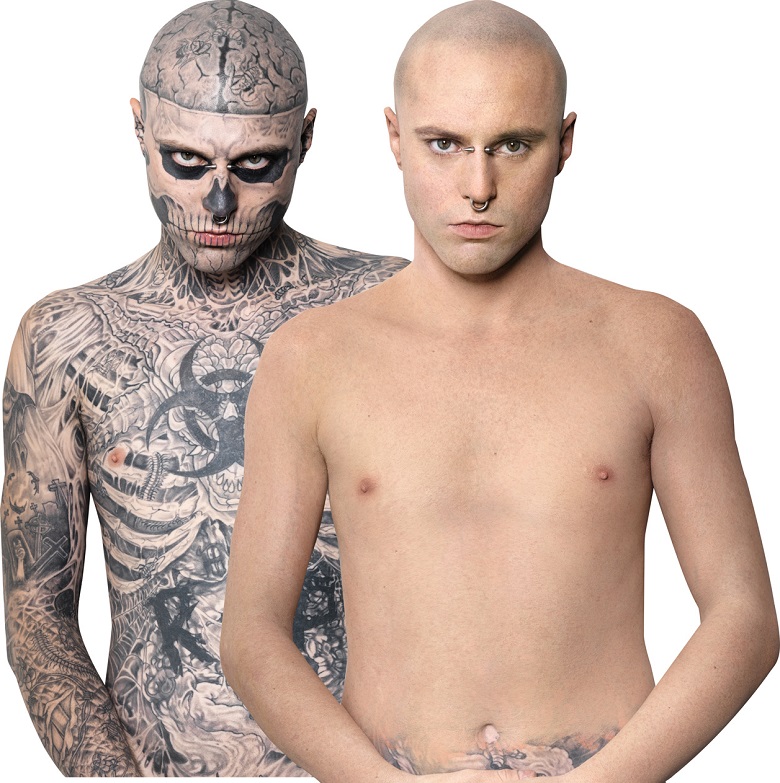 Ever wondered what Rico "Zombie Boy" Genest looks like without all his tattoos? Well Vichy showed us with their new wonder product from the Dermablend range.
The French skincare brand recently introduced a new addition to their Dermablend range, The Total Body Corrective Foundation, it does exactly what the rest of the range does, but for the body. It gives high buildable coverage, is transfer and water resistant, long lasting (up to 16 hours) and has an SPF 15 while still not looking super heavy and giving a fairly natural finish!
So this is a very hard working product! If you suffer from eczema, discolouration, birthmarks, scars etc. this will be your new best friend!
The way to apply it is to prepare the skin properly by moisturising, then you apply the make up in whichever manner works best for you – sponge, fingers, brush, you name it. You can build it up to achieve the level of coverage you want by layering it with the Dermablend Setting Powder.
The powder is pretty amazing by itself. It's translucent, but opposed to many other translucent powders, this one won't change your skin tone no matter what your complexion is. It's also ultrafine and silky and doesn't give you that cakey, dry look as it kind of keeps the glow.
At the moment the range of shades available in the UK is fairly limited as they're testing the market. So we'll be waiting for the full range of colours and let you know when they land!
If you haven't seen it yet, check out the video below to get an idea of what Dermablend can do! See the full corrective collection here.
Words: Philipp Ueberfellner