The kitchen is at the heart of the home and nowadays, and combining yours with the dining-room can really optimise this space. There are umpteen ways to create a modern slick style for entertaining while also accommodating your busy schedule that demands a space of your own…
Steps for a black & white theme
To have that clean and striking black and white design, simply concentrate on the accents as there will be an absence of 'colour' and your decorating forte will come through your accessories. This style will accomplish elegance.
Appliances
Depending on your budget, whether you're going to stick with your existence appliances or buy a whole set to match, colour coordinating the smaller ones such as the toaster, coffee maker etc can make a huge difference. You can always touch them up with an appliance paint to make them like new again, or there are plenty of reasonable home decorating shops now to cater for all tastes. Having a fresh and shiny coat will do wonders!
Walls
Kitchens in particular need a new coat of paint at least every six months and in this case, white will need extra care. When opting for white, do not opt for a cream or ivory but really check that it is a pure, bright white and buy enough for the ceiling as well! Regarding the trim for the windows this depends if you want them to stand out from the walls or blend in. Black will be dramatic and white will offer the opposite effect.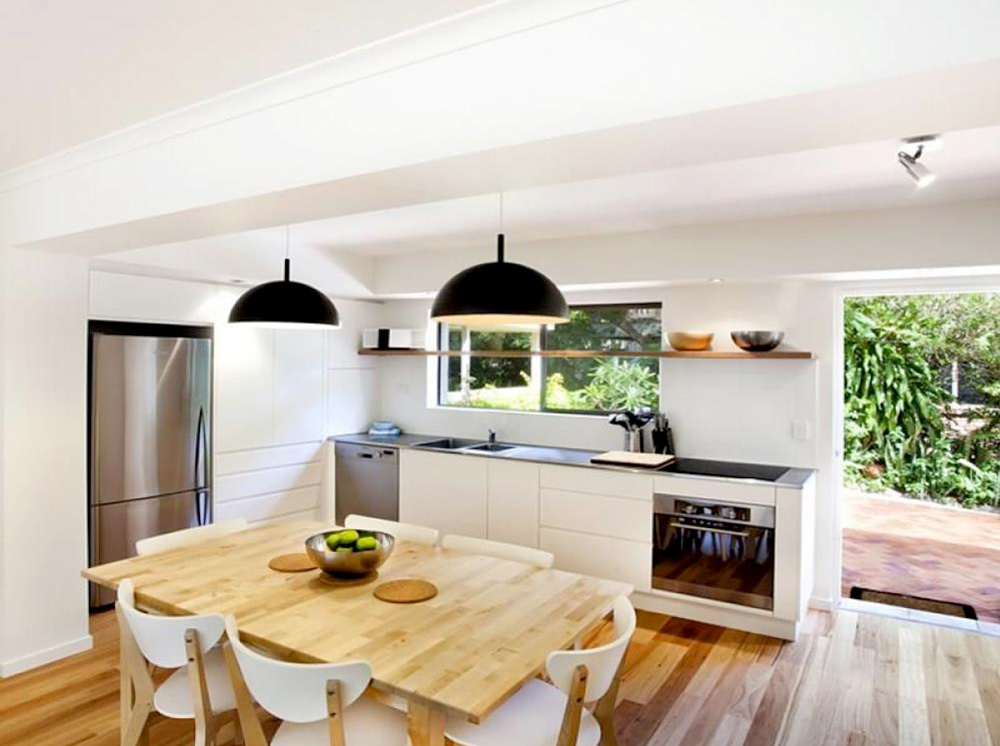 Flooring and counter tops
Creating the black and white effect will depend on these two choices working together simultaneously. If you decide on a black floor for practical reasons then your top will need to stand out. However there is always the option to integrate the two by creating a black and white pattern like this checkerboard effect which will need to be mirrored onto the counters. The tiles correspond with the walls, linoleum with laminate and so forth.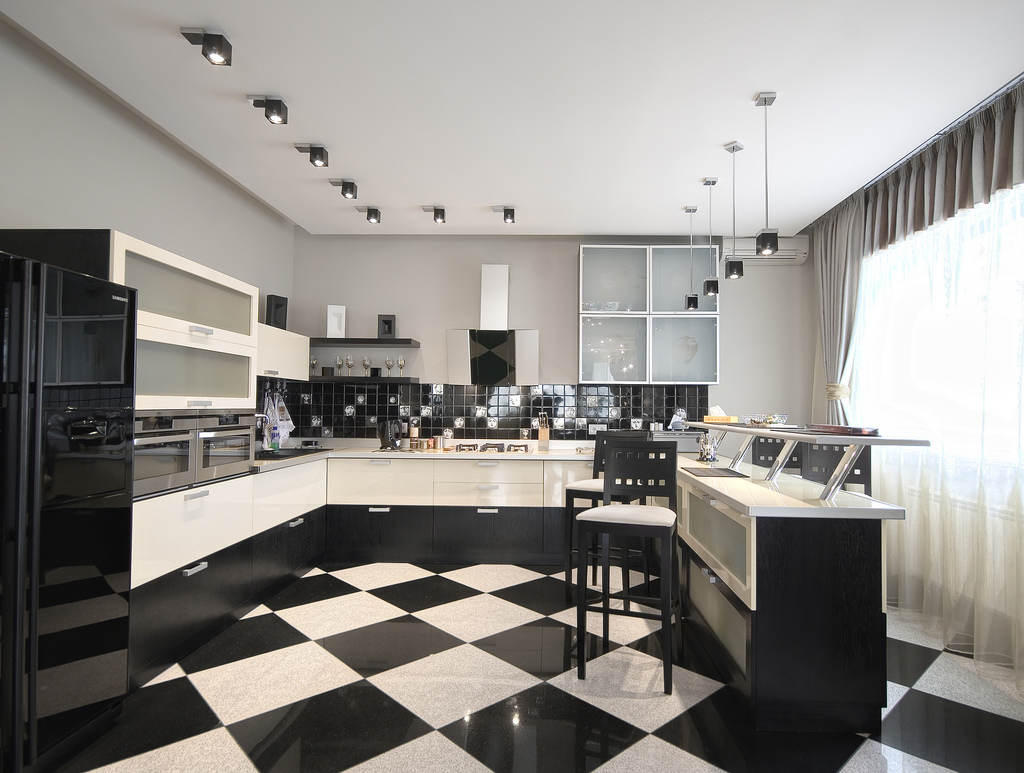 Cabinets and Lighting
Keep the question in mind as to how much you want these elements to blend in or to contrast against each other. The black and white look can be everywhere or have just accents working for you here and there. The scenario could be as follows; white appliances, floors, counter tops etc with strong black appliances or following through with a more dominant contrast which will then be white floors, white cabinets, black counter tops etc.
With the cabinets you can also decide whether you would like the handles to be white or black or metallic (silver, chrome or gold and brass) and crystal. The lighting needs to be stable and as striking as the rest of your space. Why not go out all out there and fit some small chandeliers such as http://www.lampcommerce.com/en/catalogue/brands/de-majo-traditional/glaca-suspension-chandelier or just minimalist spots for the working surfaces and the island.
For flair and elegance in any room of your home, black and white creates the right balance and is uber stylish. You will bring colour!