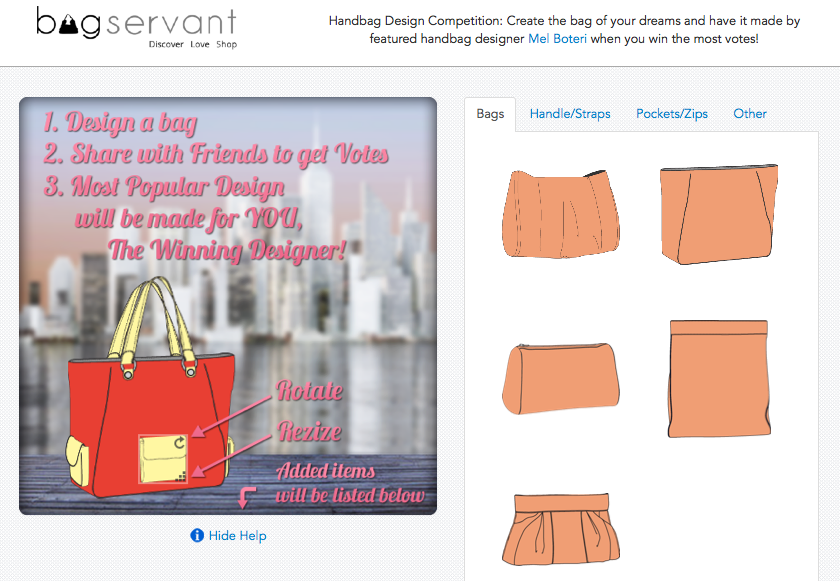 When bag shopping, is this you… "the strap could be shorter/longer/missing all-together" "oh the pocket is all wrong" "why is this bit hanging off it, it just spoils the while thing!" Well if yes, I think it's time for you to design your own bag! BagServant.co.uk, the one-stop shop for handbags launches its new and unique 'Design-Your-Own-Bag' Competition for 2013! Designing a bespoke bag only takes a few minutes with the new app.
BagServant has teamed up with bespoke handbag designer Melanie Mueller from American fashion label Mel Boteri to bring you a once in a lifetime opportunity to 'Design your own Bag'!
BagServant is the only search engine devoted solely to handbags and provides a free expert concierge service to fulfil every woman's needs and desires when it comes to arm candy. Mel Boteri has a huge following from those desiring something more unique. Their intimate bespoke service offers clients handcrafted and made-to-order handbags. In this unique competition the two major brands unite, offering one lucky winner the opportunity to design their own bag and have it made into a real bag.
The competition is up and running on BagServant.co.uk and a prestigious panel of industry experts including Isobel Kershaw from Nicky Hambleton-Jones Style Consultancy, Kal Di Paola CEO/Founder of BuyMyWardrobe.com, Zoe Yates, fashion writter of Little Miss Fashion, Rachel Montague-Ebbs, Editor in Chief of LadyMPresents, Leroy Dawkins, winning fashion writer and style editor of the Diary of A ClothesHorse, Sarah Walter, CEO of www.style-passport.com will judge the designs of the public and press votes. All the voters will have the chance of winning some great prizes just for taking part,  including £150 Reiss Voucher and tickets to the NHJ style event in April.
To enter simply go to http://bagservant.co.uk/design-your-own-bag/  Choose a bag style from the templates on offer then let your imagination run wild! Be creative and don't forget to share your designs through Facebook and Twitter and ask your friends to get voting. If your design wins, you will receive your handcrafted, customised handbag right to your door, made by the very talented Mel Boteri.
Design, vote and take part for your chance to win with BagServant – Design Your Own Bag!