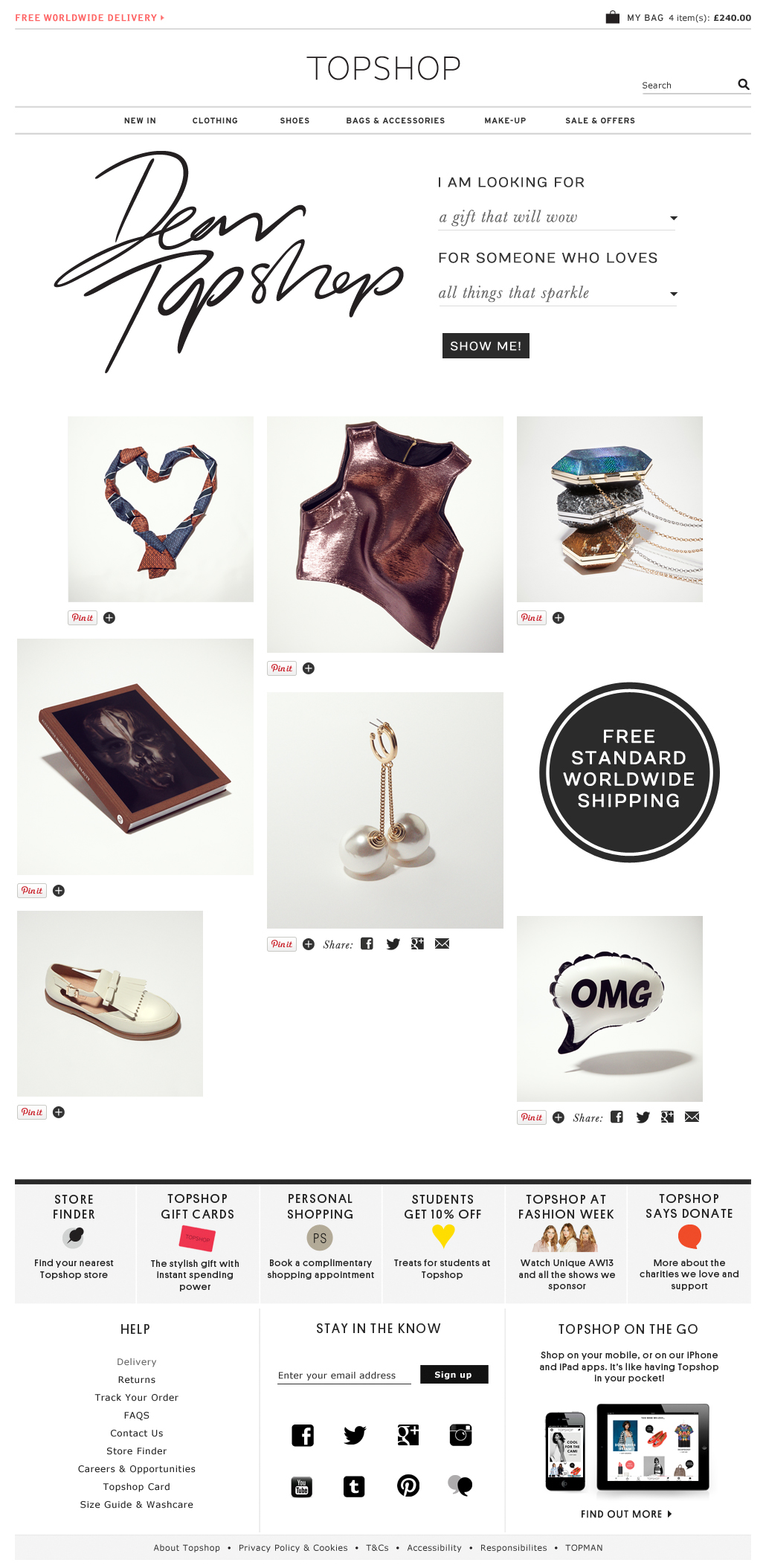 Well loved High St brand Topshop has developed the ultimate gift guide for Christmas 2013 in collaboration with Pinterest! The christmas gift guide is called 'Dear Topshop…', (think of it as your own personal Santa Claus), it will feel personalised to each customer. Quirky and easy search categories on TOPSHOP.com such as "A gift that will wow", "All things that sparkle" and "A bit of romance" will help customers find the perfect gift or party outfit. These can be pinned, shared, shopped and celebrated through all of TOPSHOP's digital worlds. Top pinned products will be featured on the TOPSHOP.com homepage every day.
Continuing the brand's strategy in innovative digital campaigns, this particular initiative will be celebrated across all TOPSHOP's platforms, from the stores and online to social media and editorial.
The campaign will centre around you creating and submitting inspirational boards for the Holiday season. This can cover all aspects of the Holiday period including decorations, a dream dress, your ultimate festive tree, and  maybe even a few TOPSHOP products for good measure.
The campaign has a 360 approach with a presence on and off-line. Further to customers pinning and shopping from TOPSHOP.COM to their boards, there will be a Pinterest call to action on tags of key product instore and giant touch screens in the Flagship London and New York stores which will allow customers to pin, share and shop. Other stores will have dedicated staff wearing Pinterest and TOPSHOP T-shirts armed with iPads, who can walk customers through all elements of the campaign on Pinterest.
The Holiday inspired Pinterest boards can be entered into a competition with the chance to win money can't-buy-gifts, including shopping sprees worth up to $1000 / £500, front row seats at the next TOPSHOP Unique London Fashion Week show, tickets to the launch event of the next Kate Moss collection and the opportunity to design your own dream dress. You can enter your Pinterest board by entering a competition form on Topshop.com.
"This holiday season our aim was to showcase key product and to facilitate the gifting process. Pinterest, being a strong visual platform, was the ideal platform as it allows our customers to collect products and inspirations to share with family and friends. Add the physical component, and we are creating true 'social shopping' during the festive period."
Sheena Sauvaire, TOPSHOP Global Head of Marketing & Communications