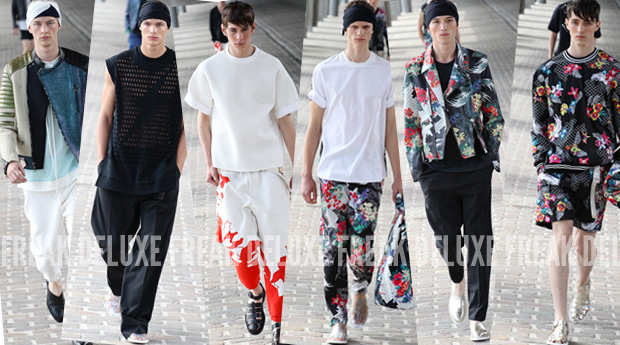 3.1 PHILLIP LIM
Tough biker jackets; mesh tops with lightening motifs; boxy tees with tapered trousers; floral prints with white nets on black background; matching printed sweatshirt and shorts? Yes please! Wouldn't  mind taking the footwear out for a spin as well.

ALEXANDER MCQUEEN
The layering of the white, off-white and cream; the pretty floral/butterfly-esque print; the immaculately cut slightly oversized suits.

BALMAIN
A leather overall with padded biker sleeves; nautical influences; white on white on white on white; a loose denim overall (could you imagine that with some sick heels?!); navy leather biker suit; embellished denim varsity style jacket with oversized houndstooth on the body, swoon!

CHRISTOPHER KANE
Head to toe linear prints; the cobalt blue/navy mix; the colour blend from magenta to tomato red.

LANVIN
The off white oversized coat; the oversized suit; the white/navy jacket tucked into slacks; the black and navy overalls with leather pockets; the oversized colour block shirt; the salmon pink tee and trousers in what looks like the most comfortable material ever; the "118 118" vest with the metallic strip, the colour block, the mesh, and the attention grabbing deep pink block.

OPENING CEREMONY
The navy duffle coat with half leather sleeves; the monochrome oversized sweatshirt with perfectly lined up shorts; metallic coat with matching trousers; graphic monochrome sweater with trousers in inverted colours; the printed duffle; multicoloured graphic print jacket and shorts (a modern take on stained glass print?).

PAUL SMITH
The putty coloured jacket with long leather cuffs; the bold yellow blazer; the colour block sweater; monochrome printed jacket; maroon/salmon pink sweater; printed tee worn over just seen short sleeved shirt; the leather backpacks and hip bags.

RICHARD NICOLL
The mesh long sleeved tops; the leather pants; the printed/leather bomber jackets; the teal waffle knit; the cobalt blue snake print; the drop waist dove grey overalls.

SAINT LAURENT
The sequin top; the patent trousers; the hot pink shoes; the sexy biker jacket; the lipstick; the monochrome chequered leather jacket; the metallic bomber; the cropped and cinched ocelot print blazer.
Which styles will you be rocking?