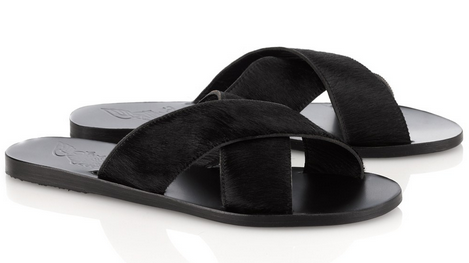 We love a pool slider around here, the sheer fact that you can look chic and fabulous and be in a plain flat sandal is reason enough for us!  The evolution of our footwear over the past few years has seen quite the change from nothin' but heels; to cute flats, whether they be studded/jewelled or otherwise embellished; to trainers; to now, where we see the "Ugly Shoe" trend!  That's a bit cruel don't you think?  I mean they're not all that ugly!
Celine started the movement with their fur lined Birkenstock-esque sandal, and Isabel Marant sealed the deal with their chunky leather footbeds.  The wonderful thing about these shoes is you can wear them with pretty much anything (day to day – I don't think I'd quite take them through to evening); rock 'em with a cute little dress, a playsuit/jumpsuit, jeans and a tee, but the fave look has to be slouchy slacks and lightweight sweater a la fashion crush Phoebe Philo!
These black Thais pony hair sliders from Ancient Greek Sandals are sexy A.F!!!  Unlike the Nike and Adidas versions, you can most definitely wear these to the office and what with them being black pony hair, you may even get a pass at after work drinks.  How about this – shopping on a Saturday with your girls, lunch, then cocktails at Soho House. Mmm Hmm yes please!
We haven't seen Kim K in these yet, but we know Kourtney loves herself some of the "Ugly Shoe" trend. Snaps to Kourtney Kardashian!!!