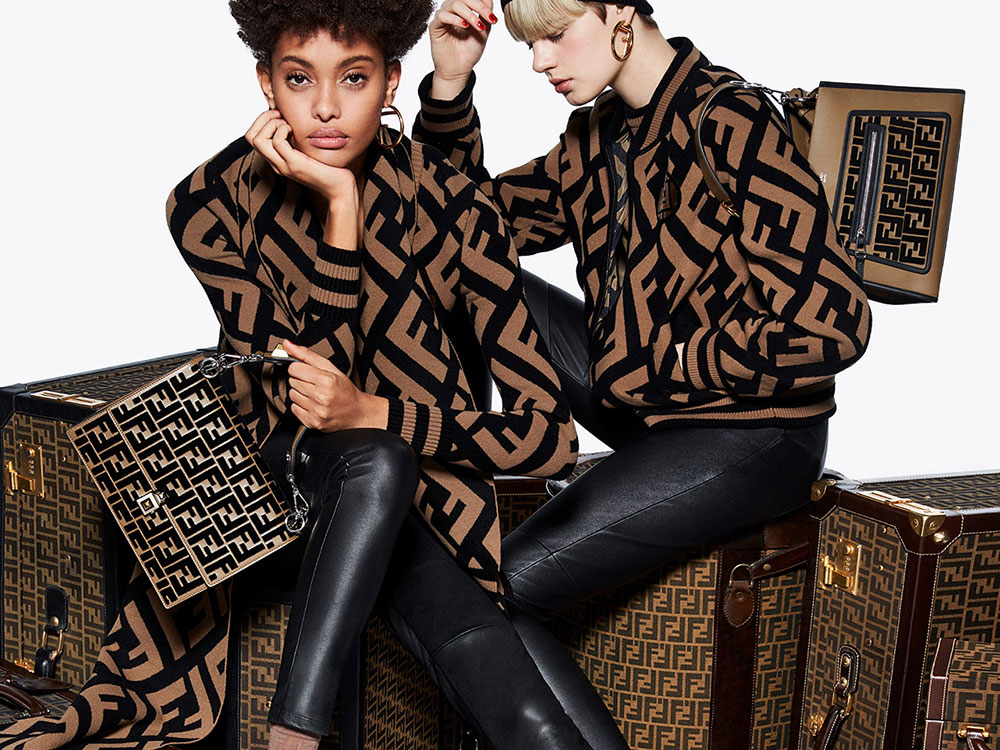 The small family started a new business in 1945, and now after 100 years, it has become one of the famous giant brands. That brand spread its business all over the world in the name of "Fendi." It makes iconic pieces of ready-to-wear, leather goods, shoes, fragrances, eyewear, timepieces, and accessories for their host. Brand gained its popularity due to the Five Fendi sisters' full efforts and precious support to their parent's dream. They owned 20 percent of each share in it.
Yeah, we say that Fendi lost a single moment to shock people with their designs. But, few inventions like Baguette, 2jours, Peekaboo, or Pequin handbags are always remembered by the folks. Always in demand, making a deep royal impact on its buyers. We always hear that there are some interesting stories behind the success of the Brand. Fendi has too! A fabulous designer named Karl Lagerfeld, hired by the firm in 1967 and used innovative ideas to make apparel from fur until his death. He leaves behind his signature look from white hair, black sunglasses, fingerless gloves, and high white collars. Fendi is an endless topic to discuss, use the unique pattern never to lose their boasting to chic in public:
1.Crazy Carats watch: Designers know the value of the watch. They add a mosaic of colours from using Fendi fur to decorate it and put crocodile leather strap to make it more elegant. This watch comes in creamy or black dial sparking the visibility of gemstones present in it. It creates a pleasant environment for the women who wear it, to express their emotion with a carat watch. From dawn to dusk, it charms the women look with its gemstone fitted dial
2.Fan Di Fendi Women Edp Spray: Fan Di Fendi is most popular among ladies. Work a lot for women who go outside for school or office. It has long-lasting fragrances in 1.7 ounces bottles and remains active for the whole day. Delphine Lebeau and Francois Demachy both created and launched this in 2010. You will receive Fan Di Fendi women perfume in the notes of Tangerine, Black Currant and Pear.
3.Fendi logo sunglasses: Fendi sunglasses are hitting the number of series due to high quality and charming style. To bring a twist in the market, Fendi design logo based sunglasses to do some better. Wole lenses with the "FF" logo look so assuming and stunning. If you are planning to go outside with families or want to do pool parties with friends, wearing this one brings positive vibes.
4. Perfume leather handbags: Kurkdjian collaborates with the Italian house, Creative director Silvia Venturini Fendi to launch Baguette bang with a fragrance of perfume FendiFrenesia. These bags come in three models to make rock. Scented Baguette bags available for both men and women and new nano Baguette comes up in the line. Due to its high demand, it is also available online. FendiFrenesia spread the aromas of labdanum, styrax oil, vanilla bean, and rose.
Many more collections are waiting for you. All items, including men and women, are made up top-notch quality with a perfect logo, "FF." Don't troll over its sizes, sufficient enough to clamp up your professional as well as personnel look.