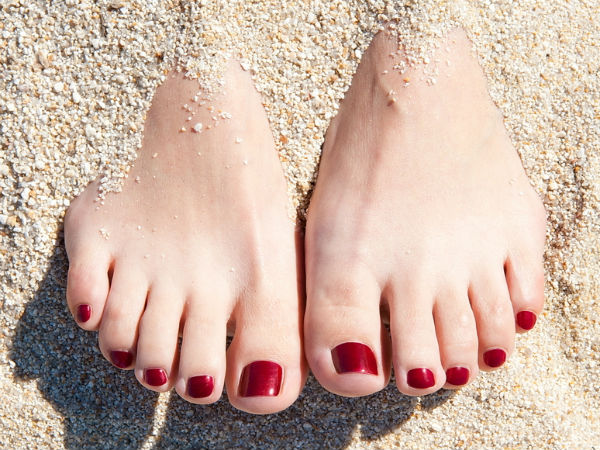 As the summer begins to fade and the ankle boots come out in exchange for the sliders, it's time to give our feet some much needed TLC.  After a summer of wearing various variations of sandals, unless you're getting regular pedicures (and by regular, we mean daily), we're guessing you wont want to be putting your feet in the pedicurist's face just yet – get baby soft feet at home with Footner Exfoliating Socks.
The new improved Footner Exfoliating Socks have been reformulated to deliver soft, supple feet in half the time.  Patience may be a virtue, but not when it comes to waiting for the infamous Footner peel to start.  Worry not, the new fast acting formula delivers a cosmetic peel twice as fast as the original – on average in seven rather than fourteen days.  It now takes only three days (or less) for the peel to start, followed by just four days of peeling to reveal perfect feet.
There is no filing, scraping or grating required – simply pre-soak feet in water, slip on the Footner Exfoliating Socks and kick back for 60 minutes.
The active AHAs (alpha-hydroxy acids) in Footner, also used in cosmetic skin peels, soften the hard skin build up and loosen the 'glue' that binds dead skin cells together, starting the exfoliation process naturally.  Only the dead skin cells are removed, leaving feet pedi-perfect.
New Footner Exfoliating Socks are also free from parabens, perfume and allergens.
Why do we get hard skin?
Relentless pressure and friction cause an accumulation of dead skin cells which is very difficult for the body's natural exfoliation removal process to cope with.  This is when a build up of hard skin occurs and if not treated it can develop into callus and even cracked and bleeding heels which can be extremely painful and unsightly.
For best results…
Pre-soak feet, then simply cut the socks along the dotted line, slip your feet in and use the adhesive strap to close the top.  Slip your own socks over the top for a comfortable fit, then put your feet up and relax for 60 minutes.  Remove the socks and wash your feet in warm water to remove any residual AHA gel.  In less than three days, the peel will begin and lasts for around a week.
Footner Exfoliating Socks are available from Boots RRP £19.99, both in store and online at www.boots.com.  For more product information go to www.myfootner.co.uk or @FootnerUK