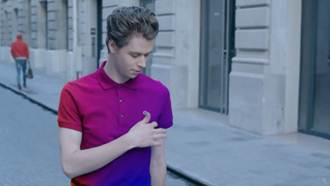 On the eve of its 80th anniversary, LACOSTE pays tribute to the visionary spirit of its founder René Lacoste by taking his most legendary invention, the L.12.12 polo shirt, into the future. To honour the occasion the brand have released a mini film created by MNSTR Agency, showcasing the future of the polo shirt in a timeless Paris where the public can follow an eclectic cast of characters that interact with a new generation of clothing.
The polo travelled through time and remained as René Lacoste had imagined it 80 years before: timeless, comfortable and stylish. But its powers are enhanced by extreme technology. Its fibers are now intelligent, its surface is dynamic and tactile, its sleeves lengthen and shorten at the whim of its owner. The dye of the polo reacts to the environment, glows in the night, absorbs ambient atmospheres. And its colors are endless.
The brand has chosen the symbolic date of 12/12/12 to unveil a film featuring the polo shirt in a future where textile technology has no limits. The film ends with an invitation. The public is invited to extend the story by posting their vision of the future of the polo shirt on Facebook. The most original contributions will be illustrated by an artist, and then featured on Facebook.com/Lacoste to more than 10 million fans of the brand.