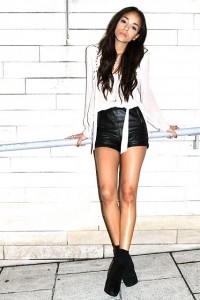 Freak Deluxe caught up with friend and actress Ashley Madekwe to find out about her exciting year of jet setting to and from the US, fashion, and what makes her happy.
It's been so long and you're jetting off again! How has your stay in London been?
It's been great. Centered around the sofa and food with some friends and family time thrown in!
During the last year you've lived in London, New York, and L.A. Do you have a fave?
London will always be number one because that's my home. I am a true Londoner and I've lived there all my life. There's nothing like growing up in a city and knowing all the hidden spots…. At the moment I prefer LA to NYC purely for the weather and the space I have in my apartment!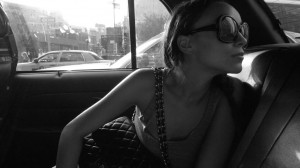 Do you have any favourite hangouts and shops in each city?
In London I tend to eat in Soho house a lot… which is terribly lazy of me. I know the menu off by heart! I love to meet friends in Maison Bertaux for tea and cakes.
In New York I spent lots of time in central park because it was summer and I loved shopping at Jeffery in the meat packing district. I could walk there from my apartment. They have a great selection from all the collections and the staff are always lovely.
In LA I am obsessed with Decades the vintage couture store on Melrose. They also have a store called Decades Two, which has THE best selection of recent second hand designer wear. Lots of it is brand new! Bargains everywhere! If I fancy a night out then I treat myself to dinner at the Château Marmont and drinks at Crown Bar.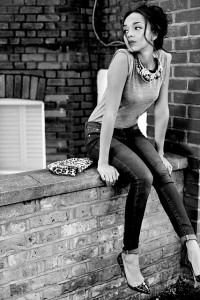 What's your favourite fashion brand at the moment?
I have no brand loyalty and switch it up all the time! Right now I'm lusting after anything by Erdem.
What were your last fashion and beauty buys?
My last splurge was on an Alexander Wang handbag. I just bought some She Uemura cleansing oil. I paid extra for the cute limited edition bottle. I'm a sucker for pretty packaging!
How would you describe your style?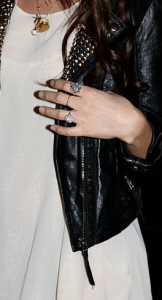 Rocky with a feminine edge.
What's your favourite piece in your wardrobe right now?
My studded leather jacket.
Have you worn it yet?
I wear it nearly everyday!
You were invited to a lot of events after being cast in The Beautiful Life. I know the gifting suites tend to be amazing, what was your favourite gift? What event was it from?
Nintendo gave me a pink DS and I love it! I'm always buying new games for it! My favourite at the moment is a Mario game. The lovely Max Azria also sent me a Herve Leger dress.
Was that the best event?
I loved all the fashion week stuff… But I had the most fun at a blackberry launch party. It was just me and my boy and we got very merry off  cocktails and the joy of getting a free phone.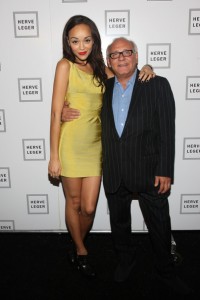 You also got invited to sit front row at the Herve Leger show during NY Fashion Week! What was that like for you?
Exciting! The buzz in Bryant Park is so electrifying. People are rushing around and there are a million photographers capturing everything. It's fun. I hope I never get blasé about that kind of stuff because right now I really enjoy it.
A lot of pics of you emerged on the Internet over the summer. What was it like to be thrusted into the limelight?
I don't complain about it because I am guilty of buying into the celebrity culture. I love to read those magazines when I'm getting a manicure! You have to take it with a pinch of salt.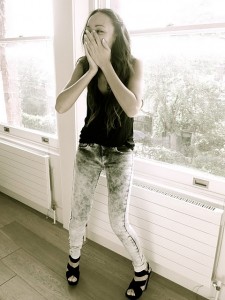 Have there been any weird rumours about you yet?
Some people took to my blog and insisted that it wasn't really me. Also lot's of people decided I wasn't really English and that my English accent was really bad!
Being in the public eye, have you felt any pressure to become skinnier?
When I first started working on 'Secret Diary' I definitely felt like I needed to shape up. The idea of being in my knickers on TV was a great incentive! Now I try to eat right and I go to Bikram yoga 3 or 4 times a week. I have my 'naughty' days and I indulge in pizza and cake but so what!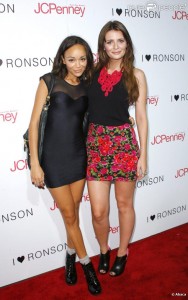 What advice would you give to aspiring actors/actresses?
To put the work in. All the reality shows have made people think that 'being famous' is an acceptable ambition and it's not. I treat acting like a job which means I put the training in and I am professional about it. All the fun stuff that comes with it is a bonus.
When did you first realise you wanted to become an actress?
I can't pin point exactly when but it feels like it's all I've ever wanted to do. I was taking myself to drama classes from the age of 10 and then I went tot the BRIT school at 14. Once I decide to do something I stick with it!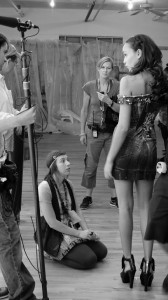 Your CV/Resume/Showreel is fatting up quite nicely! You've worked on a Woody Allen movie with Colin Farrell and Ewan McGreggor, you have a TV series on ITV2 and you've just worked with Mischa Barton, Elle McPherson and Ashton Kutcher!!! What's been your favourite role to date?
I love playing Bambi. She is so enthusiastic and open. There is a vulnerability to her that I find really touching.
What would be your ideal role?
It seems like such a long time since I did any theatre work.  I went to RADA so I'm itching to use my 'classical' muscles. I did Lady Macbeth as my audition piece to get into RADA and I'm looking forward to playing the part in full some day.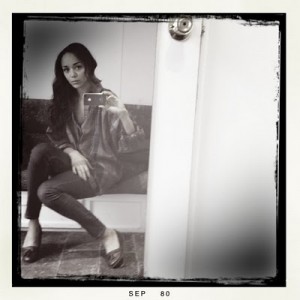 Which actor/actress has inspired you over the years?
I admire Judi Dench, Meryl Streep, Maggie Smith and Helen Mirren. They all have had very full and varied careers.
What film/series past or present would you loved to have been in?
Oh wow there's loads! The Wire, Sex and The City, Grey's Anatomy and Big Love (but only to play Chloe's part!)
What's your favourite film/dvd to throw on when you're feeling low or you just want to chill?
Mean Girls!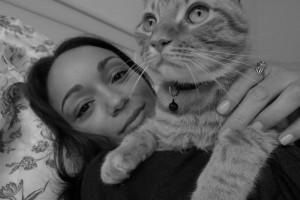 What makes you happy?
Cuddling up with my boy and my cat.
If I were your 'genie of the lamp' what would be the first thing you'd ask me to do?
Get my cat here! I usually travel everywhere with him but this time he's staying in London with my mum and I miss him!
We used to spend our days off in Topshop Oxford St downstairs in the Shoe Lounge trying to decide what 3 pairs of shoes to buy and what outfit to wear that night! What do you do with your days off now?
I usually start the day with Yoga and then I meet up with a friend. I always have scripts to read so I try to catch up on my reading.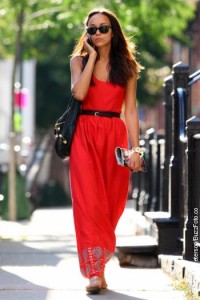 What was the best bit of 2009 for you?
Moving to New York. It was such an adventure.
Last year was a tragic year for some, more bad news than good, but I think '09 worked for you. Even though TBL got cancelled, it was a huge year for change, a transitional period. A lot of doors opened for you, what's in store for 2010?
I'm starting the year in LA  and then we'll take it from there!
You can catch Ashley as 'Marissa' in TBL on youtube, Mr Kutcher managed to get the five finished episodes on youtube without any breaks (a first for any TV series)!!! Click here to go to the TBL Channel
We'll be sure to keep you posted on what's next for our little busy bee, you can read her blog here.
Since this interview Ashley has filmed a pilot in LA called 'The Pink House', fingers crossed it get's picked up!