Freak Deluxe caught up with DJs the Dixon Bros to talk mixing on tape decks, time travel, and Fisher Price!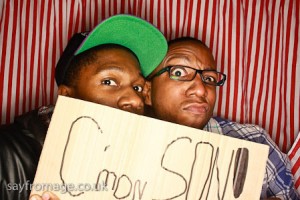 When did you first realise your passion for music?
J: When my uncle DJ'd at my 10th birthday party…I had a Gola Tracksuit and box, box, box fresh Hi-Teks…then did the running man for 3 hours
A: When Justin got his Fisher Price turntables… can't remember how old I was but they were the lick!
Running man for 3hrs Justin?! Fisher Price always had the best toys back in the day. How long have you been DJing?
J: Around a decade
A: My first mix was when I was 14 using a dual tape deck and two old jungle tapes (pressing play at the same time – genius) So I guess 12 years
Mickey Finn in the making Adrian? How did you get into it?
J: Circa 1995 – I used to work for a well-known fast food chain. A friend of mine Alex Hagley used to regularly tear up the work Christmas party…I guess that's when I took an active interest in how it was done
A: When I was at High School I saw a documentary on LTJ Bukem and MC Conrad and thought yes that is the life!! Also it was coincidentally around the time that girls at school thought DJ's or anyone on a Pirate Station were the top boys!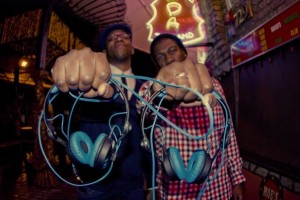 Ulterior motives eh Adrian? What's your best set to date?
J: There have been so many memorable ones – Glastonbury, Proud Galleries, Bacardi Live tour, winning a Radio 1 competition to DJ with the Dreem Teem…I really couldn't say
A: For me it would be the Dirty Boots stage at Glastonbury 2009! I'll never forget cuttin up Rage Against The Machine – Killing In The Name and the crowd going nuts!!!!
But running a close second has to be the Trainerspotter party at Dream Bags and Jaguar Shoes in Shoreditch. We'd just flown in from Spring Break UK and Justin couldn't make it so I took to the party on my own… AND IT WENT ORRRRRFFFFF!! Got so hot and sweaty in there that I had to throw away my shirt after the dance!!! First time meeting the guys at TS so a pretty memorable night for us
That party was THE ONE – couldn't help but dance and get sweaty!!! Where do you go from here? What's the next step?
J: The next step is to start the international campaign – passports and flip-flops are a go
A: National Radio most definitely!!
Just remember to leave room in on of your suitcases for me. What's happening for you now?
Recovering from last night's set… ugh
Three words to sum up Dixon Bros
J: Good y'know!
A: We're really brothers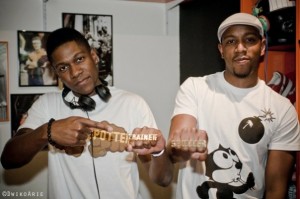 Bros before…What music do you play?
We cut, scratch and mix to a good standard, so we can pretty much get from A-Z via M pretty seamlessly. The mantra we go by is "The best house party you will ever go to"
So pretty much everything yeah! Which other countries have you played?
Kos, Spain for Spring Break UK
What was the first event you ever played?
J: A couple of years in front of the counter local record stores buoyed me to go to university bragging about my DJ prowess – an unmitigated work of fiction, I might add. Although the principles were certainly nailed in my head
Anyway, I finally managed to get to a gig at our halls of residence ball. Cue trip to HMV Birmingham, 5 vinyl's, 3 tracks per plate = 15 tracks!
Track 1) Lovebug: Got the tempo right and tentatively crept into the mix. What I didn't know is that Lovebug slows down at the end of the track and it duly did so smack bang in the middle of the mix – FAIL
Track 2) Ramsey & Fen Style: Tempos locked, mix nailed in headphones…enjoying listening to it so much so that Style runs out…SILENCE
Track 3) Perfect – the rest is history!
A: First set was for a party my crew at the time G.N.E were throwing at Po Na Na in Croydon. I was mad nervous Justin turned up and had to stand behind me to back me up, I think at one time strong arming the next DJ who was trying to bully me off. My hand was shaking and sweating so much I couldn't put the needle on the record but after I got into my stride I think I did pretty well.
That's what brother's are for, what was your first record you bought?
J: Mc Hammer – U Can't Touch This on cassette
A: Boom Shake The Room on tape… first vinyl I acquired was Kid Creole Annie I'm Not Your Daddy (and trust me he was not)
Out of all the tunes you have, which one 'never fails?'
J: Probably one of our mashups – I have a personal favourite Milkshake acapella/Madonna Holiday instrumental
A: My new mash up featuring It Takes Two and Ben E King Stand By Me… I'm waiting to here someone copy it I know it's coming but that mix is all Dixon!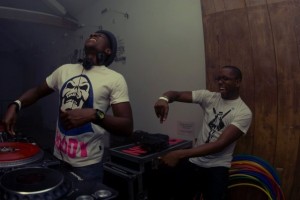 What's you favourite tune of all time (that's not one of your mash ups)?
J: Nu Yorican Soul – Black Gold of the Sun (4hero remix)
A: WOW hard question… probably Dem 2 – Destiny due to the lengths I had to go to get it when it came out! Literally stalking the guys at Big Apple Records and Swag Records.
Note to self – Ade has stalking tendencies! When all the partying is over how do you like to chill out?
J: DJ Hero
A: Beer and Top Gear
How big is your vinyl collection?
About 7,000 the rest are on MP3 as we user Serato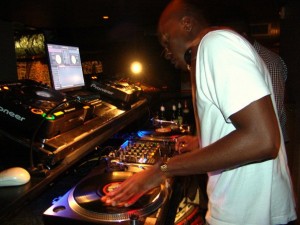 What's the funniest thing that ever happened at an event?
J: Back in t'day…leaning over the decks to place a smacker on a rather attractive fan…headphone lead tracks needle completely across the record –FFFFFRRRRRRRUUUIIIIIP!! Silence. I'm left there pouted lips with every eye in the room on me.
A: Back in t'day when I liked to show the hell off (still do mind) I was scratching behind my back with headphones on. Didn't notice that I'd somehow turned the main master volume down so nothing was coming through the speakers… I was enjoying myself though
LOL!!! If you could stage a rave anywhere, where would you choose?
J: Your house!
A: Roof top party in New York
I can't wait for you to stage a rave at my house! If you had a time machine what year would you go back to and why?
J: 1940s New Orleans speakeasy Jazz Club
A: 1993 the year of my 10th birthday party at Wimpy!!!! Ended up with two dustbin liners full of presents. I got two Phantom action figures… made Justin a little upset (",)
No-one likes a show off Ade *pause* So you're the new 'faces' of Trainerspotter! Models now, what was that like?
Getting involved with Trainerspotter is crazy! It wasn't too long before we met Dan at TS that I was in a shop in Brighton handing over payment for this awesome sweater with a skull made out of ants on the front, and to now be reppin for them is great!!!! The brand is really making their mark in the industry and we're just happy to be rolling with em'
We're looking forward to seeing the results of their SS 2010 shoot, it was our first time modeling so was a bit of a baptism of fire, but word is the shots are pretty heavy!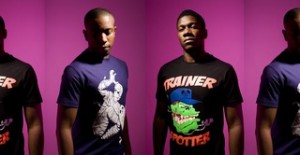 You can catch Dixon Bros in action every Friday at Proud Galleries in Camden, expect this…

Contact and interact with them here: