Famous wireless speakers are now available in 4 stylish colors and reinvent the magic of Zikmu sound.
Parrot, global leader in wireless devices for mobile phones, is launching a new colored range of its stereo speakers Zikmu by Philippe Starck: Arctic White, Pearl Grey and Sorbet Lime.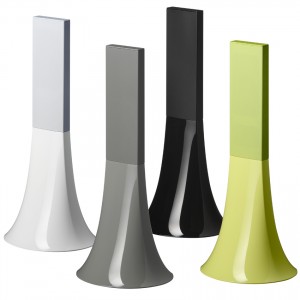 Magnified by the smart and aerial design from Philippe Starck, the state-of-the-art technology and the pure sound of the Zikmu take another dimension with the 'in color' collection: the elegance of Black, the purity of White, the sobriety of Grey and the fancy of Yellow … Let your imagination run wild…
"With Zikmu, we created a beautiful and a unique object, for listening to music with today's digital devices: iPod, iPhone, PC, Mac, television," explains Henri Seydoux, founder of Parrot. "With the 'Zikmu in color' collection, we pursue the idea of a high-tech product which is part of everyday life, in the same way as a piece of furniture or a decorative object. You choose it because you like it, because you will live well with it."
Within the framework of the launch of Zikmu 'in color' launch, Parrot is providing a software update* which will improve customer experience.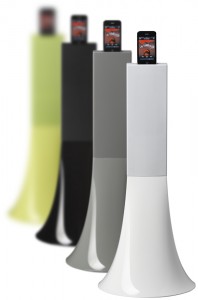 A new web interface including:
–       A new browsing mode available from the web browser and enabling you to select the music in the iPod
–       An equalizer offering pre-settings according to the chosen music themes
*As for each Parrot product, Zikmu speakers, will benefit from new software improvement, available for free via Parrot website: www.parrot.com
Parrot Zikmu by Starck offers a 360° immersive sound, a perfect and crystal clear sound image, thanks to the NXT technology and a very specific control of all electrodynamic elements via a system of DSP processing and amplifiers.
With Parrot Zikmu, you can listen to your music from today's digital devices:
–       iPod®/iPhone™ via a dedicated docking station
–       PC, with audio streaming via Wi-Fi and Bluetooth
–       Mac computers and Bluetooth mobile phones, with audio streaming via Bluetooth® Stereo (A2DP)
Furthermore, a RCA line-in enables Parrot Zikmu to be connected to TV screen for a Home Cinema sound effect.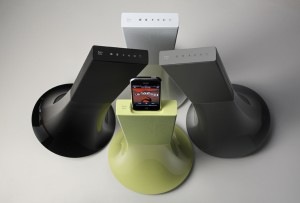 Wireless stereo speakers Zikmu 'in Color' Parrot by Starck will be available from April 2010 at 1.000£ inc. VAT.
For further information about Parrot Zikmu 'in Color' by Starck wireless speakers, visit www.parrot.com/zikmu / www.starck.com