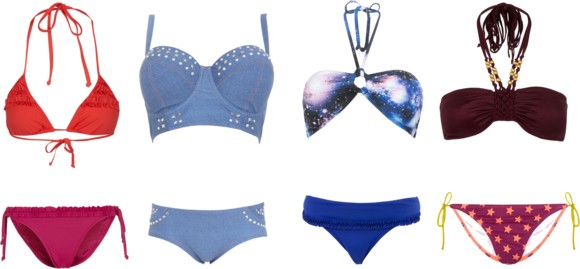 PENCIL | HOURGLASS | PEAR | TOP HEAVY (all New Look)
This season get that bikini body instantly just by choosing the right shape and fit for your body type. Agreed for some of us, finding the right bikini can be a tedious challenge; our bodies come in all different shapes and sizes, so getting the right fit for your individual shape is key for bringing out that sexy confidence on the beach. Not only do you want to wear something that makes your body look great, you also want to be totally on trend!
PENCIL
If you're "straight-up-and-down" like a pencil (your bust, waist, and hips are about the same measurement), you'll want to choose swimwear that helps you make the most of your figure by creating curves. Go for the bikinis that enhance your shape and feminitiy; if you have a smaller bust try triangle bikini tops with halter neck ties. Also look for tops with ruching, fringe, and frills to accentuate your top half. Opt for bikini bottoms again with fringe at the waist and frills, but also with side ties, peplums, or belted waists as they give the illusion of a fuller figure. Because you are so straight, you can have fun with it and mix up the colours/prints; a zig-zag top with horizontal stripe bottoms maybe?
HOURGLASS
If you're fortunate enough to have that elusive "hourglass" or "Coca Cola Bottle" figure (a well defined waist, with larger bust and hips) then why not go full on Marilyn Monroe; celebrate your curves with vintage inspired looks. An underwired halter neck top will show off your cleavage, while a pair of high waisted bottoms will really accentuate your waist and hips. Alternatively you could go for a bandeau top worn with plain bikini bottoms. Remember to keep your top and bottom half in proportion by wearing matching sets in a block colour or matching prints.
PEAR
Pear shapes have a smaller top half and a curvier lower half, when looking for a bikini remember you want to balance to your proportions to flatter your body shape. Go for a padded or push up bikini top to instantly begin to even out proportions by creating cleavage. Avoid high-cut bikini bottoms as they cut into your thighs, instead choose low cut ones which draw attention upwards. Team a patterned top with plain, darker bottoms to keep the attention on your top half.
TOP HEAVY
For the ladies with a larger bust, and broad shoulders with a slimmer bottom half, the key to locking in that sexy confidence is all about shifting the focus of attention and balancing areas of your body. Mix and match bikini sets to direct attention to the bottom half of your body by wearing a plain bikini top with patterned briefs. Go for wider straps and underwiring to give you added support as well as giving the impression of narrower shoulders.
Will you be rocking a bikini this summer?