On June 4th, 5th and 6th 2010, for only the second time in nearly a century, Hurlingham Park in London will thunder with the hooves of world-class polo players in the World Polo Series at MINT Polo in the Park. More than 32,000 spectators will attend the weekend spectacular and pack the stands to cheer Team London to victory as they fight to defend last year's historic win amongst a total of eight fully professional teams.
Left to right: Henry Brett, Jodie Kidd, Jack Kidd, Kirsty Craig
MINT Polo in the Park is the new Twenty20 style spectator-friendly format of the traditional game that took the nation by storm with 2009's inaugural tournament. The new style was created to highlight the high-octane and exciting family friendly sport of polo and showcase it with world's first fully-pro tournament.
The event is a full weekend of entertainment, with central London's first every jousting competition, stunt riders from famous Hollywood blockbusters, military displays from the best of our Armed Forces and finally a number of 'skills' events from the polo players, including penalty shoot-outs and the longest-shot at goal.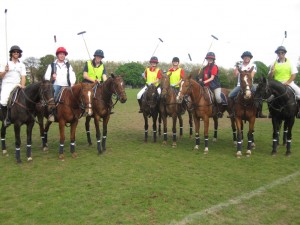 We joined the team at Hurlingham Park last week to experience Polo for ourselves, the verdict – WE LOVED IT!!! There are a few rules and regulations as there are in any sport, but they're easy to follow and remember, our instructor likened it to driving a car and the rules of the road.
Practicing on crates
I've ridden a horses before but never played Polo, holding the reins in one hand whilst trying to hit a ball with a long stick with the other was a totally new experience for me. I did get used to it after about 10 minutes, it made me want to get back on the horse, literally.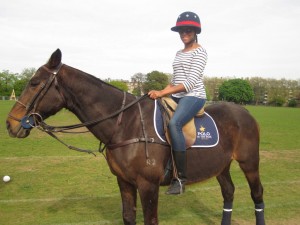 As we loved the experience so much we wanted our readers to see what it's all about. We managed to convince the organisers of the event to give us some tickets to give away to our readers! We are offering 10 pairs of  general admission ticket to come and see the action live on Friday 4th June at Huurlingham Park, Fulham.
General Admission Tickets Include:
· Entry to Hurlingham Park
· Access to the pitchside bars
· Access to the Luxury Village
· Access to the Food Market
· Access to the Veuve Clicquot Champagne Garden
· Access to the Pimms Bus
· Access to the Kids Zone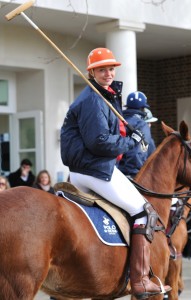 To be in with a chance of winning all you have to do is answer this question:
Who is the model/expert Polo player pictured above?
a) Kate Moss
b) Jodie Kidd
c) Linda Evangelista
Email your answers to info@freakdeluxe.co.uk
Winners will be informed 30/05/2010