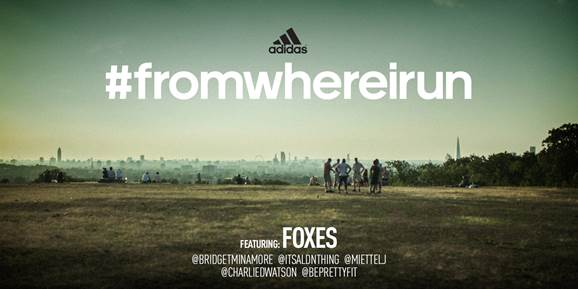 Adidas has unveiled a unique film that showcases what inspires real women to grab their running shoes and hit the London streets.  Brought to life with a bespoke narration by chart topping British-artist Foxes, the film places a spotlight on the unique experiences enjoyed by runners in the capital, told through the stories of real, influential and aspirational London women.
Foxes' distinctive voiceover is accompanied by her latest track 'Glorious', released this month.  From the iconic sunrise over London Bridge to the bustling markets of Elephant & Castle, the film showcases the sights and experiences that make the capital one of the most exciting cities to run in.
The film has been created using the new adidas Energy Boost footwear, a revolutionary running shoe for women that combines energy return innovation with style led design.  As well as featuring real women that run the city, the film was shot from the perspective of a runner – something that helps brings to life #fromwhereirun, a social media movement encouraging runners to post and share their own running routes.
"This film is particularly important for us, we know that women are running in greater numbers than ever before and we wanted to create something that speaks uniquely to them" said Nick Craggs, adidas Brand Director.  "Everything you see in this film is authentic, from the women featured in it and their stories which are translated into the words spoken by Foxes, to the urban and iconic locations that are so familiar to runners.  The project was completed at every stage by London-based women who run the streets for their own individual reasons; united by a mutual love of running and the city they choose to do it in."
Share your run view using #fromwhereirun.  Keep up with the adidas running story by following www.facebook.com/adidasrunning and www.twitter.com/adidasrunning. #boost