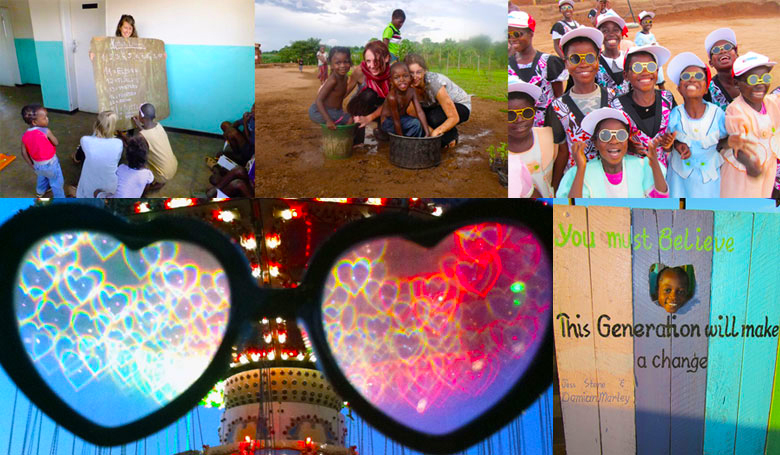 Last summer you may have been passed a pair of Love Specs as you watched the fireworks at Secret Garden Party or chart toppers Rudimental tear up the main stage at Bestival. Your vision transformed in to sea of holographic hearts as people got to see the world with more love. For just ten pounds, every light, laser, early morning dew on the grass and sunlight through the trees came alive. Couples fell in love in them, as friends, DJ's and artists shared a perception altering experience that not only heightened their festival memories but also helped to create a wave of change on the other side of the world.
With some of the music world's biggest musicians supporting the charity, Love Specs has gathered huge support from Black Butter Records, Unknown Festival and Strummerville. Disclosure, John Newman and Zane Lowe have worn them and Rudimental branded their very own pairs for the London dates of their 2014 UK tour.
Love Specs are used as a creative fundraising tool with every penny of the profits going directly to help the Love Support Unite Volunteer Foundation. Their aim is to sustain Tilinanu Orphanage in Malawi and facilitate greater change to those in need through their ongoing outreach projects. Built from the ground up in 2009 by sisters Alice and Nina Pulford, it currently houses, feeds and educates thirty-four girls alongside lovingly feeding a community of one hundred and seventy five orphans each and every day.
Running outreach programs that facilitate sustainable change though the power of its' Love Support Unite Volunteers, the project has vaccinated over seventy thousand people, built Mkunkdu School for nine hundred children alongside homes for the elderly. The charity provides skills workshops, micro loans, teachers, medical advice and assistance, as they believe that education is the key to sustainable change.
This April a team of thirty five non runners will be running the hilly Brighton marathon to raise further funds for the charity, as well as runners taking part in the London Marathon and a host of people skydiving on 22nd March 2014. Want to do your bit? You can get involved with the skydive here.
Don't feel like getting physical? Get your own pair of love inducing Love Specs here. Find out more about the LSU Foundation in the video below.