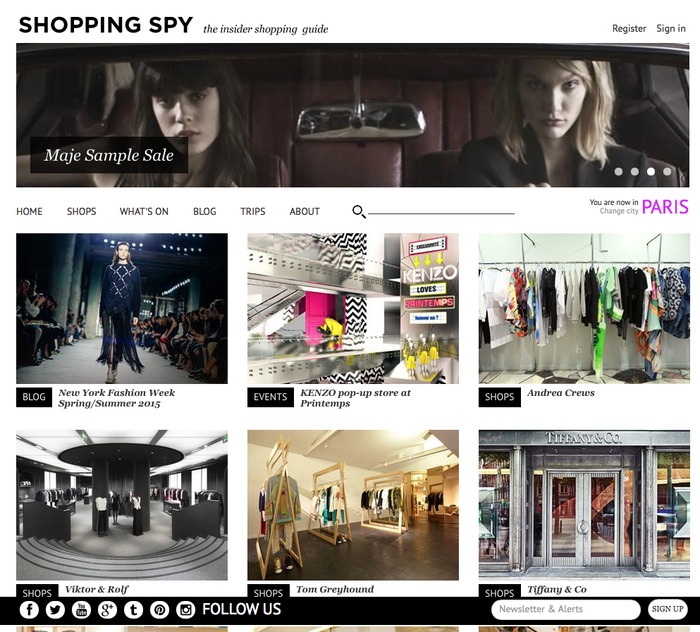 Shopping Spy launched their new insider shopping guide for one of the most sought-after shopping cities in the world: Paris.
Unveiled just in time for PFW and the Christmas shopping season, the free Paris Shopping Spy guide is the perfect accompaniment for fashionistas wishing to splash the cash on a French shopping trip.
Launched three years ago, MyShoppingSpy.com established itself as the premier source for fashion shopping in London and is now starting to branch out to other international destinations.  Created for fashionistas who want to be in the know when they are out and about shopping, the Paris guide includes a detailed shop directory where you'll find every notable fashion store from famous designers to independent boutiques.  Not to mention news of designer sample sales, offers and shopping events from the fashion insiders at Shopping Spy.  *insert excited scream here*
Kristina von Oertzen, Founder of Shopping Spy, says, "We are so thrilled to be launching Shopping Spy in another amazing city – first London and now Paris! These are two of the top destinations on the globe for shopping, and now fashionistas and frequent travellers can be in-the-know before they even arrive. We found some amazing stores and designer sales and got so hooked that the whole spy office wants to travel to Paris now. I'm sure many serious shoppers will be planning a trip to Paris during the festive season, so don't leave home without our free fashion shopping guide!"
As essential as sampling escargot, Shopping Spy's Paris guide will direct people to interesting and unique shopping events such as pop-up shops, vintage fairs and markets, in addition to the hottest sales of the moment. Visitors to the addictive fashion website will also have access to the latest trends, fashion news and the lowdown on the new kids on the block when it comes to designers and brands.
Trendsetters also have the opportunity to join the online community and 'become a Shopping Spy.'  The Spy Community is the place to be to explore all the stores before you hit the shops on foot, saving shoppers time and effort.  Fashion victims can also leave reviews and comments on each store, create shopping trips and follow other spies for a true interactive and fun experience.  Shopping Spy is the easiest way to find hidden gems and exclusive shopping haunts, and keep updated on your favourite fashion boutiques and brands.
Kristina adds, "I created Shopping Spy because I'm a fashion addict myself and had a problem – when I was visiting other cities and was short on time, it was impossible to seek out the latest local designers and the best offers.  With our guides you can search for the location of your favourite shops or discover hidden secrets of a new city; it's so exciting.  I urge fashionistas to keep an eye on our website as the next city we have our sights on is undoubtedly the most visited in the world for shopping – New York."
For more information about Shopping Spy and to browse the new Paris guide, visit http://www.myshoppingspy.com/.