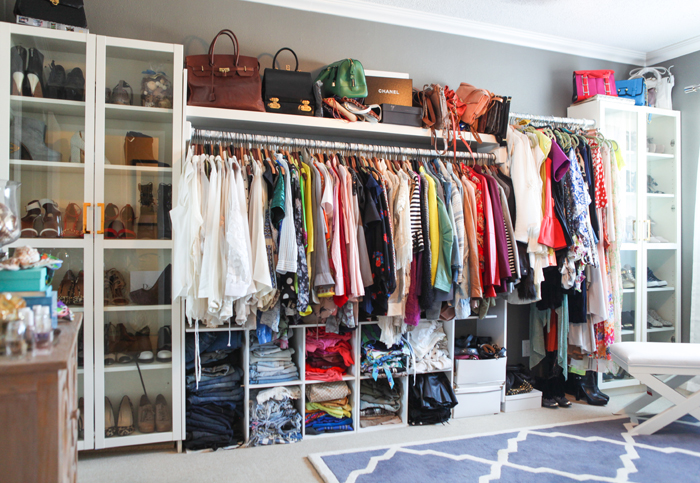 Spring has sprung, the blossoms are in bloom, the sun is trying to peek out the clouds, which can only mean one thing – time for a spot of spring cleaning! Out with the old and in with the new so to speak.
It's a new season so naturally we all have the urge to want to go out and buy new outfits for all the glorious weather we're hoping to have. Doing this season in season out there's bound to be an overloaded wardrobe somewhere in the midst, time to clean out the proverbial cobwebs and make room for the new duds.
Break It Down
Best way to start this is to break it down into sections, start with all of your favourite pieces, the timeless pieces you can't do without and the statement items that are guaranteed to make your outfits pop. Put all of these items at one end of your wardrobe so you don't accidentally throw out anything you really don't want to.
Out With The Old
Now for the hard part 'Throw', you have to be ruthless with this! Get rid of anything that you don't love, doesn't fit properly and anything you haven't even looked at in the last 6 months to a year! Go through your wardrobe with a fine tooth comb, this includes your accessories, and shoes. Get rid of those shoes that are oh so great to look at but are oh so unbearably uncomfortable that you can't even wear them to dinner; and accessories that seemed like a good idea at the time but you can't quite seem to work them into an outfit.
Don't think of it as "throwing out" look at it as passing it on, as they say "one person's trash is another's treasure". There are many ways you can pass your unwanted items on – donate them to charity, get together with a friend and hire a pitch at a car boot sale, alternatively if you don't want to stand on a pitch all day you could sell your clothes online.
Whatever you do, make sure you have fun with it. If you get rid of enough you could put that money to good use with a nice holiday!