Spring is rolling around again which means more than preparing for Easter and holding out on that no-chocolate/no nail-biting/no-smoking/no-nos rule for the last few weeks of Lent.
When it comes to getting dressed, that means capturing some of casual lightness of the April breezes (and showers) but not totally giving in to the wishful dreams of a blazing hot summers. It's about practicality and style. Designer flair with down-home accessories and easy attitude.
When it comes to taking a survey of the ladies dresses out and about this spring 2012, we've been asking for help from the team at next.co.uk, whose online store houses the brand's own collections alongside designers and labels from across the world – as well as some closer to home.
We've taken a shining to A Postcard From Brighton, whose mixture of casual knits with well-cut skirts and contemporary day dresses are a great example of springtime day chic, combining urban sensibility with rural textures and natural fabrics.
Easy to style up these simple pieces with louche straw hats – or wide-brimmed floppy brown or beige hats – and some soft leather court shoes. Or espadrilles if the weather is good….
With the floral and pastel trends, especially this season's tropical florals and brights, think nude shoes in patent leather – and long hair. Something loose and easy needs to counterbalance the punchiness of the print. It's about less is more is more!
And believe it or not, even the big catwalk designers have been an example in restraint and casual chic, from Chanel to Chloe, all full of soft slowing patterns paired with simple daps, even sneakers, rather than spiky heels.
The name of the game this year, it seems, is to pull of a crisp white jacket and dress – or a flowing-yet-child-of-nature-esque maxi dress – with little more than a great pair of flat sandals and a subtle yet strong gold bangle. I think we're up to the channel in that department.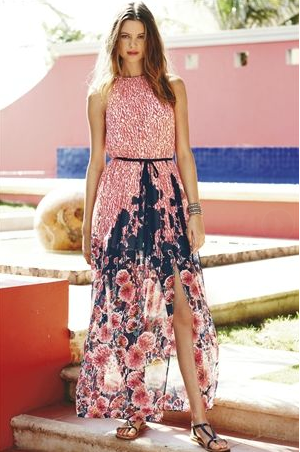 Border Print Halter Neck Maxi Dress from Next, £65