Last week I was treated to a REN Radiance Express Facial at the Modus PR press day, it took about 10 mins (but felt like 30) and it was literally the best facial I've ever had, seeing results straight away!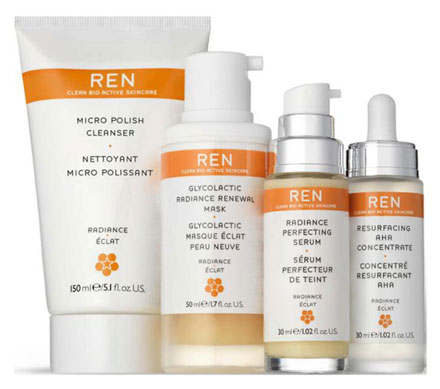 This particular facial is designed to enhance naturally happy, healthy skin; and that it did! I was asked what my skin felt like at the moment and I went for the word "lifeless" – so he went for the Radiance products to boost my skins inner glow. The treatment lifts and tones the underlying muscles and release tension while reducing the appearance of expression creases. My skin was exfoliated (Micro Polish Cleanser), masked (Glycolactic Radiance Renewal Mask), serumed (Radiance Perfection Serum) and moisturised (Vita-Mineral Day Cream); and it felt absolutely fantastic after! I couldn't believe it when I looked in the mirror, my skin was literally glowing and looked so (dare I say it) clean! I was later given the products to take home and use myself so I can have the perfect clean glow all summer.
This facial (REN Glow and Go) was also being done at the REN pop-up in Selfridges, which I'm told should be back some point this month but I'll keep you posted. I strongly advise you go check it out when it does pop back up again!