Last Saturday I was invited by Charlotte "stylecartel" Smith to join her and a few other bloggers on a vintage excursion with Emma aka "Miss Revive" and Paul Valentine from Exposure.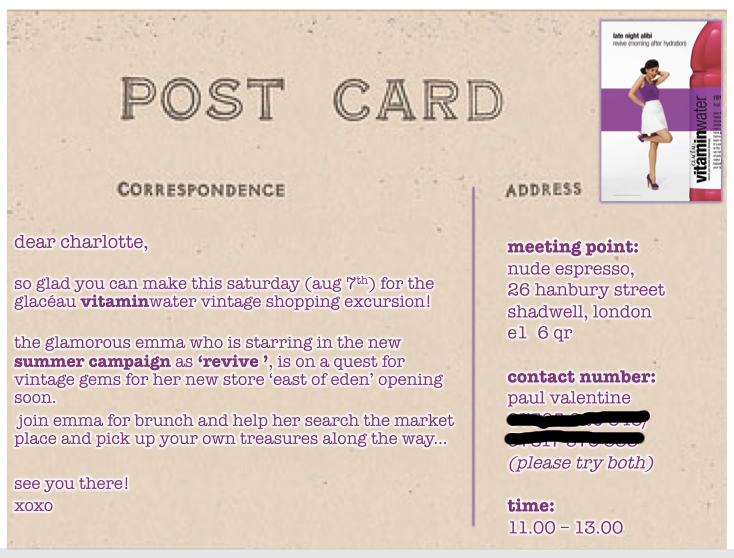 The objective was to go meet Emma, who has a vintage store called East Of Eden opening soon on Balls Pond Rd, and help her in her quest to find great vintage gems for the store.
Emma is featured in the Glaceau Vitamin Water summer campaign "show your vits". The ads feature real people, specially picked because they fit the brand's personality. Emma is Miss Revive. a party girl with a twinkle in her eye, she is often hitting the tiles in her 1940s get up, painting the town red – specifically East London, where she runs a club night!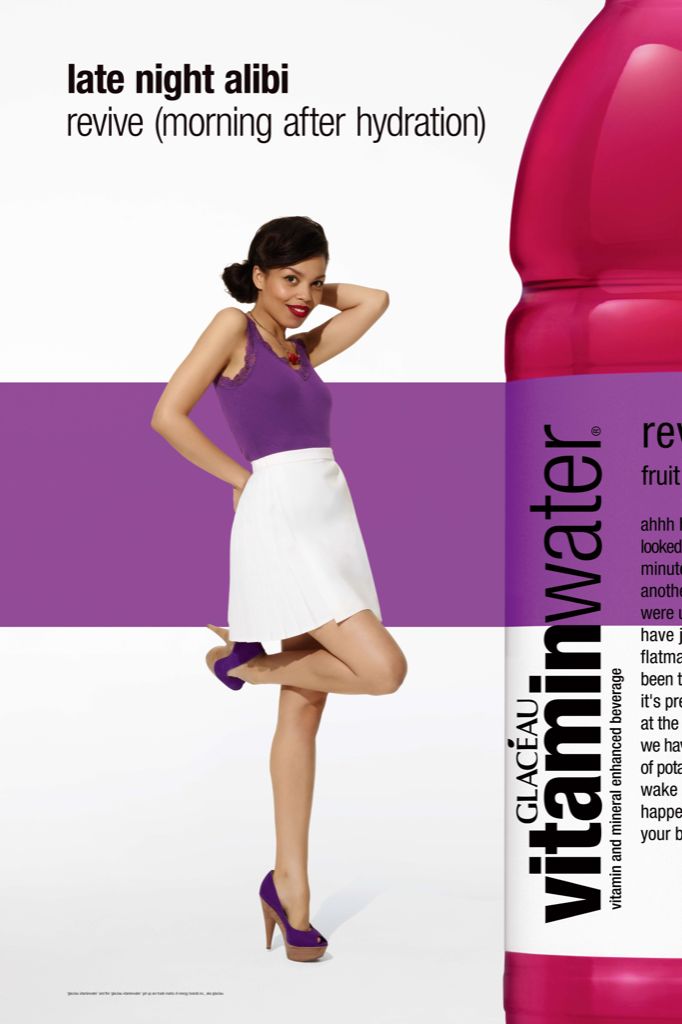 Living in Hackney on and off for almost a decade, she embraces the creative energy of the area as well as its cultural diversity; not only because Hackney has a higher concentration of artists than anywhere else in Britain, but she should know what she's talking about – she studied at the prestigious school of african and oriental studies and is now studying for a phd all about cultural diversity.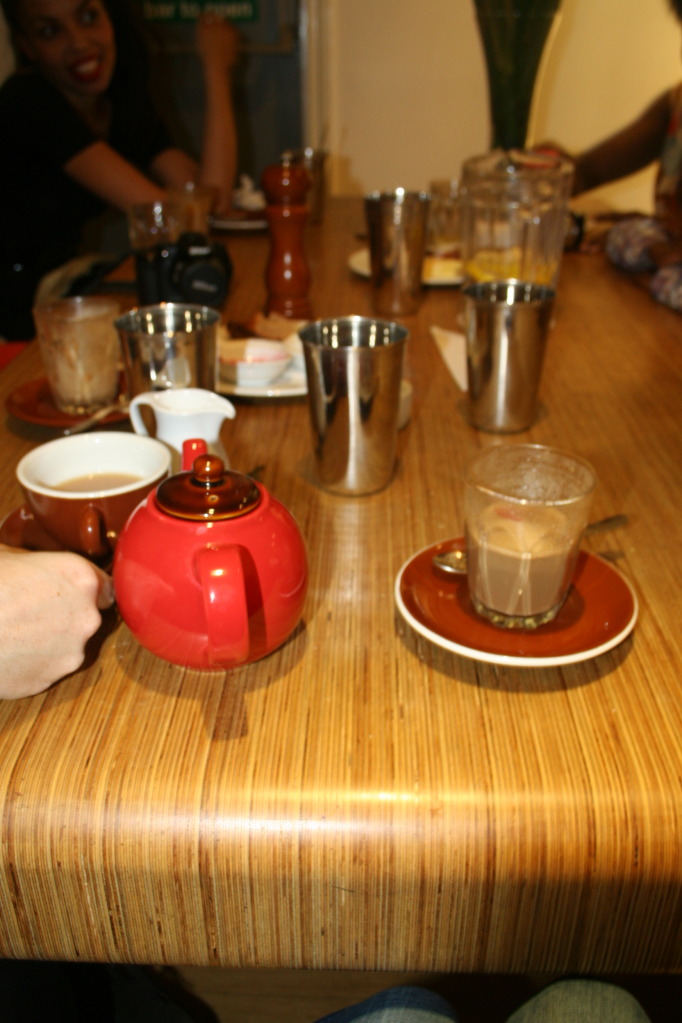 We met for brunch in Nude Espresso on Hanbury St, where we were all introduced to each other. In attendance there was Amy from Wolf Whistle, Alexxsia from Alexxsia Elizabeth, Charlie from Girl a la Mode, Charlotte from Style Cartel, Leigh from Style Canteen with her 4yr old Jase in tow, Paul from Exposure and Emma (not forgetting moi). As you can imagine we all had a lot to talk about, one of the topics being FONTS!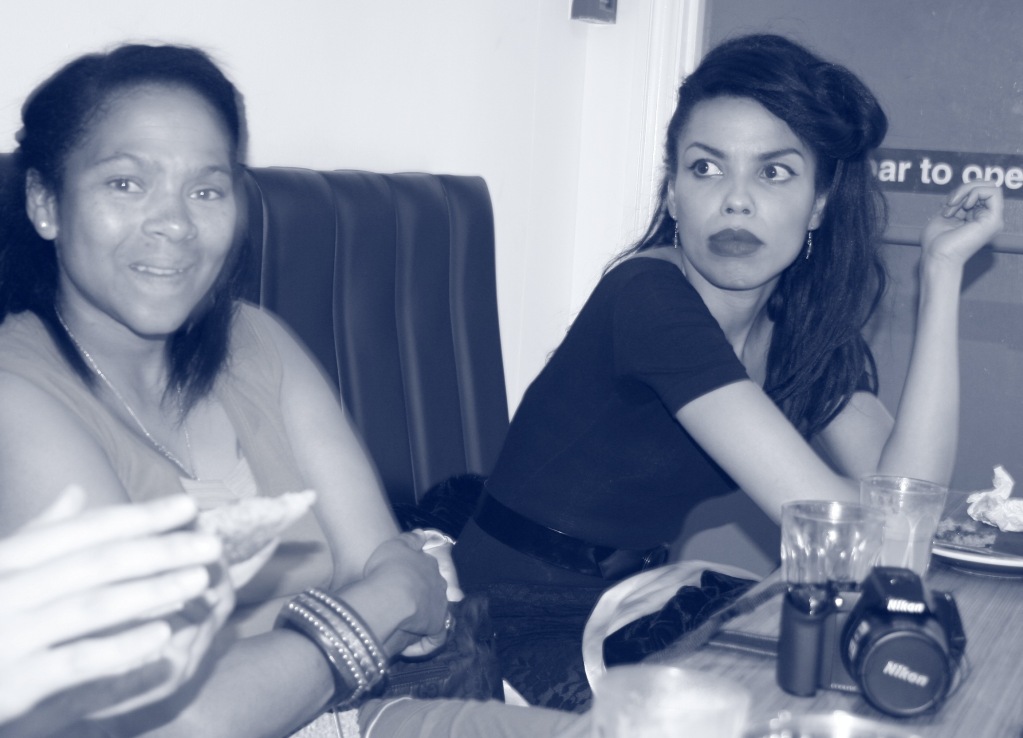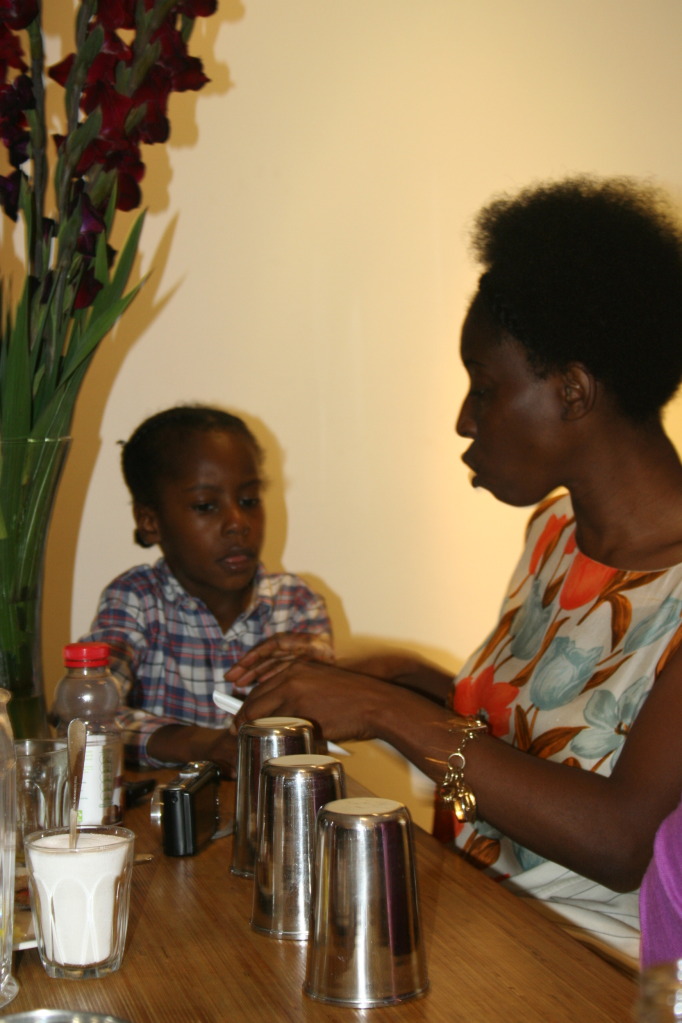 After brunch we went on to Hanbury Hall Vintage Market, where I pulled out some great things.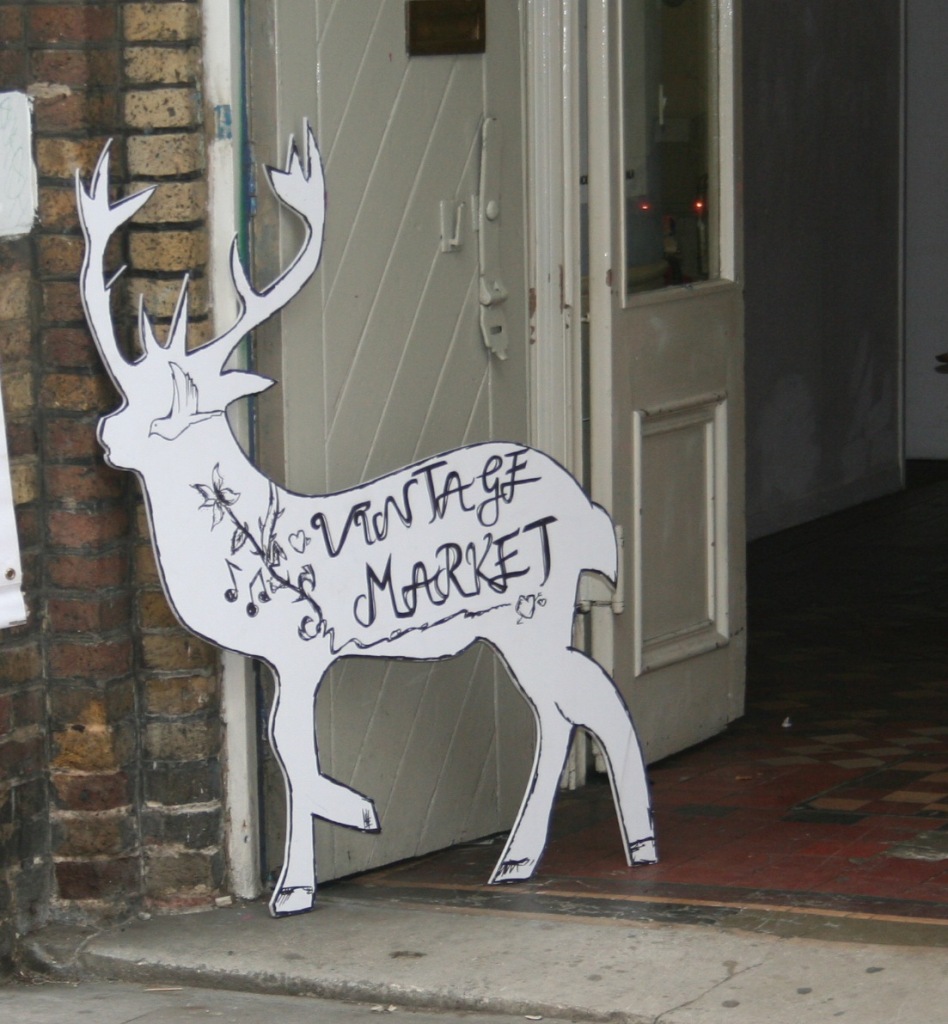 A black shirt with printed gems all over it, very 90s Ghetto Fabulous; a black cotton western shirt with hand embroidery over the shoulders from Ease the Squeeze; a sequin jacket; a navy "ostrich" lady like bag; and this…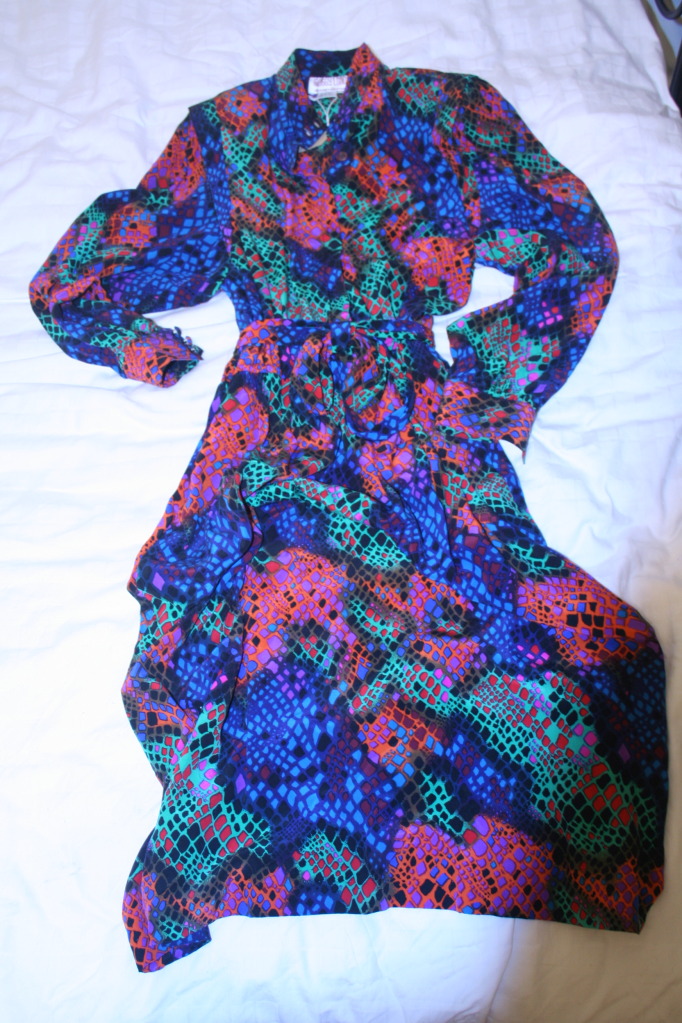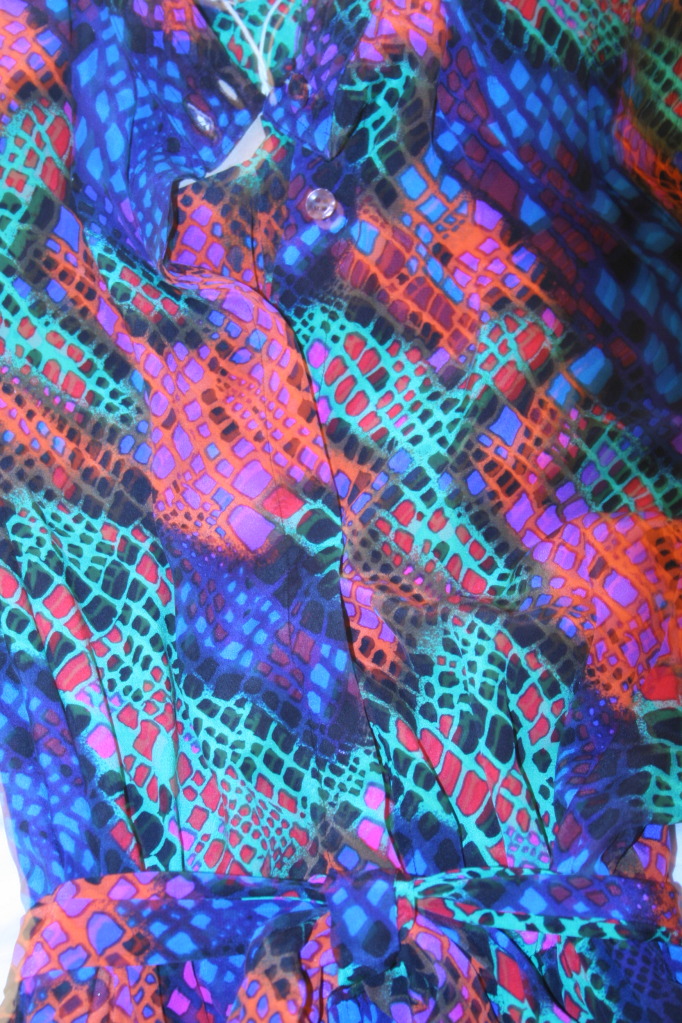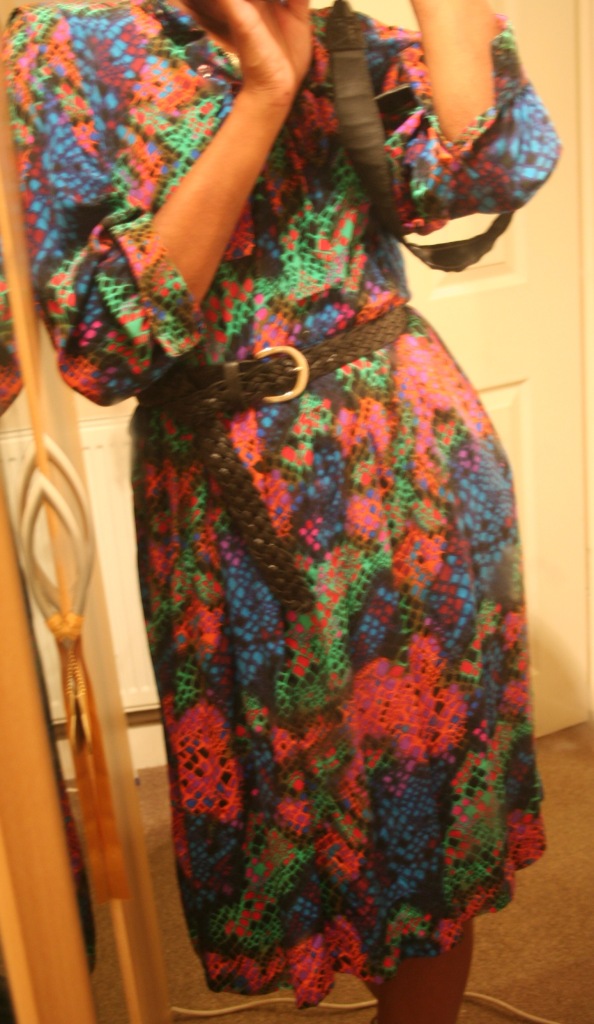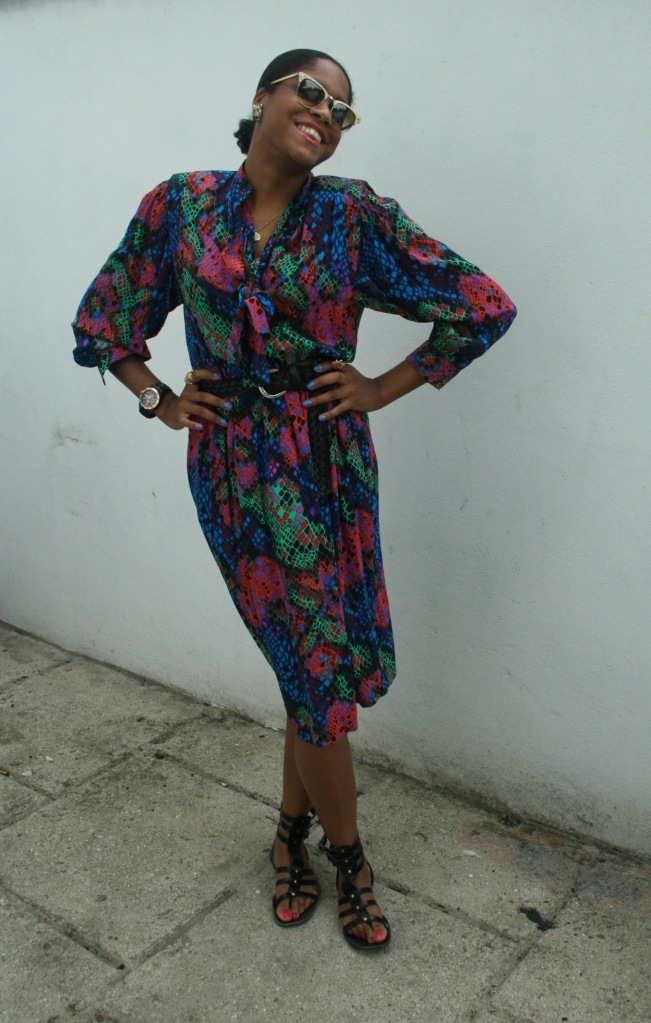 A silk dress with multicoloured snake skin print! Char said it's like Crystal from Dynasty, funnily enough that's what my mommy said when I showed it to her.
Char found this delicious sequin dress and gave it to Emma to try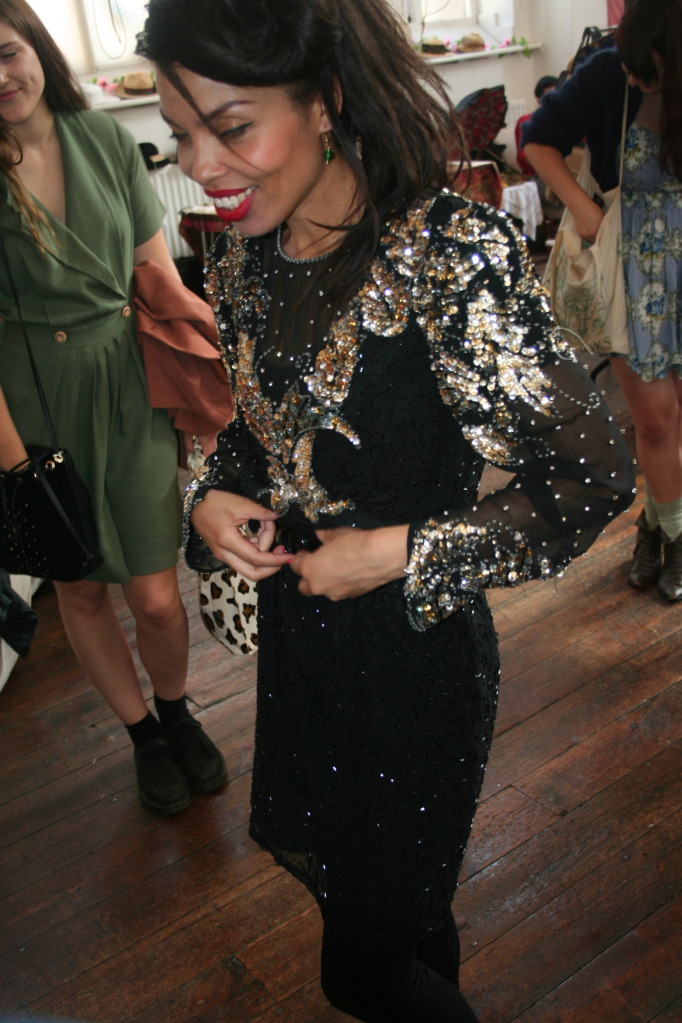 Emma found this female Captain America get up, which reminded me of Marina and the Diamonds.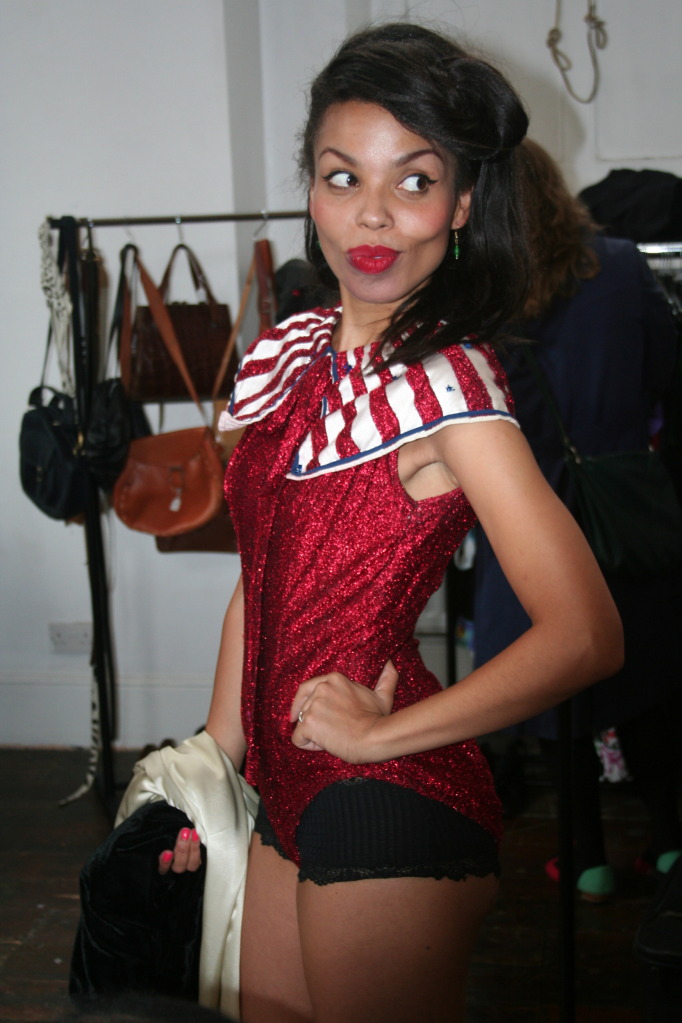 As well as clothes there were some cute vintage jewellery, accessories and bits for the home…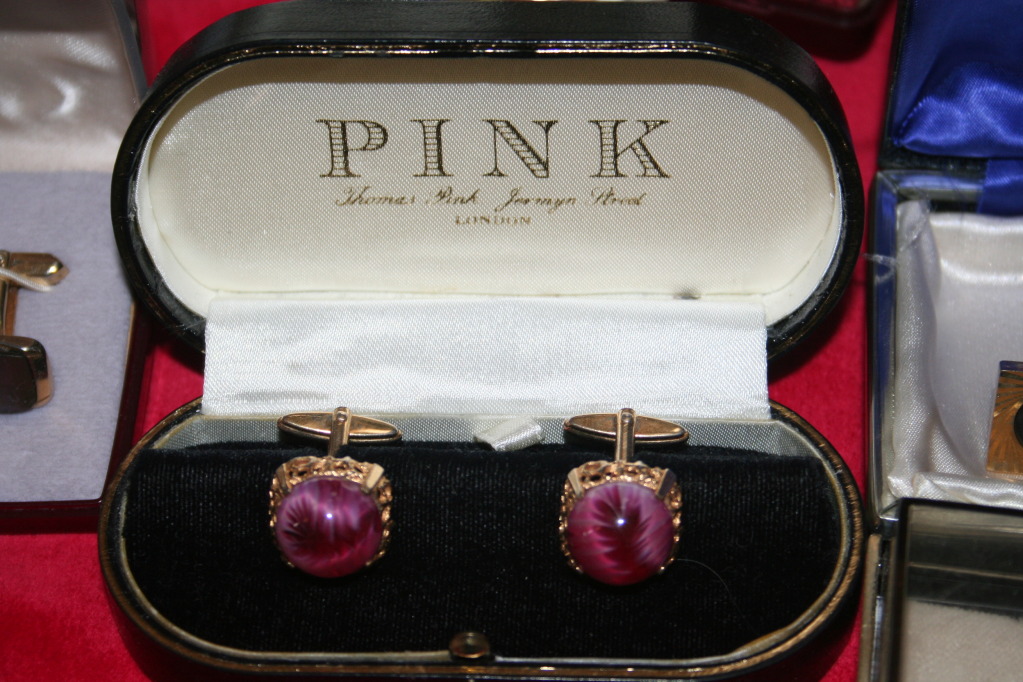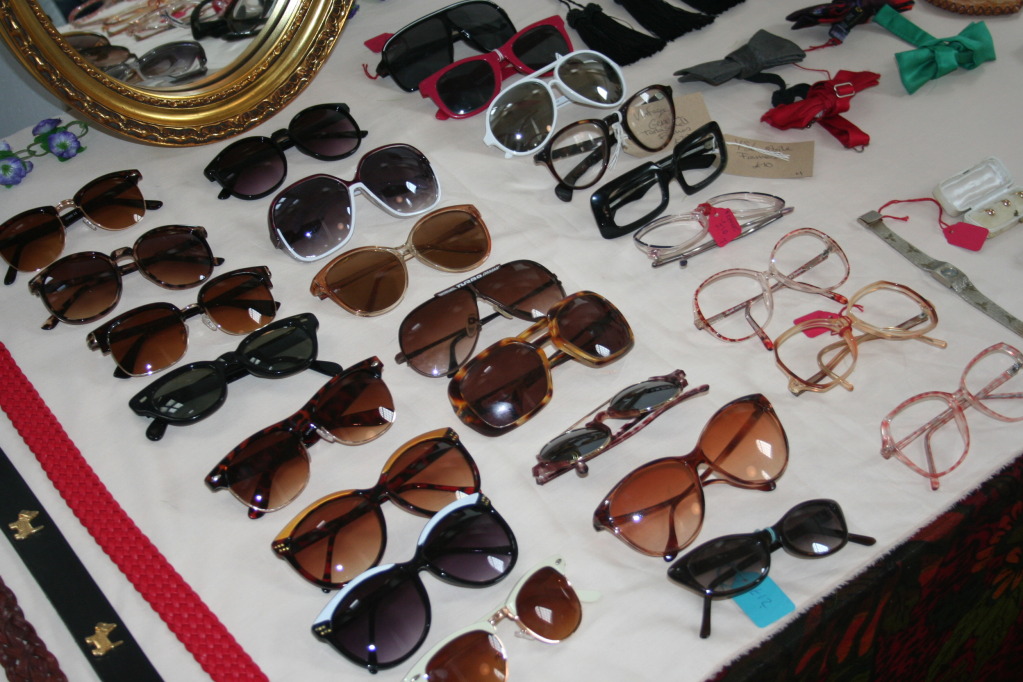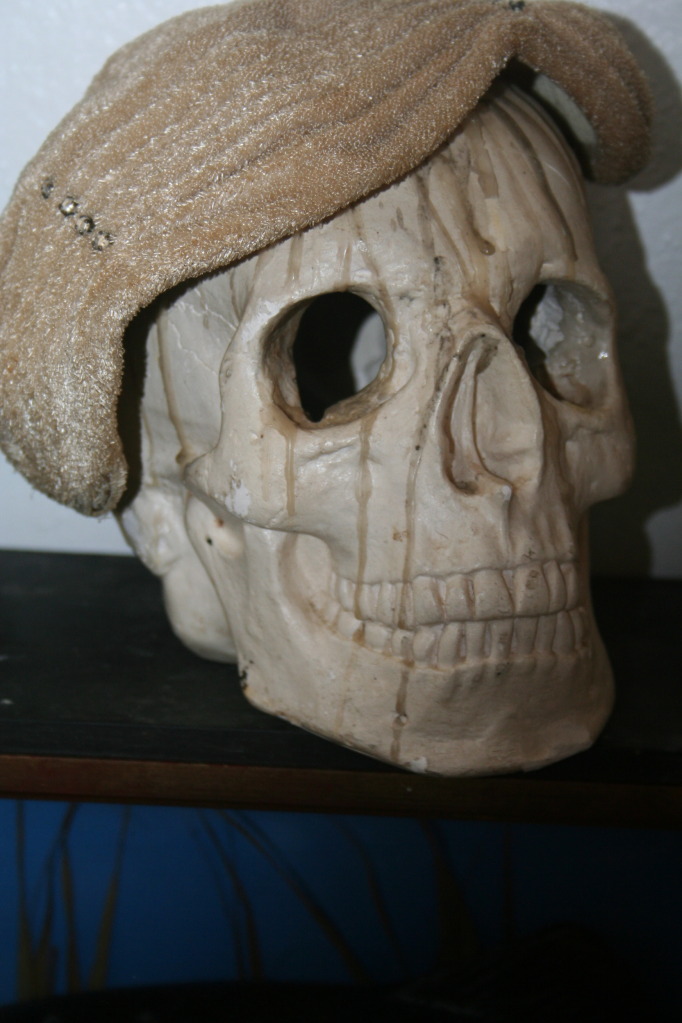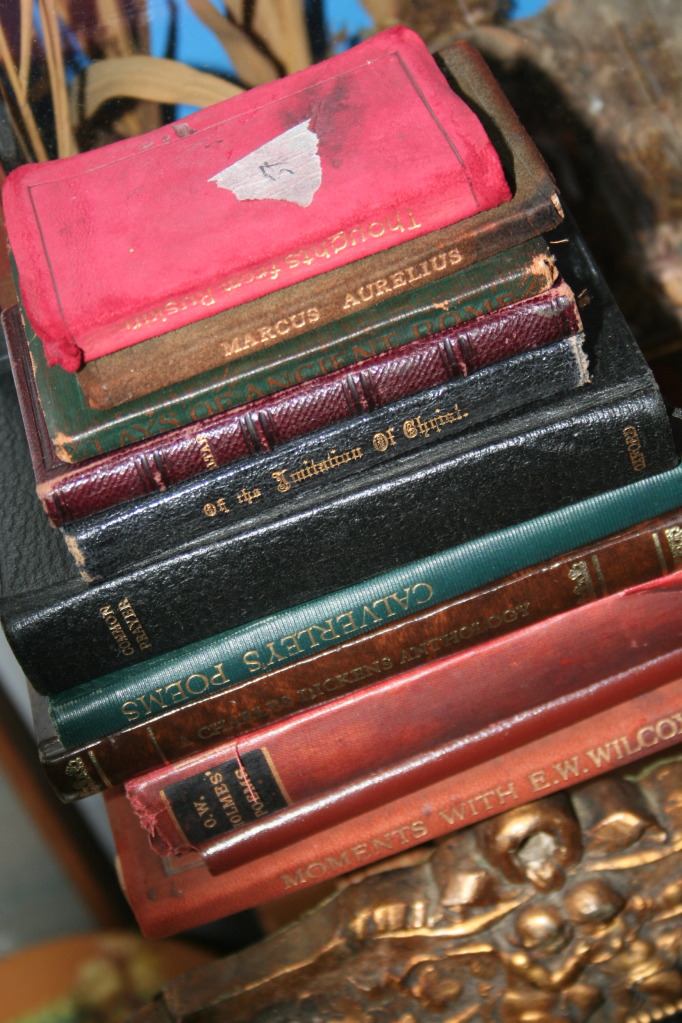 This reminded me of when I was at nursery! I could've  used it as a magazine "rack"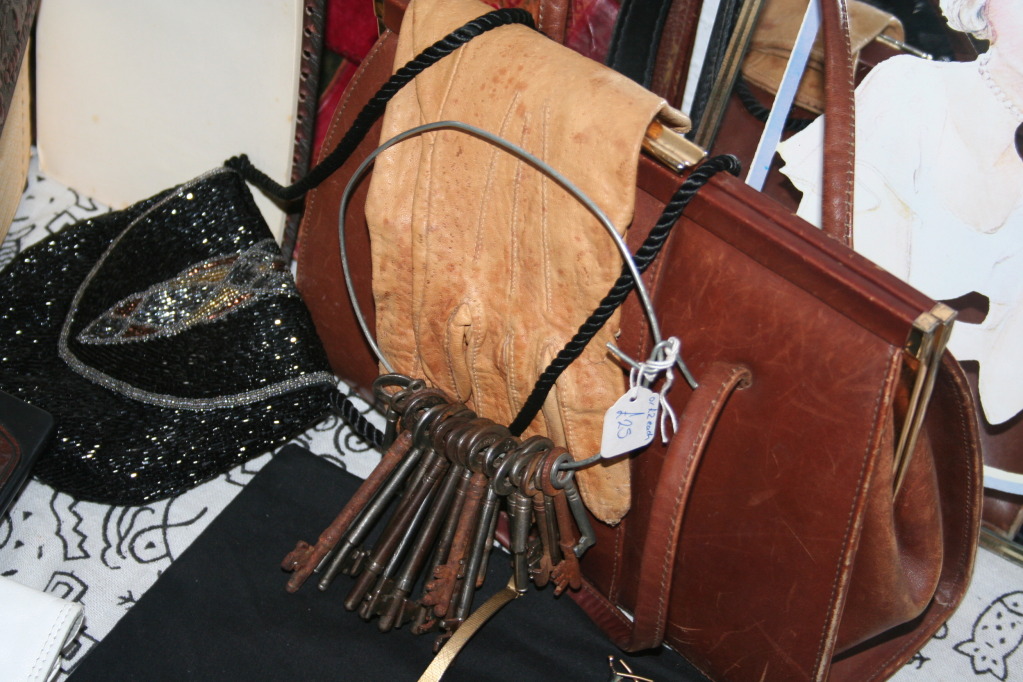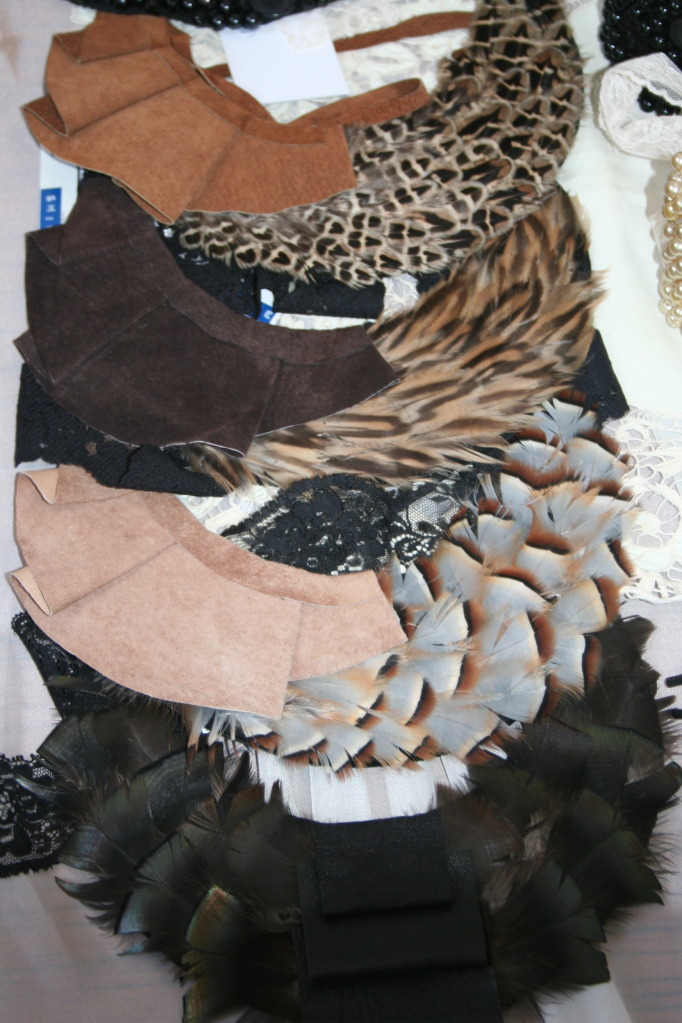 These vintage inspired feather pieces are by Morgaine Alexandra
Amy and Paul got stuck in with this large tan bag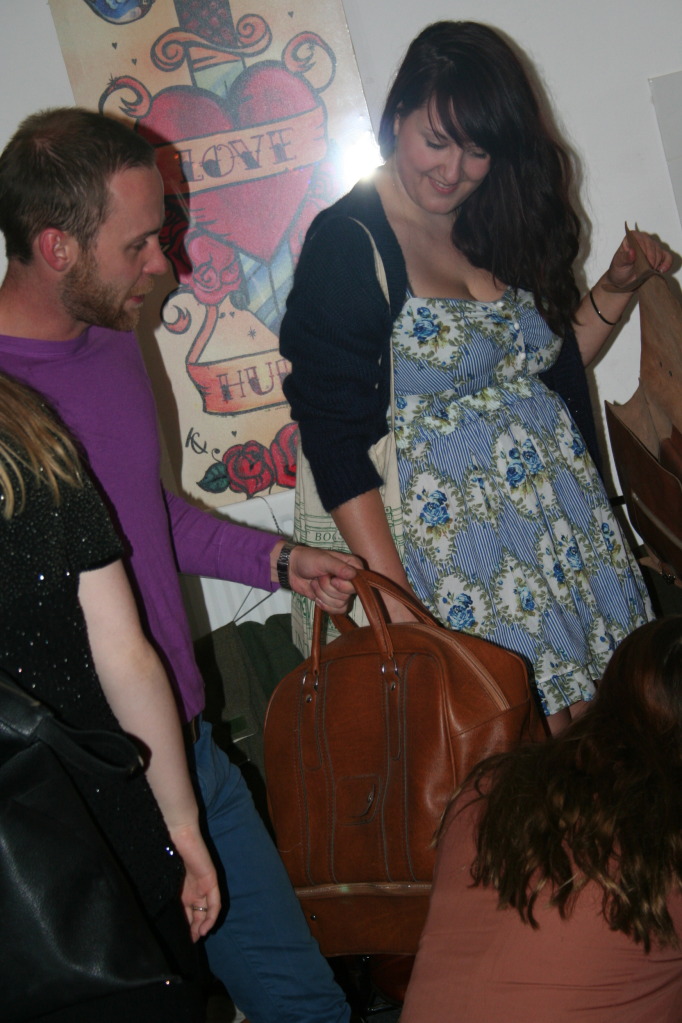 After leaving Hanbury Hall we moved on to Brick Lane, to the market upstairs next to the food place. Bert of Yorkshire Pearl spotted us instantly and hauled us over to his patch. He had an abundance of furs, one of which was a fur vest/gillet, which I was very pleased to see as that was going to be one of my fur purchases this year!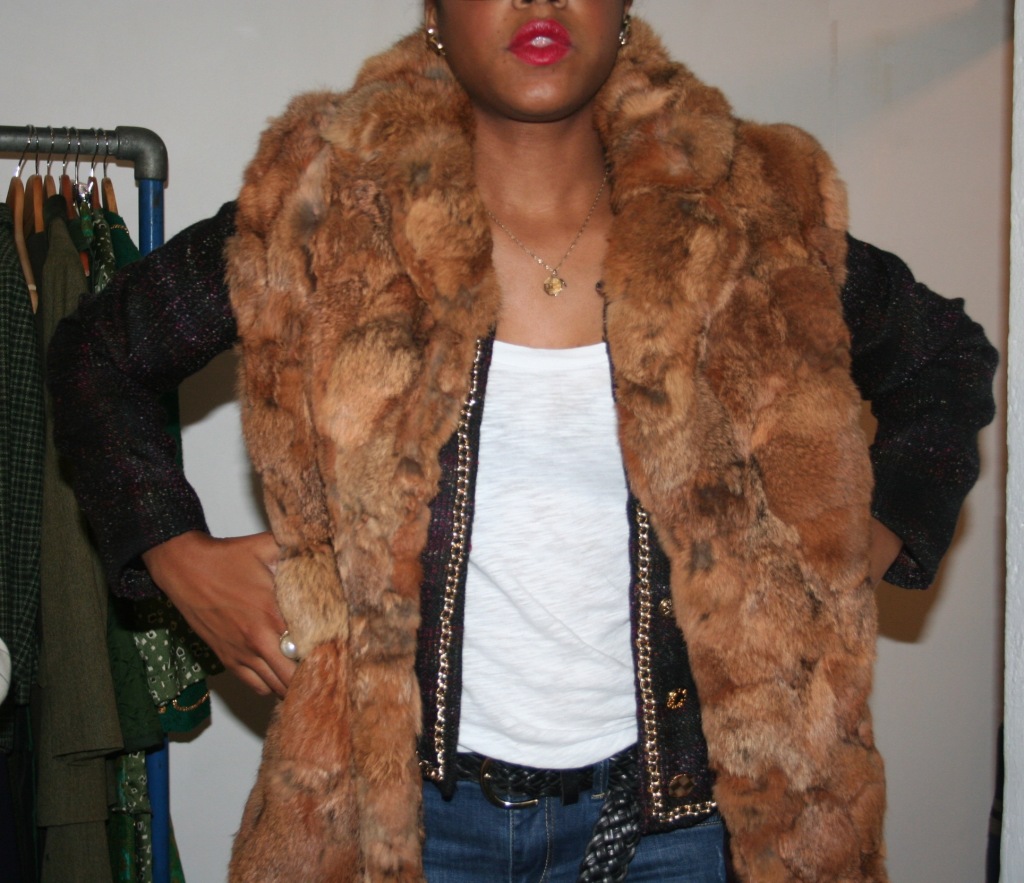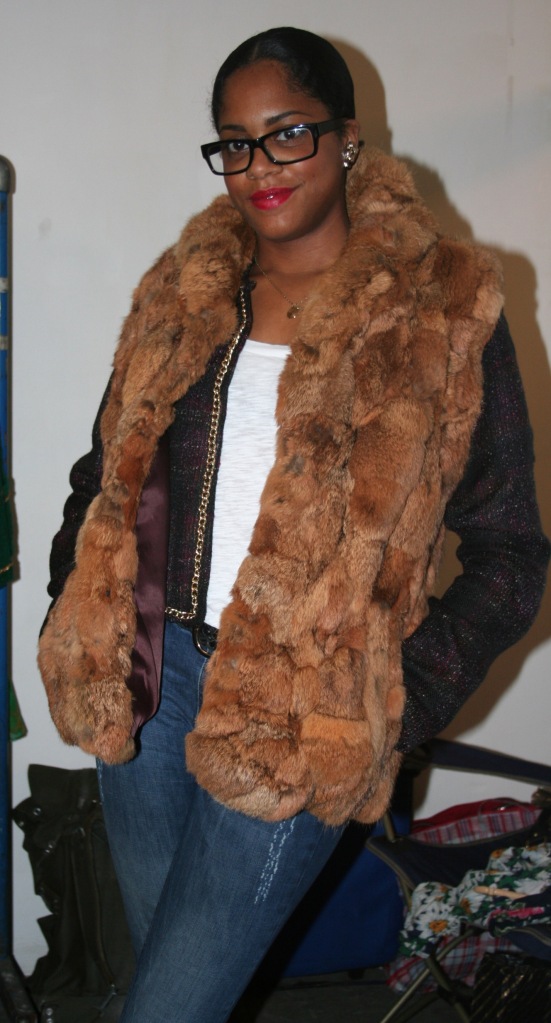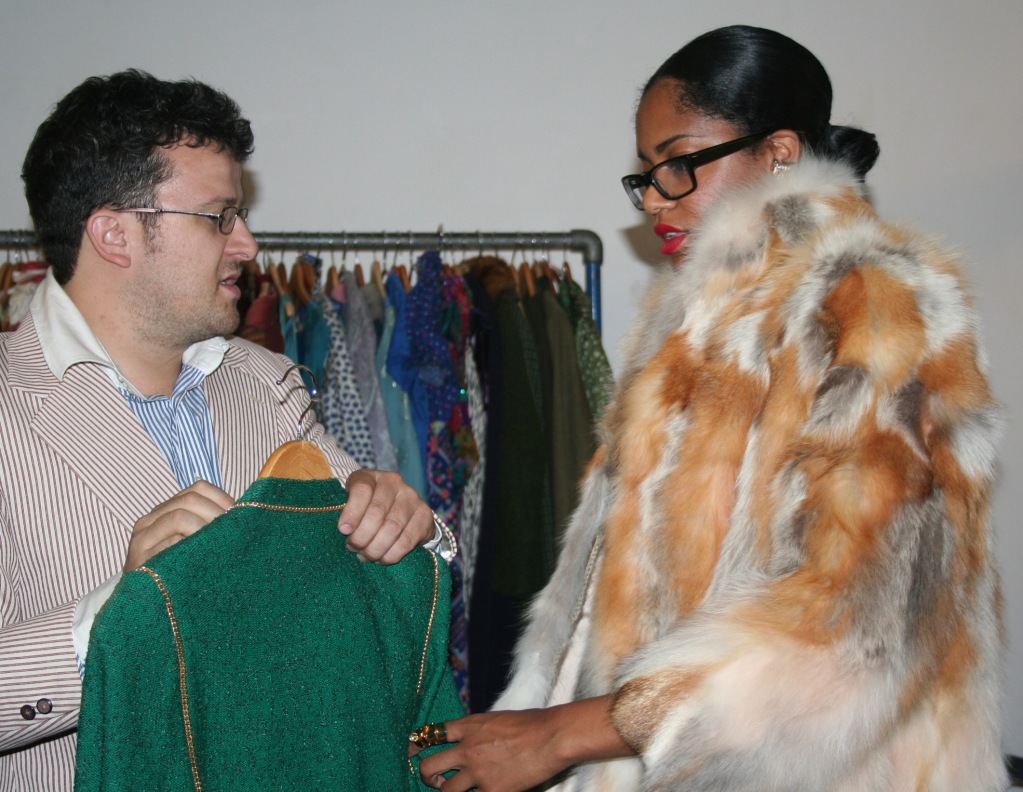 He also had this amazing fox fur, which incidentally looked better on Char, the arms were way too short for me. (Get the violins out people)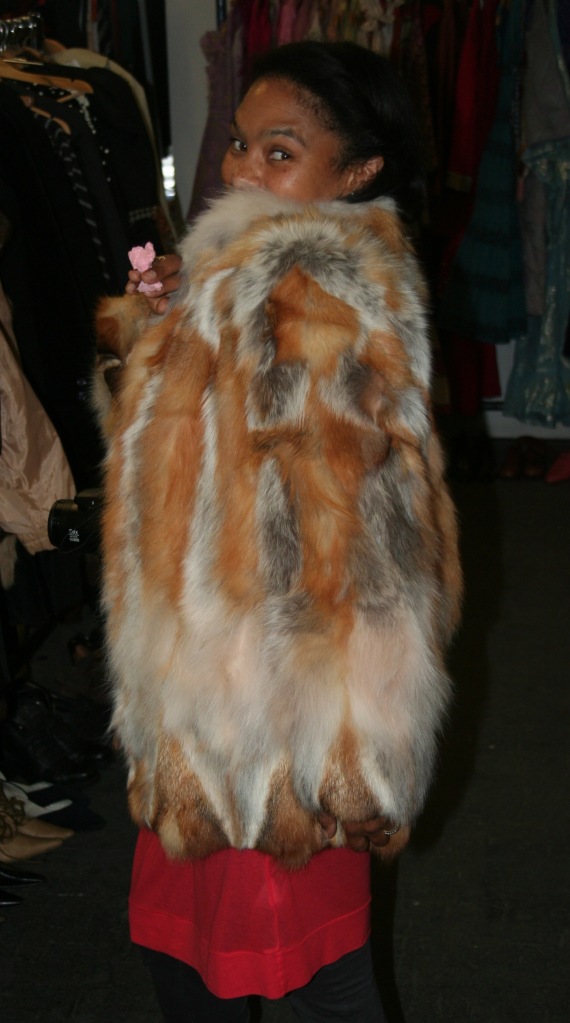 Fur back on the rail I went in search of something else, I found these trousers and shorts. Cayute!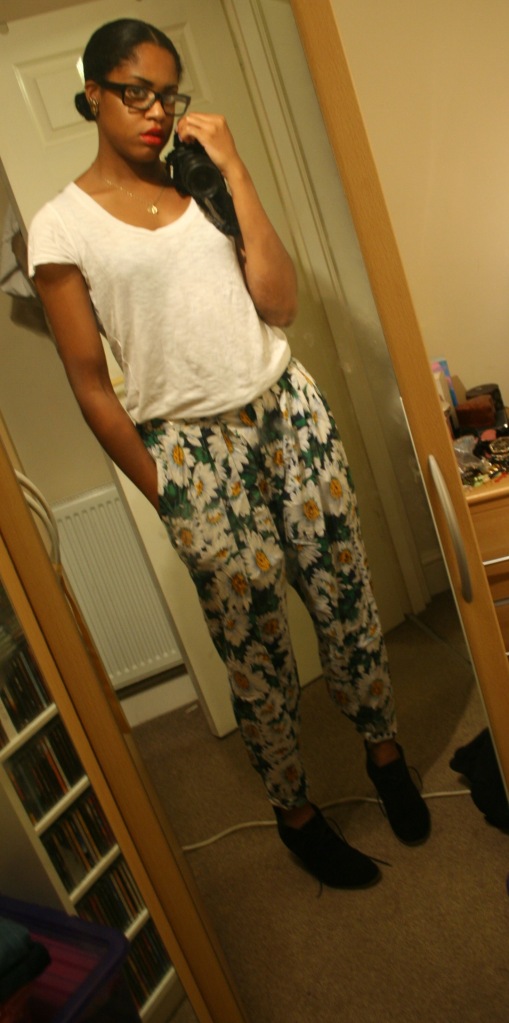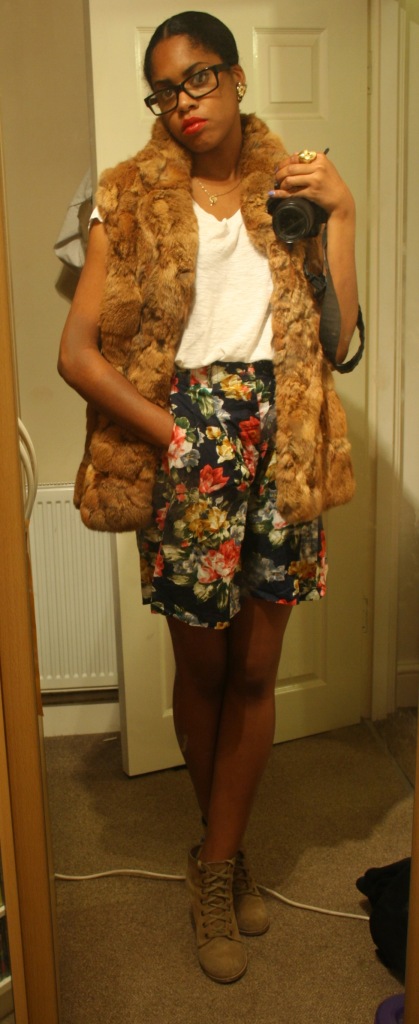 Moving around the room I found Ease the Squeeze part II and had a right old rummage through their bag of tricks. They sell their jewellery wholesale and are in the midst of designing their own pieces which I cannot wait for!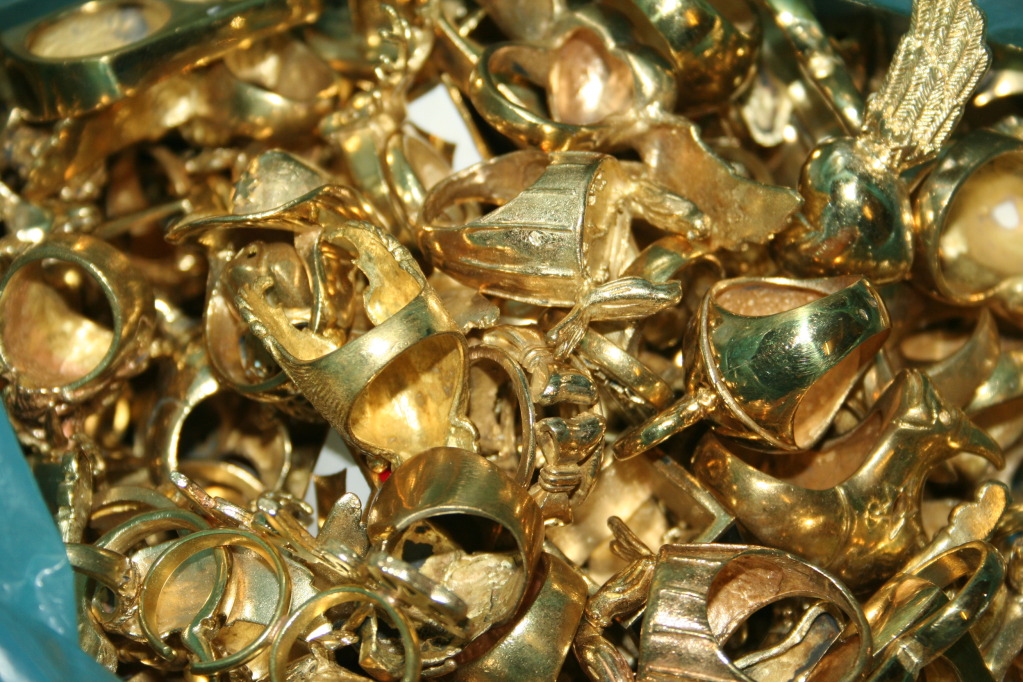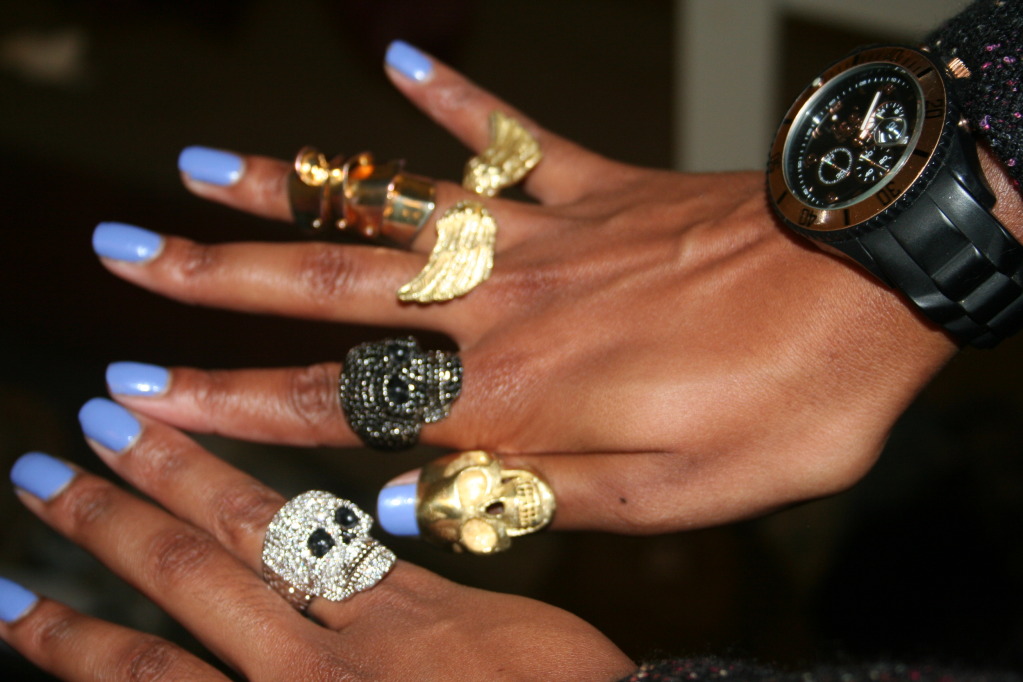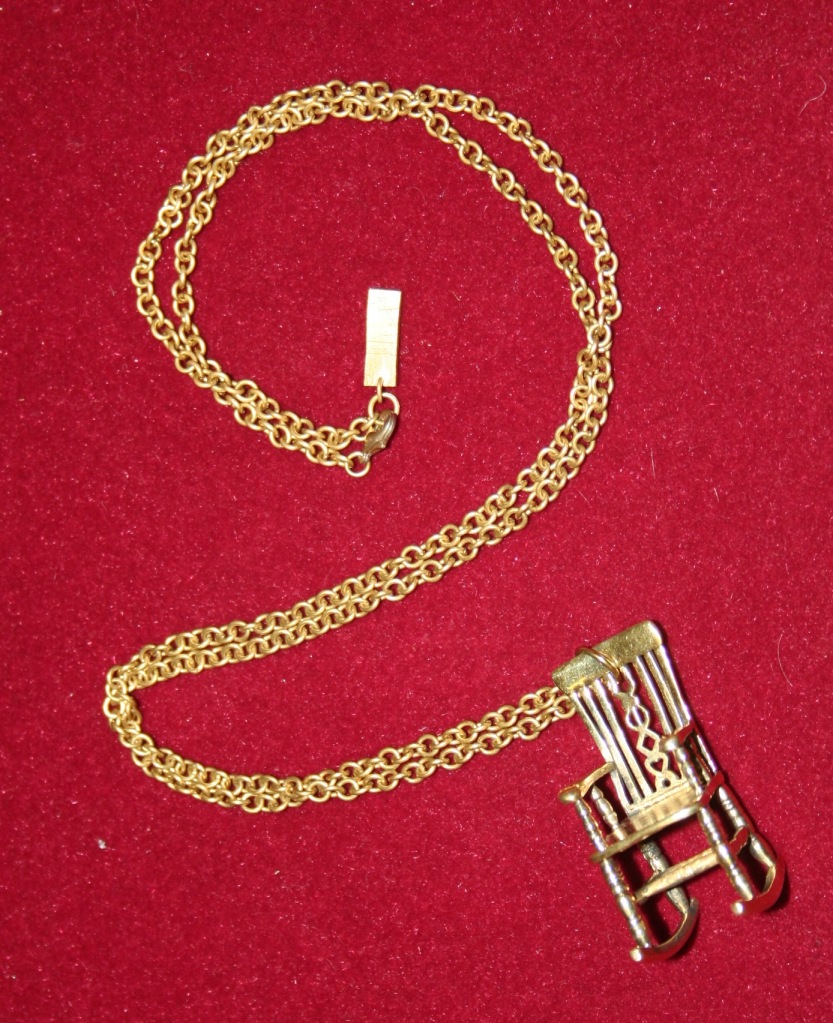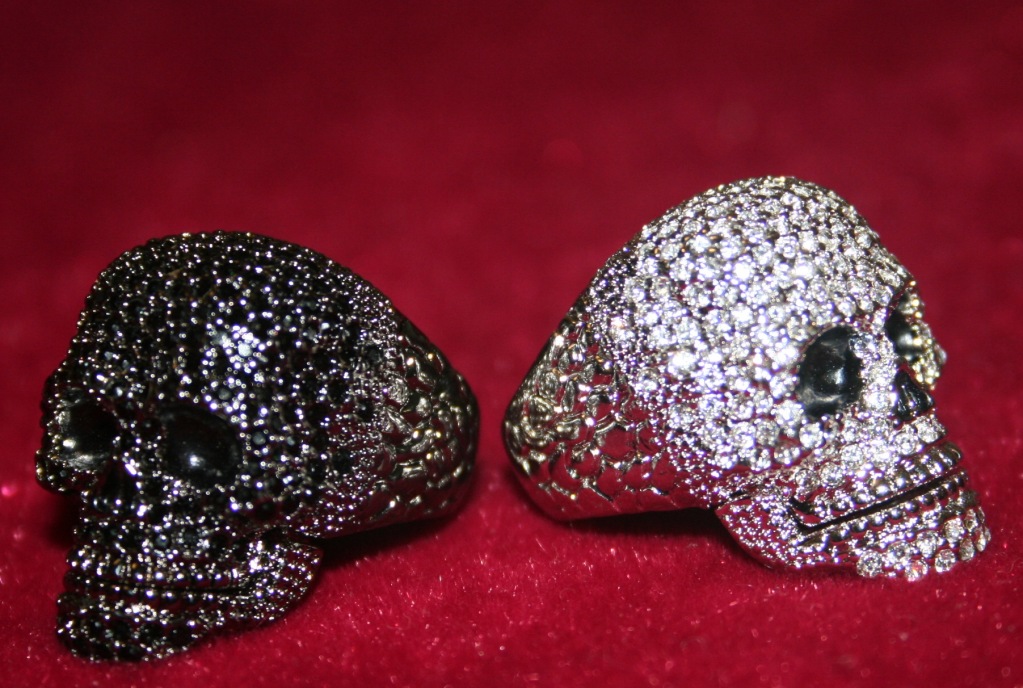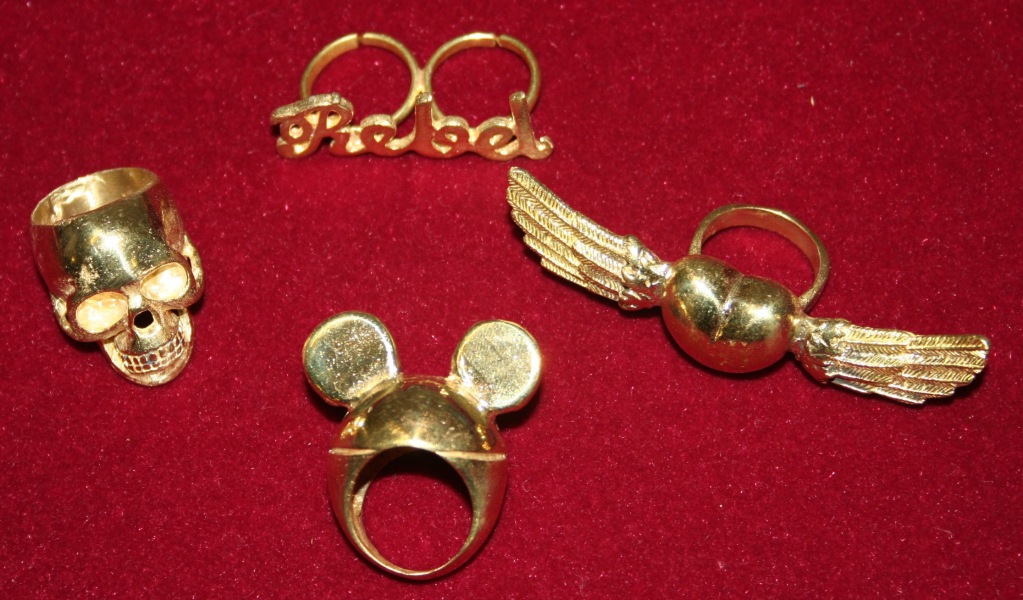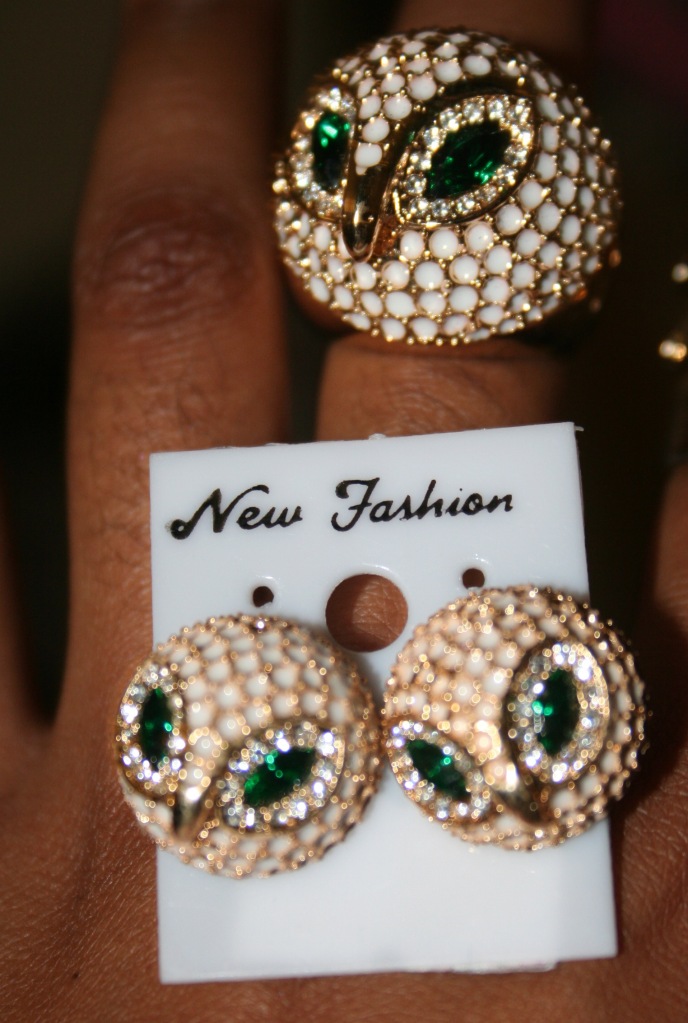 I love big statement pieces, mainly rings and earrings, this was like heaven for me! I think I was with them for like half an hour, Leigh came to find me and also got stuck in!
In the end I took the Skull and Wings rings and got their contacts for future projects.
After the "Where are you" call we had to leave and find the others, who were at the Vintage Kilo place. Get a kilo of vintage for £15! I also got a few Deluxe Freaks for ya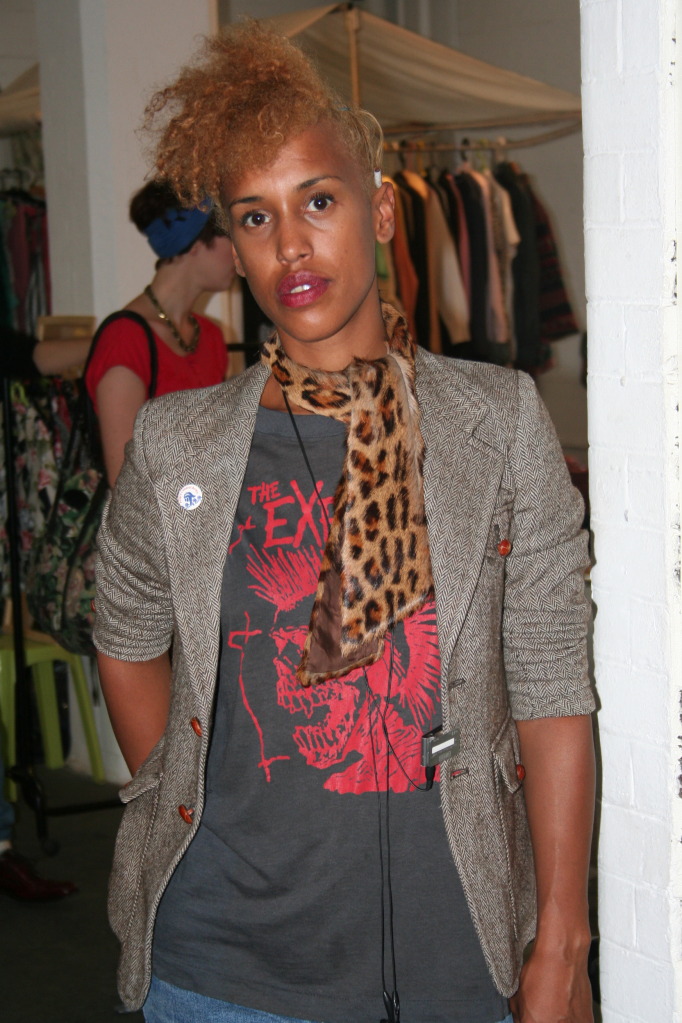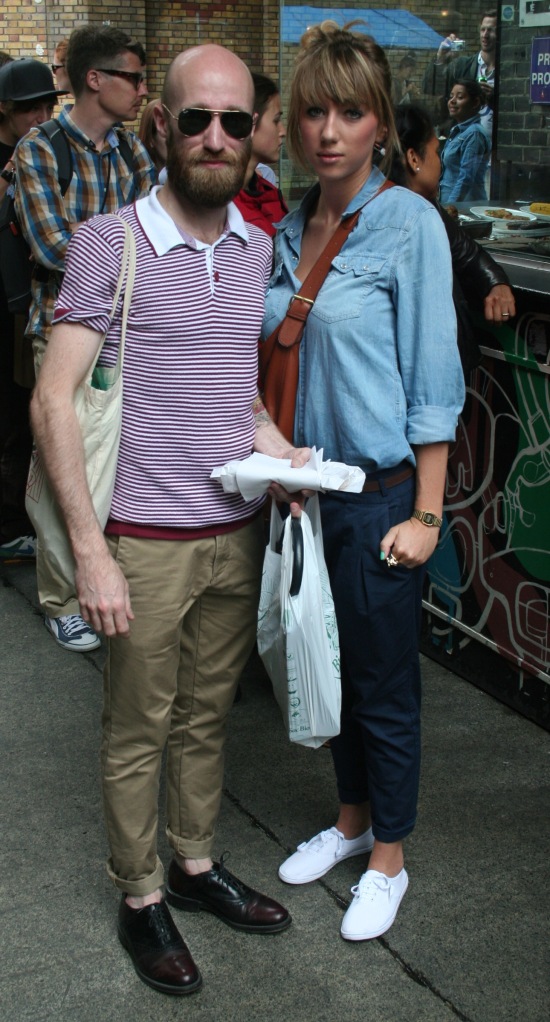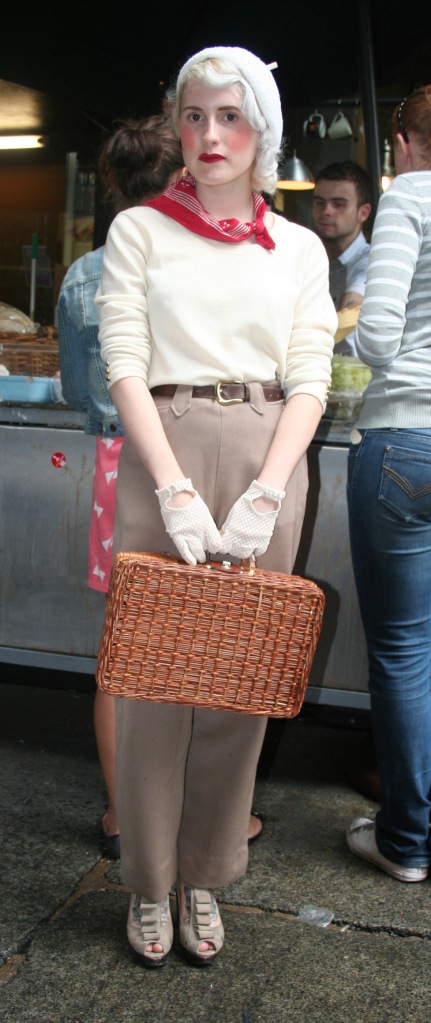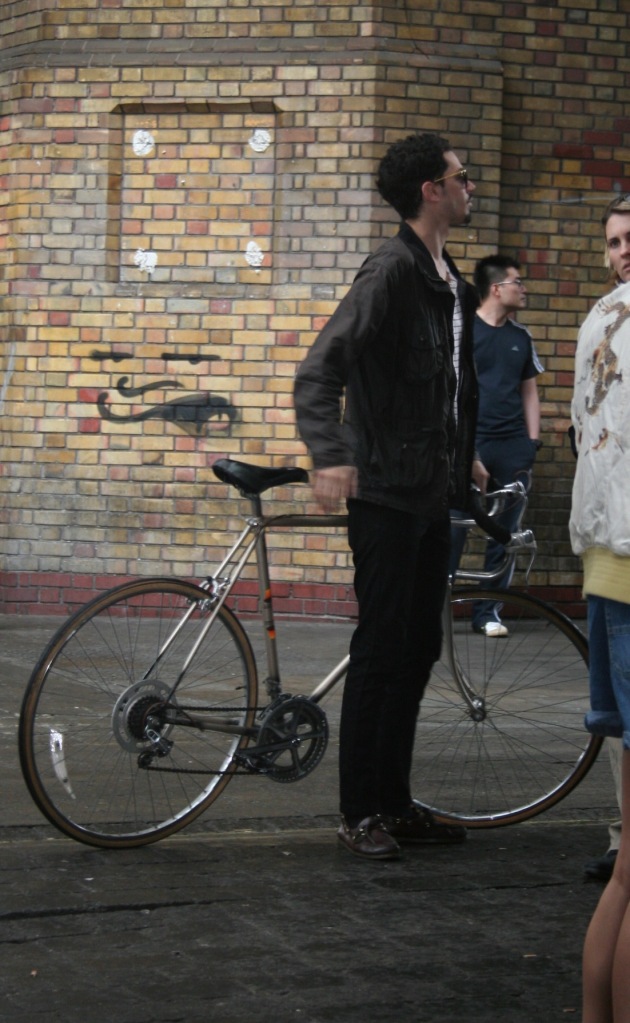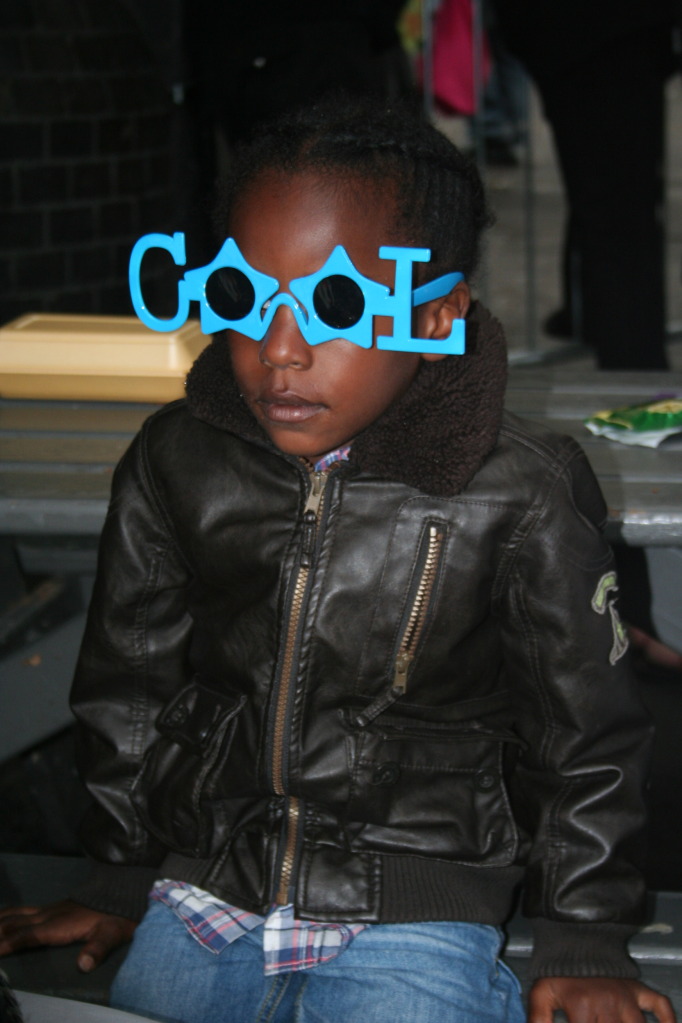 I need theses mannequins in my life!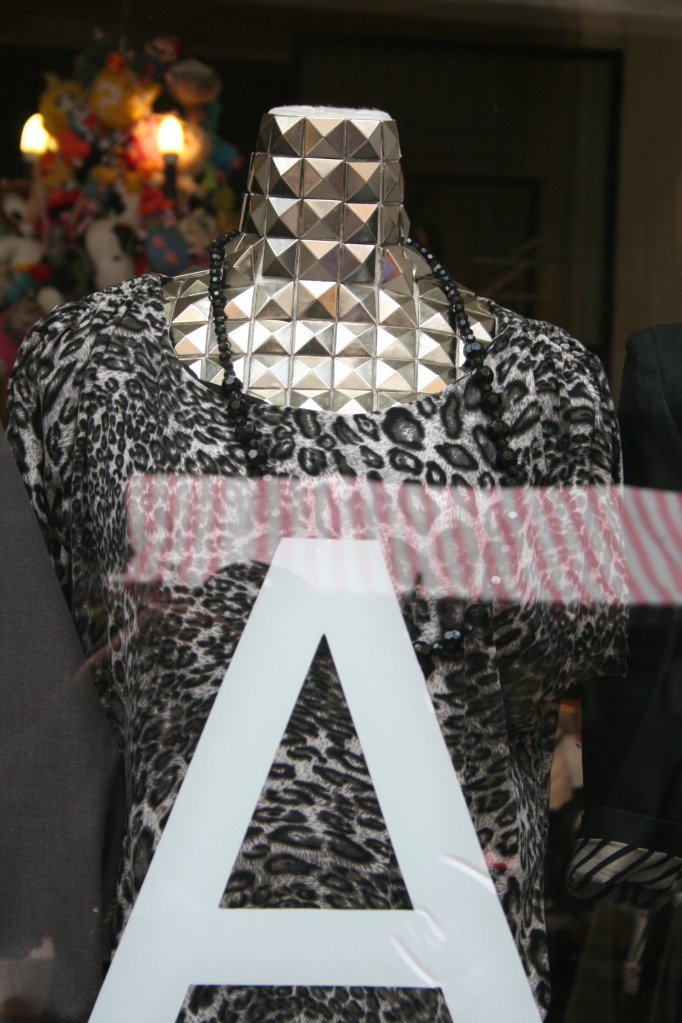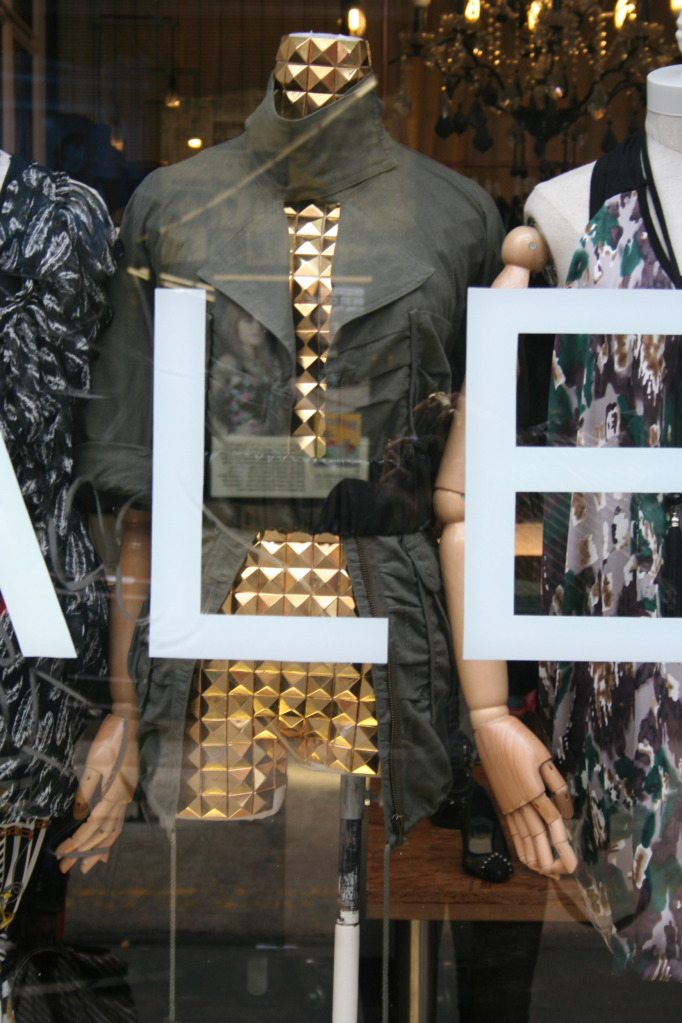 That was the last stop, we were supposed to be done by one, we went on til 4pm!
Ciao for now.