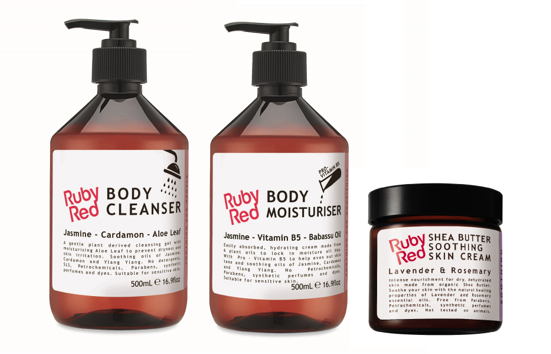 It's that time of year, the cold is beginning to set in which can mean only one thing for our skin – bad news!  The outside elements – cold , wind and rain – combined with the drying effects of central heating can cause dry, itchy skin as well as flaky nails.
In the cold months our skin produces less sebum and moisture due to the drying effects of the weather and indoor heating.  Many shower gels contain harsh ingredients such as sulphates that can contribute to this dryness by stripping the body of its natural oils.
Use a body cleanser that is more in tune with the natural balance of your skin and I know it feels lovely but try to keep down the amount of time you're under a hot shower as that will dry out your skin too.
Your skin needs to be replenished regularly with both water/water-rich ingredients and oils or butters to replace lost moisture.  Ingredients which mimic the skin's natural moisturising and oily secretions (sweat and sebum) work best.
Lotions contain moisturising ingredients which are easily absorbed by the skin and can be used everyday as part of a simple yet effective body care regime.
Circulation can be reduced as blood flow is diverted away from the skin to keep the body warm – skin dries and cracks and is less able to repair itself.
Creams contain higher amounts of oils and butters than lotions, so are ideal to provide an extra protective moisture barrier to vulnerable areas such as hands, elbows and heels (just because feet are in boots and socks doesn't mean they can be forgotten about!).
Natural botanical brand Ruby Red has our winter skin covered, giving us products designed to soothe and nourish with a simple everyday three step regime.
Gentle cleansing – Soothe and Gentle Body Cleanser £32/500ml
Formulated with Aloe Leaf which is rich in polysaccharides which helps to soothe away dryness.
Natural foaming agents of coconut and corn are gentle yet cleansing.
Soothing natural oils of jasmine, cardamom and ylang ylang are calming and warming.
Everyday moisture – Soothe and Nourish Body Moisturiser £48/500ml

 A clever blend of six essential oils locks in moisture all day.
Babassu oil – melts at body temperature
Olive oil – moisturises and promotes skin regeneration
Sweet Almond – a natural emollient
Grapeseed oil – used for its anti-oxidant properties
Shea – provides intense hydration
Jojoba – conditions the skin
The addition of Aloe Vera and glycerine soothe the skin whilst Vitamin B5 reinforces the skin's hydrolipidic barrier and helps to even out skin tone.
Intensive care – Soothing Shea Skin Cream £20/60ml

Even skin tone – nature provides a powerful moisturiser found in Ruby Red's organic Shea Butter to provide intense nourishment for damaged, dry skin.
The Vitamins A, E & F help to restore skin elasticity.
The natural components found in Lavender and Rosemary essential oils soothe and heal the skin whilst also having a calming aroma.
Available from Fortnum & Mason, Harvey Nichols in Knightsbridge, Edinburgh & Bristol, Planet Organic, John Bell & Croyden and selected independent beauty boutiques and online at www.ethicalsuperstore.com and the Ruby Red shop – www.rubyredcosmetics.co.uk.