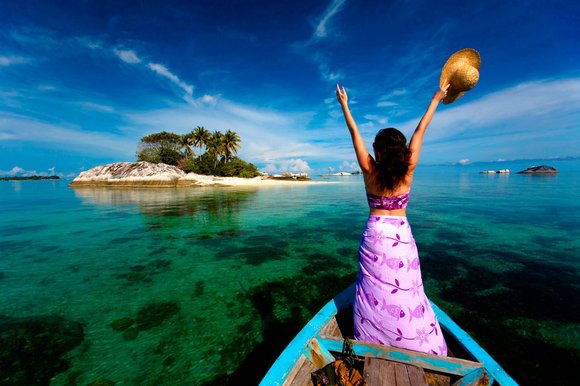 With summer upon us, people across the UK have booked their holidays and are getting ready for a well-deserved break. However, whether you are off to Glastonbury for the weekend, having a luxurious break in the Maldives or immersing yourself in a new culture, travelling can always be stressful. If you want to make your summer holiday a little more relaxing, make sure that your mobile device is your number one travel companion.
With a simple trip to an app store, you can make your smart device even smarter! The very best travel apps all have one thing in common: they solve a critical problem – in some cases one you didn't even realise you had. So if you want to cut down travel times, find the best place to stay, or simply want to catch up on an episode of The Apprentice, here are five great apps for a super summer holiday.
Skyscanner – Plane Sailing
Booking flights is the part of the holiday that nobody looks forward to. Now, Skyscanner does everything you don't want to do. The app summarises the best ticket prices around the dates you want to fly from airlines and the big travel sites. To make sure you get the best deal, you can also pin your search to your home screen to keep an eye on the price – handy if you're flying on a budget.
Skyscanner is available for free on iOS, Android and Windows Mobile
Airbnb – a place with a view
Not sure where to stay on holiday? Well, Airbnb connects people to unique travel experiences having created a neighbourhood guide for cities all around the world. You can rent exceptional accommodation in anything from a flat for the weekend to a castle for a week. Airbnb is available in over 34,000 cities and 192 countries.
Airbnb is available for free on iOS and Android
Waze – Life's a beach
There are few things more frustrating than being stuck in traffic or, even worse, lost somewhere on holiday abroad. Waze is a great community-based traffic and navigation app allowing drivers to share real-time traffic and road information. This means you get the quickest route for the current road conditions and won't miss a moment on the beach.
Owners of iOS, Android, Windows and Blackberry OS devices can cut the queue using this free app
Wi-Fi Finder – does what it says on the tin
Everybody knows that data roaming charges are expensive, but abroad, they are laughably high. Knowing where to find a decent Wi-Fi hotspot is essential if you're to keep connected abroad. Loaded with over 320,000 locations in 140 countries worldwide, Wi-Fi Finder does what is says on the tin with directions to the location and the local weather. Best of all, the offline mode means you can download maps before you go, avoiding a massive roaming bill.
Wi-Fi Finder is available for free on iOS, Android and Windows Mobile
Hotspot Shield VPN – security, access, freedom
The privacy and safety risks of accessing public Wi-Fi networks in airports or cafes are not the priority they should be. To avoid the stress of having personal data and card details stolen when using public Wi-Fi at home or abroad, download Hotspot Shield VPN to protect your online identity and guarantee privacy and security when accessing a public Wi-Fi hotspot.  An added benefit is that Hotspot Shield compresses bandwidth so you can save up to 50 per cent on data charges and by switching to a UK IP address (iOS only), even access BBC iPlayer and other content when abroad.
Hotspot Shield protects iOS and Android devices and is available in free and elite versions
Where will you be heading this summer?