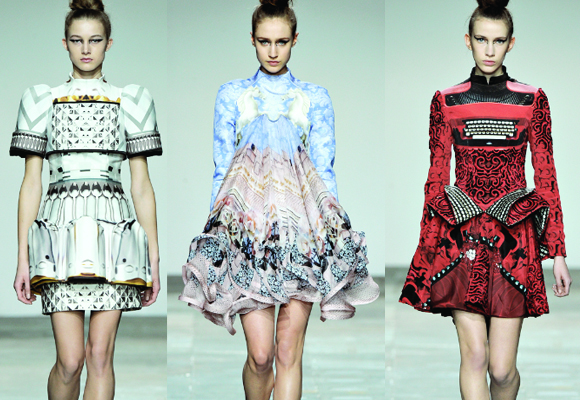 This morning Vodafone UK held a breakfast to announce an exclusive two-season partnership with pioneering designer, Mary Katrantzou. The British cellphone network and LFW sponsor will work with the British Fashion Awards Emerging Talent Award winner – Katrantzou, famous for her distinctive silhouettes and use of colour and digital print, across Spring/Summer '13 and Autumn/Winter '13. The collaboration will offer Vodafone customers access to her innovative catwalk show as well as the chance to meet her backstage at London Fashion Week. This comes hot off the heels of her Topshop collab!
Kicking off in September 2012, when London becomes the fashion capital of the world, the partnership underlines Vodafone's commitment to its customers and support for British fashion following on from previous partnerships with acclaimed LFW designers, Richard Nicoll and Christopher Kane.
Danielle Crook, Vodafone's UK Director of Brand Marketing, said today: "Mary Katrantzou is one of the most exciting designers in British fashion today – she was a natural fit to help us continue our involvement in fashion. Her bold graphics and iconic designs have attracted a cult following from every part of the fashion world and we are thrilled to be working with her. For us, this means we can give our customers a unique fashion experience at Mary's catwalk show during London Fashion Week." 
Mary Katrantzou said: "I am excited to be working with Vodafone, as a brand they have really cemented their credibility and support within the fashion industry over the past few seasons. Their innovation elements really appeal to me and it felt a natural fit to join forces. I'm really looking forward to be able to widen the fashion net to their customers and bring them to the front line of fashion week."
The partnership will kick off with Mary Katrantzou's Spring/Summer '13 show, sponsored by Vodafone which will undoubtedly be one of the most anticipated events on the schedule.