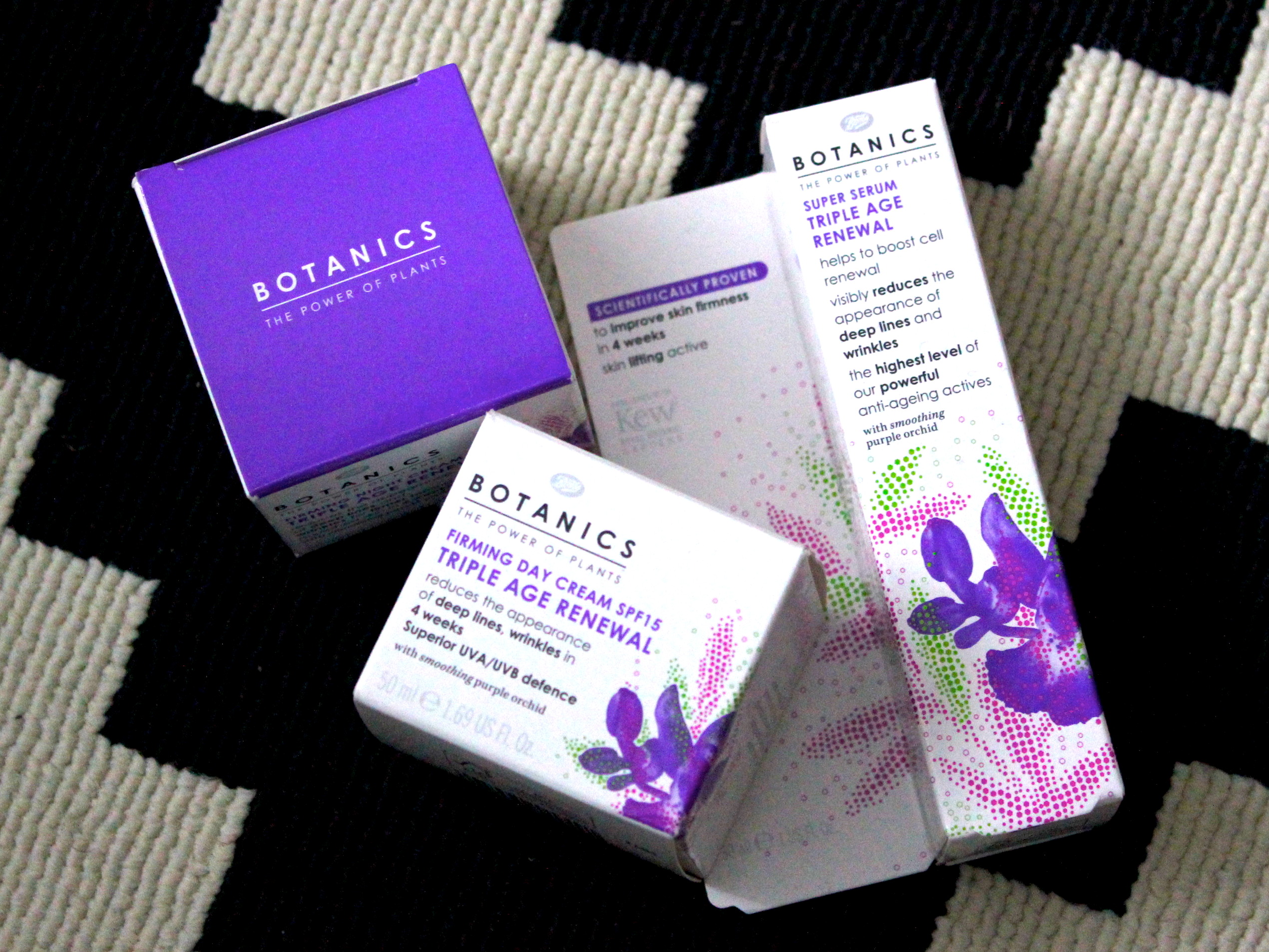 How soon should we start using anti ageing creams 50+? 40+? 30+? Or younger? When I first heard of anti ageing/wrinkle creams, they were for the more mature woman. Now they're marketed to women in their 30s, I used to bulk at this in my 20s, "I'm not using those creams til I'm way older, no need, black don't crack!" And it's true black doesn't crack, but now I'm just out of my 20s a little help is always welcomed; and why not, prevention is better than cure isn't it?
I was recently introduced to the Botanics skincare range, all truly natural, developed in collaboration with The Royal Botanic Gardens, Kew, (so you can imagine the beautiful scents involved) the range combines passion, expertise and nature in, luxurious, affordable skincare solutions, leaving beautiful and more radiant looking skin. Exploring the best of the world's flora, Boots UK and Kew have identified some of the most powerful plant extracts and have preserved their natural essence to develop skin care solutions that really work.
The latest addition to the Botanics skincare range is the Triple Age Renewal range, which includes a key super serum, scientifically proven to improve skin firmness in 4 weeks. Also part of the range is a Day cream (protects skin from harmful UVA/UVB rays whilst helping to prevent pigmentation), Night cream, and an Eye Serum (includes Eyeliss™, perfect for reducing those puffy bags under the eyes first thing in the morning, by improving drainage, reducing capillary fragility, irritation and skin slackening and Haloxyl™ which tackles dark circles under the eyes) which have been formulated specifically to target 3 key signs of ageing for women +35 years and include some of the most effective ingredients Mother Nature has to offer.
Purple Orchid extract – is the lead extract used in the range, which helps to maintain a youthful appearance. The natural extract from Purple Orchid flowers, rich in Saccharides (moisturising sugars), and Polyphenols (antioxidants) help smooth and protect the skin surface. Each formulation in the range can help to reduce the appearance of deep lines and wrinkles in just 4 weeks.
All of the products from the range also contain the beauty boosting ingredients, with the Super Serum offering the highest level of anti ageing actives such as:
·         Active plant extract Purple Orchid – helps smooth unwanted fine lines
·         Hydrolysed Hyaluronic Acid – helps reduce appearance of wrinkles and rejuvenate the skin
·         Vitamin A, E and C – to help maintain a youthful appearance and prevent pigmentation
·         Hydrolysed Soy – helps with improving the skin firmness
·         Muru Muru Butter – a rich emollient that moisturises, nourishes and softens dry skin
Claire Byrne, Head of Boots Beauty Innovation explains: "Boots UK has invested years of extensive research identifying and proving that natural ingredients really can work.  This has enabled us to create an anti-ageing range that leaves skin looking soft and younger in just 4 weeks and allows women to use the products as part of their daily regime."
The Botanics Triple Age Renewal Range is available in Boots stores nationwide and boots.com now.