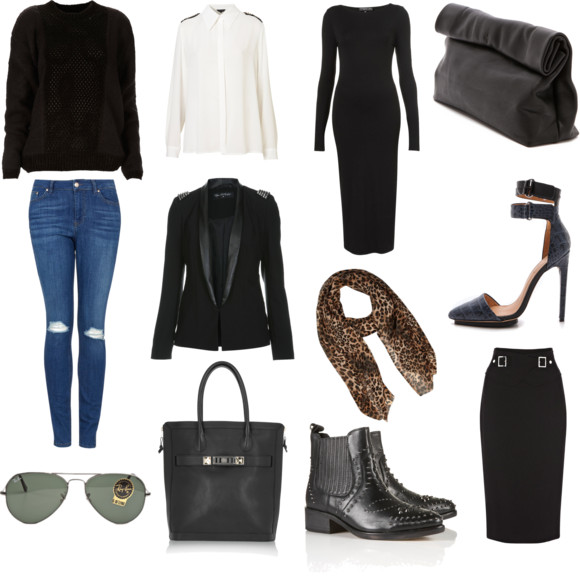 WHAT IS A CAPSULE WARDROBE?
A concept first coined by Wardrobe fashion store owner Susie Faux back in the 1970s, it completely transformed the way that women bought clothes. It's a collection of clothing that's designed using only interchangeable items, in order to maximise the number of outfits that can be created. Essentially, it means buying a mix and match of staple items that can teamed up together in different ways for every occasion.
THE BENEFITS
A capsule wardrobe means that you can effortlessly throw an outfit together, any time, saying goodbye to those dreaded what-to-wear moments.
It's a more structured approach to shopping for clothing, giving you a solid framework to work with, which makes the whole process a whole lot easier. It can make shopping a lot more affordable too, as the key to capsule shopping is less is more.
Owning a capsule wardrobe can also help boost your confidence. You'll be investing in quality, timeless pieces that make you feel good. Having a wardrobe full of clothes that fit you beautifully, in colours that suit your skin tone and hair colour, makes dressing less stressful too.
THE RULES

Choose a colour scheme – aim for neutral colours that mix and match easily together, and can be dressed up with splashes of colour using accessories. It helps to choose one or two base colours that go with everything, like black, white, brown, grey or navy, for basics. Then supplement these items with garments in accent colours.
Dress for your figure – starting a capsule wardrobe means throwing out any items in your existing closet that simply don't fit or flatter. Only buy new pieces that fit you perfectly and make you feel confident.
Choose colours that flatter – consider your skin tone and hair colour, and work with shades that compliment them.
Keep it classic – look for items that are classic cuts. You're looking for clothing that isn't going to date, so the latest fad cuts should be avoided in favour of key pieces that always look in style.
Quality not quantity – the idea of a capsule wardrobe is to own a few items of clothing that can be worn in a myriad ways, so individual pieces will get lots of wear. Therefore, it's a good idea to choose clothing that is well made, and will continue to look good. Buy fewer clothes of higher quality and you'll always feel great in what you wear.
KEY PIECES
Jeans
Tailored trousers
Pencil skirt
Little black dress
Sweater
Cardigan
Plain t-shirts and camisoles
Sundress
White Shirt
Black Blazer
Belted trench
2 pairs of heels
2 pairs of flats
Pair of boots
Plain canvas sneakers
A tote
A clutch
Scarves
Sunglasses
Tights – black and neutral
The capsule approach is perfectly suited to today's online shopping world too. Online stores tend to organise their clothing selection into capsule wardrobe categories. So just click on each category, select items in the right colour palette, and your whole shopping trip is streamlined. Many stores offer free delivery on larger orders, like BANK, which offers free delivery on orders over £50. This means you can make savings when you build up your capsule collection all from the one store.