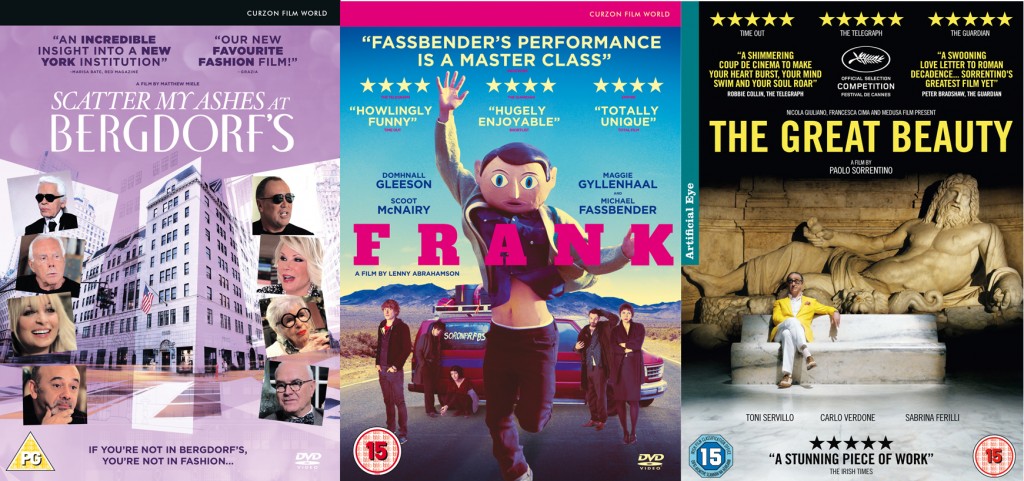 Shit weather, soaked ankle boots, f*d up hair; winter is physically rearing it's ugly head – this means warm nights in on the sofa with a good DVD right? RIGHT!!!
On that note we have the perfect giveaway / competition for you *insert jazz hands here* courtesy of Curzon Film World.  A stylish bundle of DVDs is up for grabs for one lucky winner!
Scatter My Ashes At Bergdorf's
"Practically every industry heavyweight makes an appearance…
Goes beyond the typical flurry of runway feathers and examines the big business of stilletoes, peplums and gowns" –Vanity Fair
Go behind the scenes of New York's most exclusive department store, Bergdorf Goodman, the luxury shopping destination of the stars.  With interviews from the best in the fashion business as well as the store's dedicated staff, including those responsible for the world-renowned window displays,
Scatter My Ashes at Bergdorf's is a fascinating glimpse into a mecca of style and good taste.  Featuring Marc Jacobs, Giorgio Armani, Manolo Blahnik, Dolce & Gabbana, Joan Rivers, Karl Lagerfeld, Vera Wang and many more…
FRANK
Acclaimed Irish director Lenny Abrahamson follows up his award-winning films Adam & Paul, Garage and What Richard Did with an offbeat comedy about a young wannabe musician, Jon (Domhnall Gleeson), who finds himself out of his depth when he joins an avant-garde pop band led by the mysterious and enigmatic Frank (Michael Fassbender), a musical genius who hides himself inside a large fake head, and his terrifying bandmate Clara (Maggie Gyllenhaal).
Written by Jon Ronson (The Men Who Stare At Goats) and Peter Straughan (Tinker Tailor Soldier Spy), FRANK is based on the memoir by Jon Ronson. It is a fictional story loosely inspired by Frank Sidebottom, the persona of cult musician and comedy legend Chris Sievey, as well as other outsider musicians like Daniel Johnston and Captain Beefheart.
THE GREAT BEAUTY
A dazzling, dizzying and entrancing cinematic tour-de-force, built around a stunning performance by Toni Servillo (Il Divo, Gomorrah), The Great Beauty is a sumptuously shot satire on Berlusconi's Italy that has drawn comparisons with Italian classics such as La Dolce Vita and La Notte.
Nominated for Oscars 2014 – Best Foreign Language Film
Nominated for BAFTA 2014 – Best Film not in the English Language
Winner of Golden Globes 2014 – Best Foreign Language Film
If these titles float your boat, or maybe they're a great (dare we say it) Christmas gift for a loved one; all you have to do is answer this question:
In which fashion capital is the famous department store Bergdorf Goodman situated?
FOLLOW US ON INSTAGRAM | TWITTER | FACEBOOK
Send answers to Win @ Freak Deluxe
Giveaway closes 23:59 on Sunday 12th October!