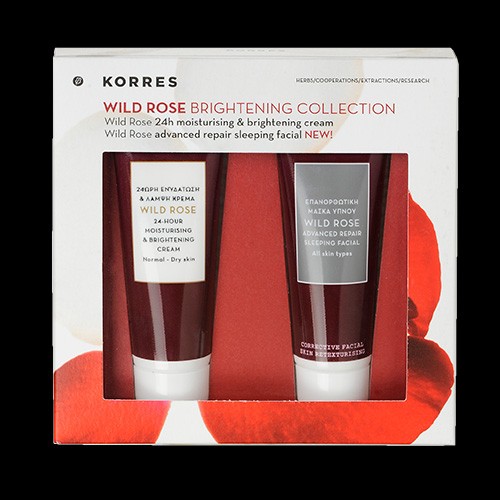 It's that time of year again, changing of the guard season, it's arrived a little later than billed what with the warm weather bringing us all the way into October!  Now we're experiencing non-stop wind and rain with intermittent sunny spells, all these crazy weather changes can cause havoc on the skin.  Greek skincare brand Korres has the perfect remedy just in time for the new Season.
KORRES have introduced a special limited edition set based on its best selling cult classic Wild Rose collection.  Containing travel friendly editions of KORRES iconic Wild Rose 24 Hour Moisturiser and the highly anticipated newly launched Wild Rose Advanced Repair Sleeping Facial, the new kit is the perfect addition to daily skincare routines whether at home or on the move!
RRP: £10.00 (Value: £18.40 Saving: £8.40)
KORRES WILD ROSE / 24-HOUR MOISTURISING AND BRIGTHENING CREAM 16ml
FOR NORMAL TO DRY SKIN SUNSCREEN SPF 6
Wild Rose oil is a natural source of vitamin C which demonstrates significant repairing activity to fine lines and skin colour disorders. The extract of the desert plant Imperata cylindrica ensures 24-hour moisturising by continually regulating the cellular water equilibrium. Due to its anti-oxidant capacity, the combination of Grape seed and phytic acid promotes the longevity of the skin.
KORRES WILD ROSE / ADVANCED REPAIR SLEEPING FACIAL 16ml
A breakthrough in beauty sleep, more than a mask, more than a night cream, it enhances natural cell renewal overnight, offering rejuvenating action on multiple levels; the combination of Wild Rose oil and stabilised vitamin C for extra potent skin brightening,  reinforce the natural cell renewal process while sleeping, delivering petal-soft skin by morning. Its weightless soufflé texture melts instantly into the skin offering an exceptionally soft-mask experience. The complexion gets "recharged" and becomes continuously brighter, more even-toned and exceptionally radiant. 97% of women reported improved skin texture after a single application.
Available to buy online from GorgeousShop.com while stocks last.