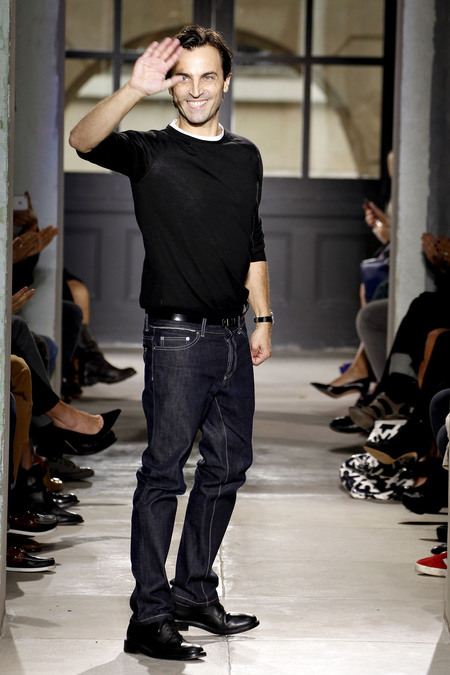 It's official people – Nicolas Ghesquiere is Louis Vuitton's new Women's Artistic Director! LV made the announcement that he'd be taking over from Marc Jacobs (who left the fashion house last month) on their twitter account this afternoon.
Mr. Ghiesquiere's first Louis Vuitton show will be AW14 collection, meaning his head should be buried in sketches and fabric swatches as we speak! How exciting!!! Always one of the maje ones-to-watch at Paris Fashion Week, the heat will be on even more so next for next season, the show will take place at the Cour Carree du Louvre (the recent home of Jacobs' Vuitton shows) Ghesquiere said the venue is symbolic of what the fashion house stands for.
"Louis Vuitton is a universe much more than a brand, a community that everyone is a part of, with values of craftsmanship, of innovation and of traveling. A very complete universe." As well as the Artistic Director of women's wear, he will also have accompanying control over all visuals and ad campaigns.
On his predessessor, Marc Jacobs, Ghesquiere said "I have a lot of respect and admiration for Marc Jacobs. He made Louis Vuitton relevant in fashion and will always be known as the first designer of the brand. Among the many things he did there were the artist collaborations that have become some of the fundamentals of the brand. I am very proud to succeed him."
Having produced one of the first logo-less"It" bags over at Balenciaga – the Lariat with multiple zips and leather tassels (ugh, remember when that first dropped, so delicious!); we wait with baited breath to see what he will bring to the LV handbags/accessories collection.
"To give my point of view, to be part of that history, I am absolutely dedicated to make a new proposition" (Louis Vuitton) "I am so excited. And I think I will be very busy. I have my playground for a few years now."