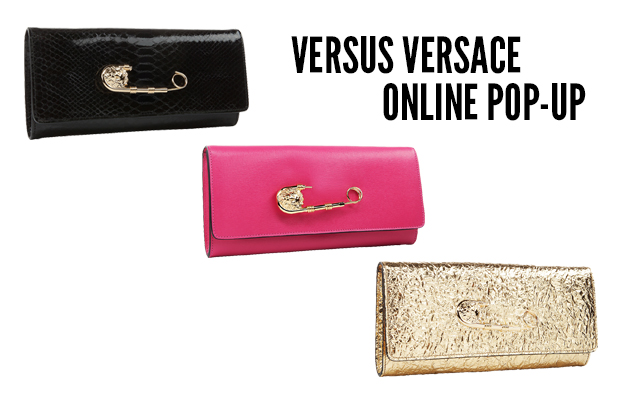 [wooslider slide_page="versus-pop-up" slider_type="slides" limit="6″ thumbnails="default"]
Versus Versace have announced the launch of an exclusive online pop-up store for a limited period of 10 days from tomorrow (Tuesday 5th of November 2014).
Get this, the pop-up store will provide exclusive access to UK customers only! The bags available via the online pop-up include the Shopper bag and the Saffiano clutch, whose distinctive, over-sized safety-pin detailing tie in perfectly with the major Autmn/Winter 2013 trend that is all things Punk.
The collection comprises of nine Spring/Summer 2014 Versus Versace. The styles stay true to the glamorous style of Versace, characteristically elegant yet powerful, chic and sexy.
To celebrate this digital retail initiative, Versus Versace has teamed up with three bloggers to undertake a "Versus in the City" project. This project will see Peony Lim of Peony Lim blog, Five Five Fabulous' Reem Kanj and Camille Charrière of 'Camille Over The Rainbow', create a visual diary for Versus that will be hosted on the brands' Pinterest and Facebook page.
Customers will be able access the exclusive pop-up here http://versuspopup.co.uk/