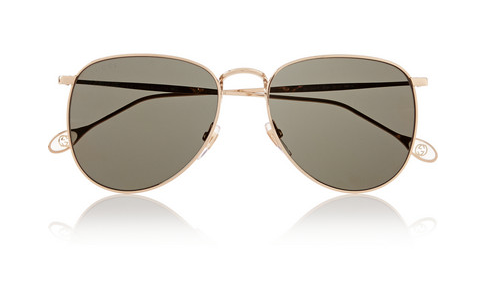 As you know, I'm obsessed with glasses – sun, optical, and drinking! So, I'll be bringing back my Glasses of the Month posts for the "summer"; they'll be running from this month until September, look out for some haute frames, some of which you may be able to win!
See more of the look after the jump!
INSTAGRAM : TWITTER : BLOGLOVIN : FACEBOOK : TUMBLR : YOUTUBE
Kicking off Glasses of the Month for 2015 are these gold minimal Gucci shades. I love how the frame levels off at the bridge, I live for a frame that gives way to the brows. The subtle logo in the earpiece and the minimal gold frame make these shades instant winners.
These are the kind of shades I like to throw on in the winter too, my go to shades for bright winter days are my Ray Ban Aviators, and these fit that criteria well – which makes them a great year round shade!