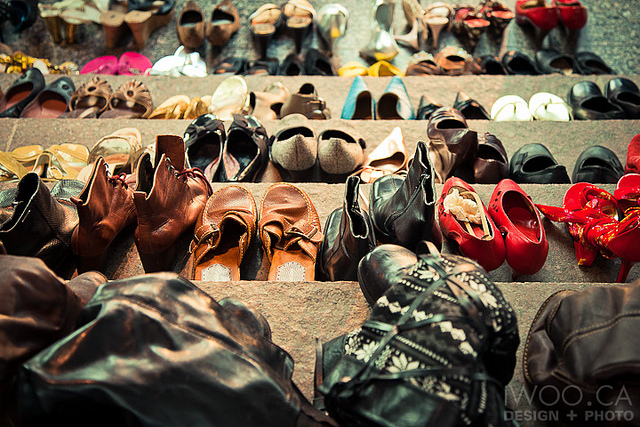 Put away your credit card and stand back from the cash machine – are you ready for the latest free fashion craze? It's time to start swishing!
What is swishing?
Started by Lucy Shea, "swishing" is the must-do eco fashion trend that's going global. And the reason it's so popular is because it brings together two of our favourite words: free; and fashion.
Put simply, swishing is all about exchanging clothes and all manner of fashion accessories from shoes to hats to belts and bags. Not exactly a new concept, but the idea has been given a twenty-first century makeover thanks to Lucy and her business, the Sustainability Communication Agency, Futerra. The London-based business set about building and banding the concept of Swishing in 2007, creating a website and organising events around the UK. At its heart, swishing is about giving women the chance to indulge their love of shopping with an environmental love. And since its launch, thousands of British women have taken part, exchanging their clothes for new ones, new in a swishing sense. In fact, Lucy estimates that in the UK, around seven thousand women swap some 25, 000 items each year and Futerra's Swishing website each month receives around 10,000 visitors from around the world.
Swishing events and parties are taking part all over Britain, with local swishing groups being set up. But this isn't just a British phenomenon, because Swishing is going global. Futerra boss Lucy reports that she's receiving party pack requests from around the world including Sydney and Mexico City. There's even a Global Swishing week, which, in 2012, ran between 15th and 21st February. So how does it work? Well, swishing etiquette, as it's been dubbed, means that you're allowed to take away the same number of items that you bring to a part. Another rule is you should bring clothes you'd be proud to give to someone.
But is it even possible to live in a world where swishing replaces shopping; or is it all a bit idealistic? Who knows, but consider this: each year in Britain, we buy around two million tonnes of clothes, and we throw away between one and two million tonnes of shoes and clothes. That's almost four per cent of the total waste sent to landfill sites each year in Britain. Now, times it by every other country, perhaps not exactly, but this gives some indication of the amount of clothing waste our way of life, and specifically our love of shopping, is creating. And then consider the health implications for those working in the clothing manufacturing industry? For example, some 20,000 farmers reportedly due each year as a result of pesticide poisoning, many of whom are cotton farmers, producing the material used in the manufacturing of cheap clothing.
Considering how we've managed to retrain and re-educate some of our other shopping habits, eco fashion and swapping has potential. Not convinced? Just remember our love of plastic bags and how things have changed since then.
This article was written on behalf of The Splash, an eco-friendly online magazine with a passion for ethical fashion!