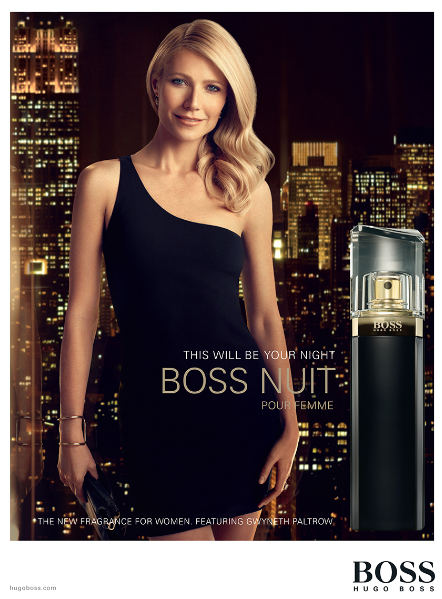 You'll remember I mentioned this fragrance in a previous post here as it wasn't so long ago, I had a nice whiff of this fragrance at a press day last month where we couldn't even see the bottle yet. Well cut to a few weeks later and Hugo Boss have released their ad campaign featuring Gweneth Paltrow as the face of BOSS Nuit Pour Femme. The alluring and feminine scent is inspired by the most iconic symbol of feminine style – the little black dress (LBD) and the confident reassurance it gives to women.
"I was honored and very happy to be chosen as the face of BOSS Nuit Pour Femme. To me, the BOSS woman is driven, ambitious, and goes after what she wants, but she balances being strong and very feminine at the same time – characteristics that I strive towards in my own life." Gweneth Paltrow
This is the first female fragrance I've liked from Boss, which is a shame because the Boss Orange bottle was trés cute, this one is too; can't go wrong with a bit of sleek black and a hint of gold! I'm really looking forward to it's release!