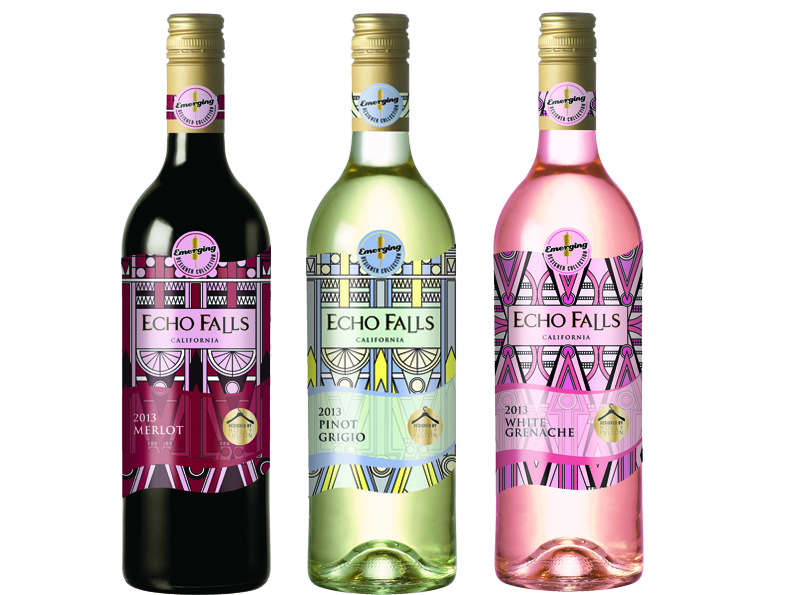 We love a chilled glass of rosé over here, hey, who doesn't?  Does it taste better when it's poured out of a designer bottle?  British designer Holly Fulton designs limited edition wine collection for Echo Falls.
The range comprises three gorgeous and girly label designs for white, red and rosé wine, with each design drawing inspiration from Fulton's signature prints.  The wines are from Echo Falls' classic range, sold on the following varietals – Chardonnay, Pinot Grigio, White Zinfandel, White Grenache and Merlot.
The wines will be in store for a limited time from this month, while stocks last.  Each bottle costs a headline price of £6.99, making it an excellent opportunity for fans to get their hands on a "designer piece" for less.
Speaking about the partnership, Holly said: "I am delighted to be collaborating with a fun, young brand Echo Falls. For me, there are many parallels between wine and fashion; both have a fun, feel-good factor, and a focus on craftsmanship.  The designs that I have created for the Echo Falls range take their inspiration from my 2014 Spring/Summer prints, so they should feel fresh, contemporary and on-trend.  A perfect accompaniment to a styling session with the girls at home before a great night out!"
We'll take the Zinfandel!