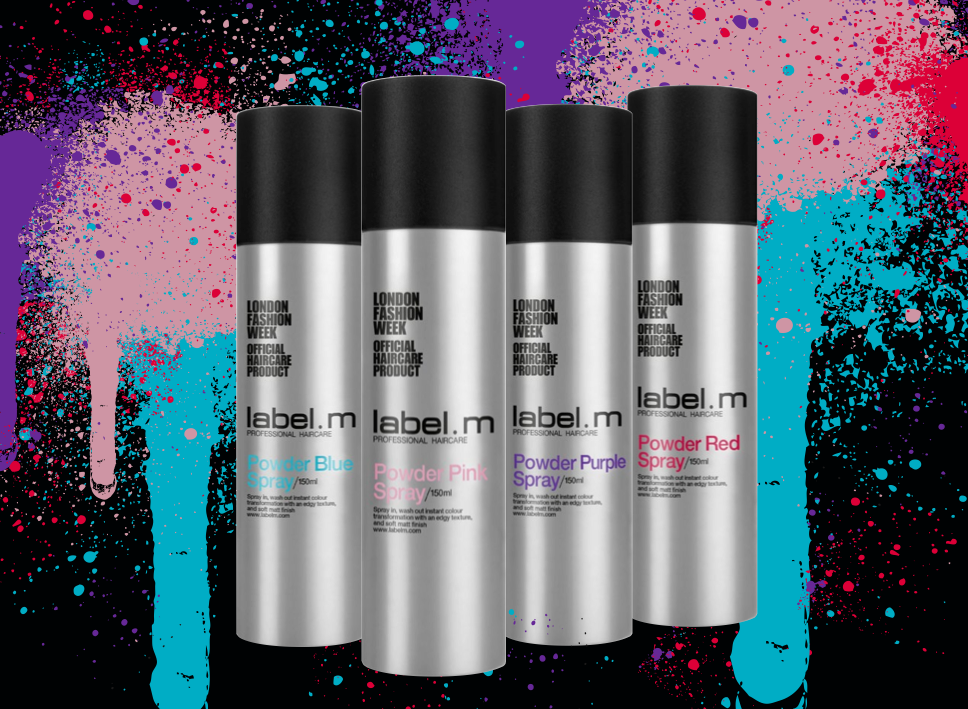 If you love the whole pastel hair trend, but don't want to fully commit to it with bleach and hair colour then this is for you!
After the huge success of label.m Pink Pastel Powder Spray launched only a few months ago – and proving to be one of label.m's fastest selling products to date, THREE totally new colours : Powder Blue, Powder Purple and Powder Red have been introduced as part of a full collection to bring about an explosion of non-permanent – yet fun colour to help create your own bespoke interpretation without the commitment!
One of the key trends to emerge for Spring/Summer is 'Art Attack' splashes of bold colours and prints, from tribal, to graffiti and even pop-art, as seen at Chanel, Peter Pilotto, Christopher Kane and Kenzo. Clear distinctions that this is THE season to get a bit crazy and creative, so why not start with the ultimate accessory – your hair?
label.m Powder Blue, Powder Purple and Powder Red, Sprays, deliver an instant pop of temporary colour, for stand-out, trend-led tresses. This easy-to-use, spray-in/wash-out product, is all about bringing your style bang up-to-date – whether it's a soft dip-dyed effect, coloured highlights, or even a 'go bold or go home' whole head hue.
"I've always loved colour and personally I'm constantly tweaking the shades of my own hair to complement my look which is quite 50's inspired! Our new Powder sprays are just so easy to use and I recommend holding the can around 20cm away from the head and start off lightly – increasing the intensity of where you want strength of tone and a lighter touch elsewhere. Also you get an amazing naturally toned pastel effect if you finish the look with dry shampoo" Efi Davies, International Artistic Director and Head of Team at Merit Award Winner, Xiao Li AW'14
With the festival season practically here, label.m Powder Colour Sprays also come in portable minis – a colour box of all four shades, and are without doubt the style-enhancing staple to be seen in.
label.m Powder Blue, Powder Purple and Powder Red/200ml RRP £9.95 and Colour Makeover Set 4x50ml £15.00
Available exclusively from late April 2014 at specially appointed label.m salons, TONI&GUY and essensuals salons and online at www.labelm.com