It's official, I am obsessed with nude lipsticks from Nyx.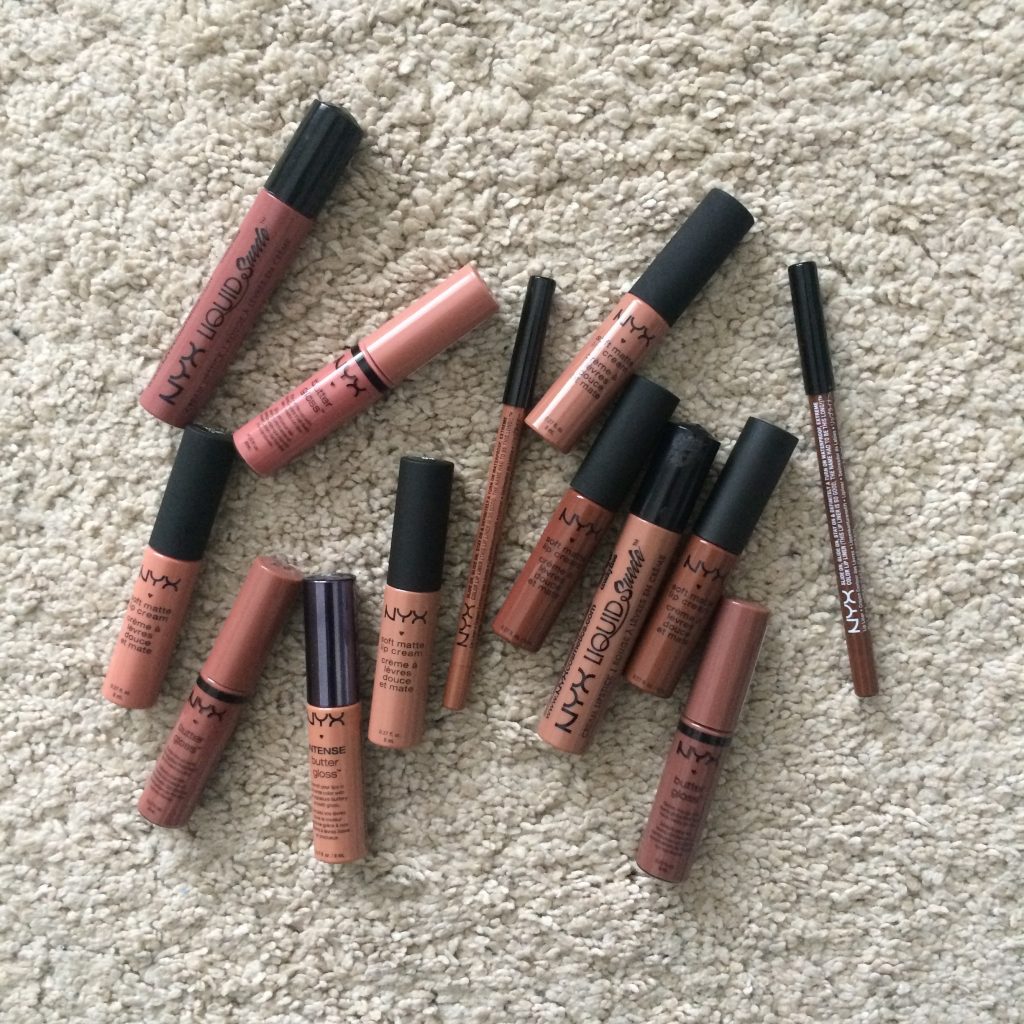 And I'm not just talking about the pale generic nudes, I'm talking all shades of nude.  Now, I'd heard the name Nyx banded around for a little while, my younger cousins use it, it sponsors some shows on E! but I'd never really taken much notice of it.  That was until my friend Q mentioned it to me during a phone conversation, and told me how much she was loving it.
I immediately went online and made my first order while we were still on the phone, she suggested some colours for my skin tone – Stockholm (pinky nude), London (a caramel nude), and Abu Dhabi (slightly, slightly darker than London) from the Soft Matte Lip Cream collection – all pretty much a variation of the same colour.  I instantly put all three in my bag, then perused through the Liquid Suede Cream Lipstick (this is honestly my favourite collection, and needs more nudes!); in went Soft Spoken (a dusky pink), and Sandstorm (sits in between London and Abu Dhabi).  She also suggested the Lip Liners Urban Café (fave, a deep brown) and Sugar Glass (a rose beige nude); and I had to try one of the Butter Gloss for the non lippie days, of which I bought Tiramisu (a slightly pink nude).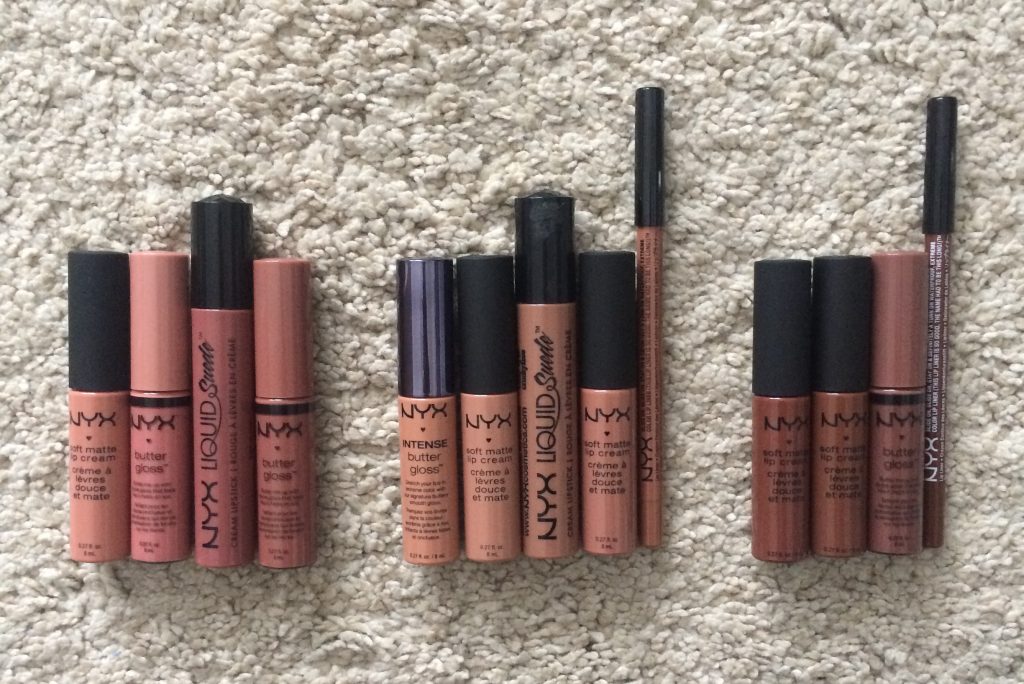 I couldn't wait for them to be delivered so I could test them all out; remember, I've never tested any of these products before, I'm solely going on the word of my girl.
It was love at first swatch!
I had to go back and add to my collection, I loved the Butter Gloss, so I bought a beiger nude Madeleine, and two slightly more browner nudes Praline and Ginger Snap. I also delved into the Intense Butter Gloss and bought Peanut Brittle.  My love of the Soft Matte Lip Cream showed no bounds so I bought another two darker nudes in Berlin and Dubai. I really want to try Zurich but they never had the tester or the stock, so I'm keeping my eyes peeled and my fingers crossed every time I go into town.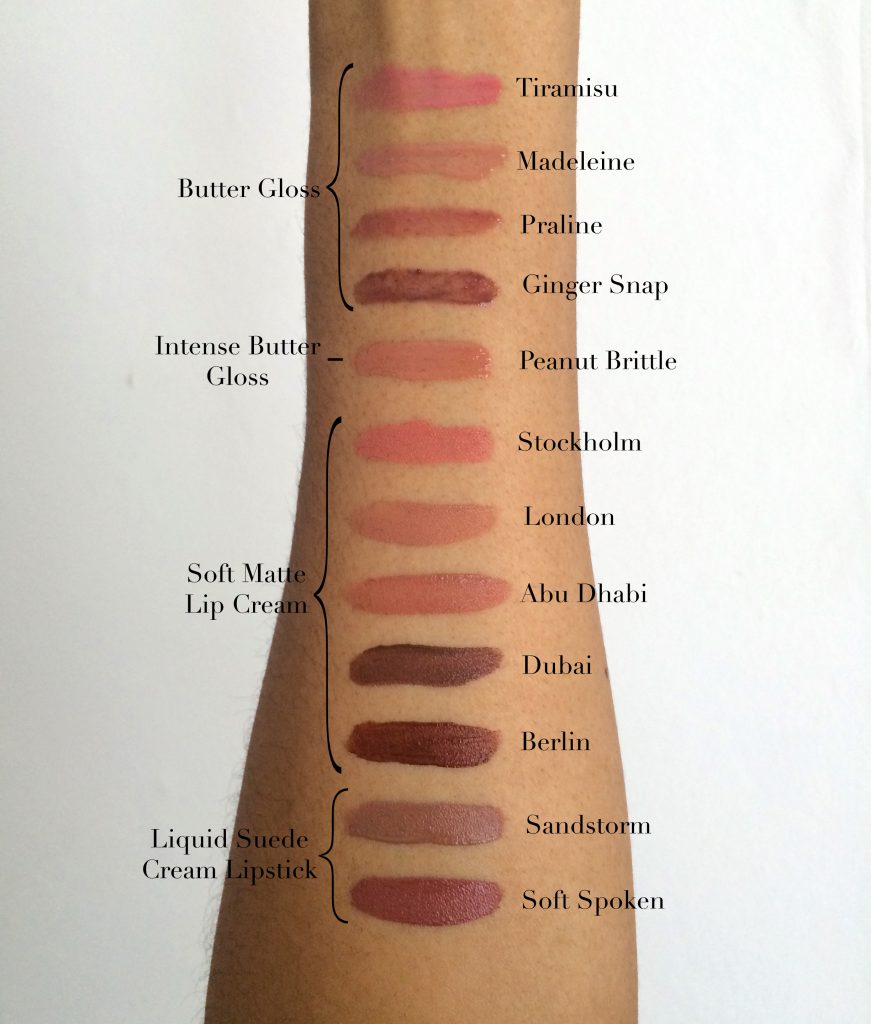 My collection of nude lipsticks from Nyx is rapidly growing and I'm sure I'll be adding to it again soon as I still haven't tried the Lip Lingerie!