Over the last few years nails have come right into the forefront of fashion and are almost as important an accessory your shoes or bag. With hand painted designs from WAH Nails, and Nail Porn; nail wraps from Minx, and Nail Rock; and straight colour with gel nails and the old faithful nail polish. We've picked out a selection of products you can use at home so you can switch and change as often as you like!
Nailease have launched their new 3D Diamante and Metallic Foil nail wraps! Much like 3D art, these new 3D designs stand out from the nail and have a textured finish – a new take on the original nail wrap phenomenon. They are quick and easy to apply with no heat or drying time needed, perfect for girls on the go wanting to give their nails the extra wow-factor. There are over 30 new designs to choose from, all designs can be seen at www.nailease.co.uk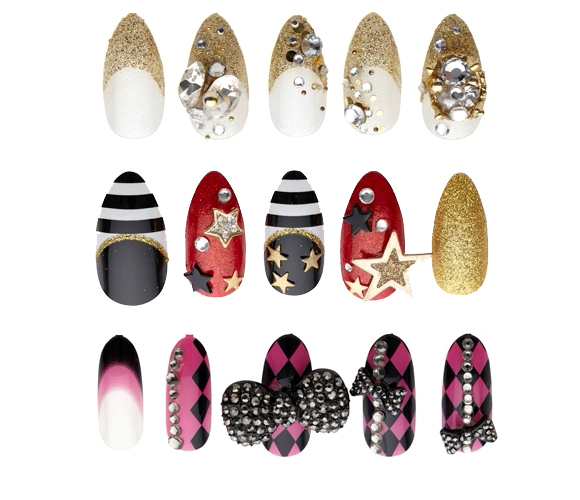 Get celeb inspired nails in an instant with Nazila Love Glamour's Nail Glitz! Innovators of nail art and pioneers of all things nail-related, Nazila Love Glamour, has recently launched their fabulous collection of 3D Nail Glitz stick-on nails. The designs are fresh and funky but thankfully require minimum upkeep and don't involve a celebrity nail technician! The collections start from £9.99 to £29.99 RRP and are available to buy from NazilaLoveGlamour.com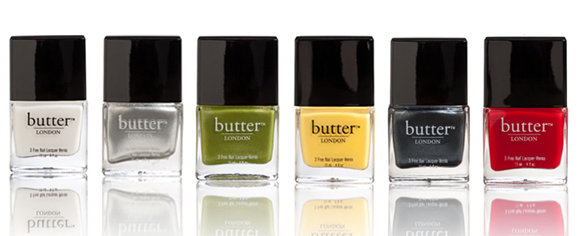 butter LONDON is synonymous with British fashion and a rock'n'roll lifestyle with impeccable eco credentials. The high fashion colours of its '3 Free' nail lacquers (free of Formaldehyde, Toluene and DBP) have led the brand to develop very strong links with the fashion industry.  Butter LONDON's fashion friends include Alexander Wang, Victoria Beckham, Betsey Johnson, Vena Cava, Calvin Klein and Issa amongst others.

Get the salon look at home with the SensatioNail Invincible Gel Polish kit The Starter Kit contains everything you need for 10 gel applications, to create a glossy, damage-proof, mirror like finish. Acheive up to two weeks of dazzling chip proof wear with this kit. Available in 12 stunning colours, the Starter kit is £60 at Asda Direct and the polish colours are just £10!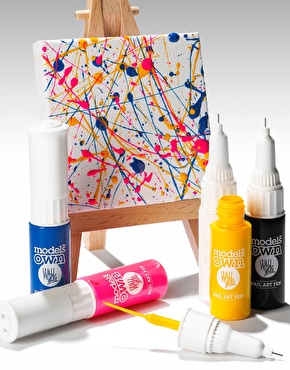 WAH Nails/Models Own nail pens are a huge hit with nail DIYers. These nail art pens have a dual application system; the fine line brush is ideal for creating strokes and lines, while the thin nib pen can be used to create more detailed intricate animal print designs. The pens also come with a fine wire top to ensure the nib does not get blocked with nail polish.Available from ASOS for £6
There you have it! You could start your own nail salon at home after all that!