Make way for the perfect all in one cream, an extremely versatile face and body cream that can help with lots skincare and beauty needs such as: Facial moisturiser; Night cream; Clear lip balm; Removes make up; Acts as a primer; Hand cream;  part of a home manicure/pedicure, to prevent/relieve the discomfort of cracked heels; to help prevent rough skin on feet; to stop legs from drying out after shaving; to prolong a tan; as an After-sun Cream; to give your legs a shine for beach body confidence (often done by models on the catwalk); to give shine to elongate the length of a neck and much more!
Wondering what it is? Chances are you've seen this everyday on your mother's/grandmother's/aunt's dressing table growing up. The wonder cream is Astral! Great for all ages and very hydrating, Astral is an amazing moisturiser, an iconic beauty product that really works – its unchanged in its formula since it was created in the 1950s.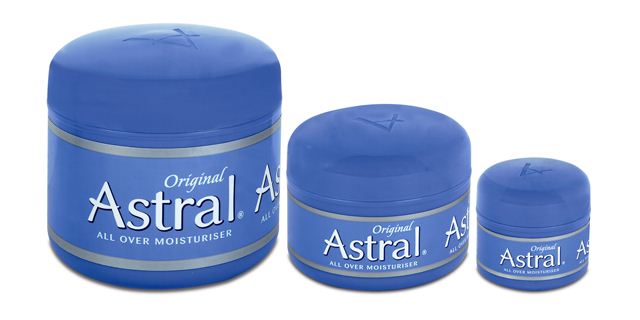 It's no wonder that Astral has created a natural celebrity following of genuine fans, including the Joanna Lumley, Patsy Kensit, Jesy Nelson from Little Mix, Nikki Sanderson from Hollyoaks, Emma Thompson, Kate Beckinsale, Shingai Shoniwa from the Noisettes, Sam Faiers from TOWIE to name a few! Quotes from some of them are below.
Research with leading dermatologist Dr Tabi Leslie indicates that  1 in 5 women are embarrassed by their dry skin, a complaint which can affect all ages.  Astral is also very reasonably priced, the key stockist is Superdrug and it retails at the following prices:
· 50ml – 'the handbag pot', which is perfect for on-the-go indulgence (£1.52)
· 200ml – with all the different uses of Astral, many women get a few 200ml pots and keep one by the bed, one in the bathroom, one by the kitchen sink or any place where Astral might come in handy (£4.28)
· 500ml – Astral prides itself on being a premium quality product with a great value price (£8.16). With the 500ml pot, women get even more for their money. [I've seen the 500ml in my local black hair shop (Asian owned) for £5!]
After a couple of days using the cream, I received compliments left and right. My mom rushed out to buy it upon hearing it was the old favourite, Astral all over moisturiser!!!
Joanna Lumley says: "I'm thrilled to try all sorts of face firmers and wrinkle-reduction creams, but the one I always come back to is plain, simple Astral cream. I've used it for over 35 years and it just works for me. I also use lashings of Astral moisturiser to take off make-up. I travel everywhere with a little pot of Astral in my bag."
Noisettes frontwoman Shingai Shoniwa says: "After the shower I'll apply Astral cream to every crack and corner – it's my ultimate bargain buy! The lotion is like a snack for my skin."
Jesy Nelson from Little Mix says: "I use Astral All Over Moisturiser as it's good for my face – I smother it on at night and let it sink in."
Amanda Holden says: "I get sent all sorts of high-end lotions like Creme de la Mer but the best tip I've had is Astral cream. I still love the smell of Astral."
Kate Beckinsale says: she "makes sure her skin stays smooth and lovely by slapping on lots of Astral Moisturiser."
Patsy Kensit says: "I use Astral moisturiser because my mum did."
Sam Faiers from The Only Way Is Essex says: "I use Astral Moisturiser. I apply it all over my face if I've had quite a heavy weekend and when I wake up in the morning my skin feels really hydrated."