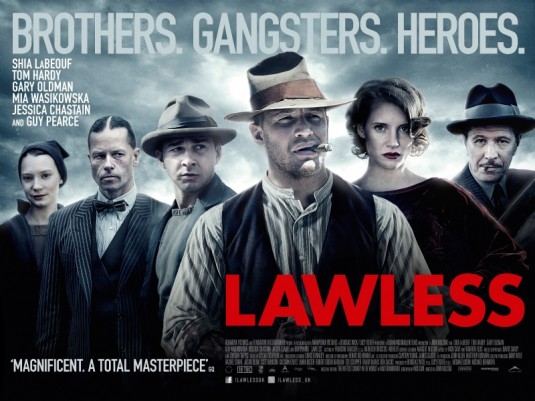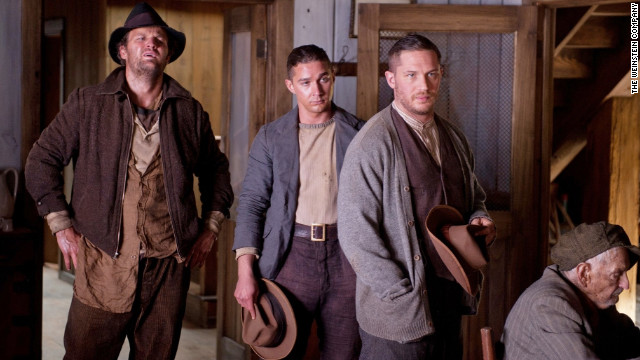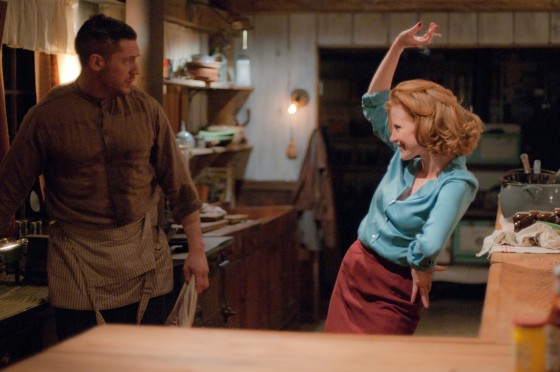 Lawless, the explosive gangster story is based on three brothers, in Franklin Virginia, in the 1920s, during the Prohibition-era when racial segregation was apparent. Based on a true story; the Bondurant brothers bootleggers/"Moonshiners" selling illegal liquor, the most legendary and fearless in their area. Knuckle duster wheeling Forrest Bondurant (Tom Hardy), the leader of the pack takes no s*** from anyone including the law, middle brother Howard (Jason Clarke) is for want of a better word a bit of a drunken nutter who can definitely hold his own; youngest brother Jack (Shia LeBeouf) hasn't yet mastered the tough exterior of his brothers so is not taken seriously, but his ambition and impulsiveness take the business to higher heights. All is well until crooked cop (Guy Pearce) turns up from Chicago to tax the illegal Moonshining racket; to which the Bondurants laughed off.As the Bondurants' illicit business and legend grows, so too looms the danger of bigger fish, and it's not long before the brothers must face the consequences.
Gary Oldman lends his hard man expertise as renowned Tommy Gun toting gangster Floyd Banner. Jesica Chastain, Mia Wasikowska, Noah Taylor, and Dane DeHaan round out the exciting cast. The costume could be classed as a character all its own as it definitely lends to the telling of the story.
I would definitely recommend this film to those who enjoy a good solid story with lots of action and admirability. The scenes and characters really express the harshness of a hard life in 1920s Southern America. Based on the novel by Matt Bondurant, LAWLESS was adapted for the screen by Nick Cave, who also composed the original score; directed by John Hillcoat is definitely a 'one to watch' for 2012.
Matt Bondurant's original novel, LAWLESS, based on the true exploits of his grandfather and granduncles, will be published for the first time in the UK and Ireland on 16th August by Canongate Books.