Last night, the great and the good of Scottish fashion kicked off the global fashion carousel as they paid tribute to the winners and honorees of the 9th Annual Scottish Fashion Awards co-hosted by The Secretary of State for Scotland Alistair Carmichael MP and awards founder & Chair Dr Tessa Hartmann.
The glittering black tie gala and 'Scottish Banquet' was held at 8 Northumberland in London and presented by the ever stylish TV personality Laura Whitmore with the gala being attended by a host of stars from the fashion, music and entertainment industries including Holly Fulton, Andreas Kronthaler, Tali Lennox, David Gandy, Twin Atlantic, Tallia Storm, Pam Hogg, Lilah Parsons, Jenni Falconer, Sam McKnight, Henry Holland, Lynsey Sharp (Commonwealth medalist), Brix Smith Start, Leah & Natt Weller, Tanya Burr, Oliver Cheshire, Nina Nesbitt and Seb Morris.  Pixie Lott performed a surprise acoustic set to the VIP audience.
As we mentioned yesterday, Dame Vivienne Westwood was inducted into the Hall of Fame for her undeterred loyalty and unparalleled love and passion for Scottish textiles and fabrics, which she has consistently used throughout her collections over the years.  Christopher Kane was named Scottish Designer of the Year, whilst sixteen year old Jean Campbell was named Scottish Model of the Year having secured campaigns with Burberry and featuring in both British and Italian Vogue, and singer Amy Macdonald was crowned Scottish Fashion Icon.
Emerging talents were recognised with Hayley Scanlan who was presented with the Scottish Young Designer of the Year award and Colleen Leitch was named Scottish Graduate of the Year.  William Chambers Millinery took home the Scottish Accessory Designer of the Year award and Abandon Ship Apparel received the Scottish Retailer of the Year.
Exciting performance cashmere brand Dhu were crowned Scottish Textile Brand of the Year and Scots Fashion Director of Harper's Bazaar Avril Mair received a nod as Scottish Communicator of the Year.
Mackintosh Rainwear were recognised for their export success and crowned Scottish Exporter of the Year and Simone Rocha was crowned International Designer of the Year for her Scottish inspired autumn/winter 2014 collection.
Harvey Nichols Edinburgh fought off stiff competition from Tommy Hilfiger, Burberry, Louis Vuitton and Emporio Armani to scoop Luxury Retailer of the Year (operating in Scotland).
Supermodel David Gandy was given the prestigious Founders Awards for his support of Scottish and British fashion over the last nine years.  Marks & Spencer and The British School of Fashion were honoured as Fashion Ambassadors for their unique and exciting partnership.  M&S set up a scholarship and creative hub at the school's Fashion Street campus in London, setting a benchmark for the future of fashion relationships between industry and education.
Each guest received the ultimate goodie bag. A limited edition Holly Fulton for Radley tote was filled with gifts from Bobbi Brown, Toni & Guy, Deeside Water, Tunnocks, Walkers Shortbread, Hangover Mints, Russian Standard Vodka and Roundsquare Coffee. The most extravagant gift came from the events Official Jeweller, the world's leading simulated diamond jewellery boutique – Tru Diamonds, who gifted each guest with earrings and a necklace.
The Scottish Fashion Awards 2014 winners are;
Scottish Designer of the Year – Christopher Kane
Scottish Young Designer of the Year – Hayley Scanlan
Scottish Textile Brand of the Year – Dhu
Scottish Communicator of the Year – Avril Mair, Harper's Bazaar
Scottish Retailer of the Year – Abandon Ship Apparel
Scottish Accessory Designer of the Year – William Chambers Millinery
Scottish Fashion Graduate of the Year – Colleen Leitch
International Designer of the Year – Simone Rocha
Scottish Model of the Year – Jean Campbell
Scottish Exporter of the Year – Mackintosh
Luxury Retailer – Harvey Nichols, Edinburgh
Fashion Icon 2014 – Amy MacDonald
Hall of Fame 2014 – Dame Vivienne Westwood
Fashion Ambassador 2014 –
Professor Christopher Moore on behalf of Professor Pamela Gillies, British School of Fashion
Belinda Earle on behalf of Marc Bolland, Marks and Spencer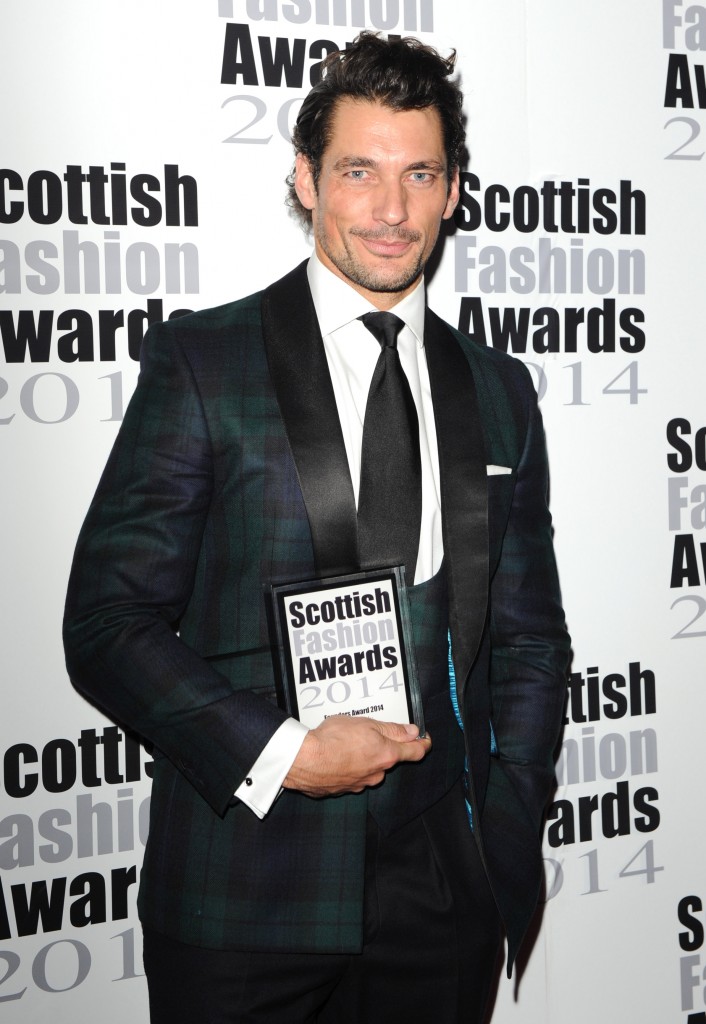 Founders Awards 2014 – David Gandy