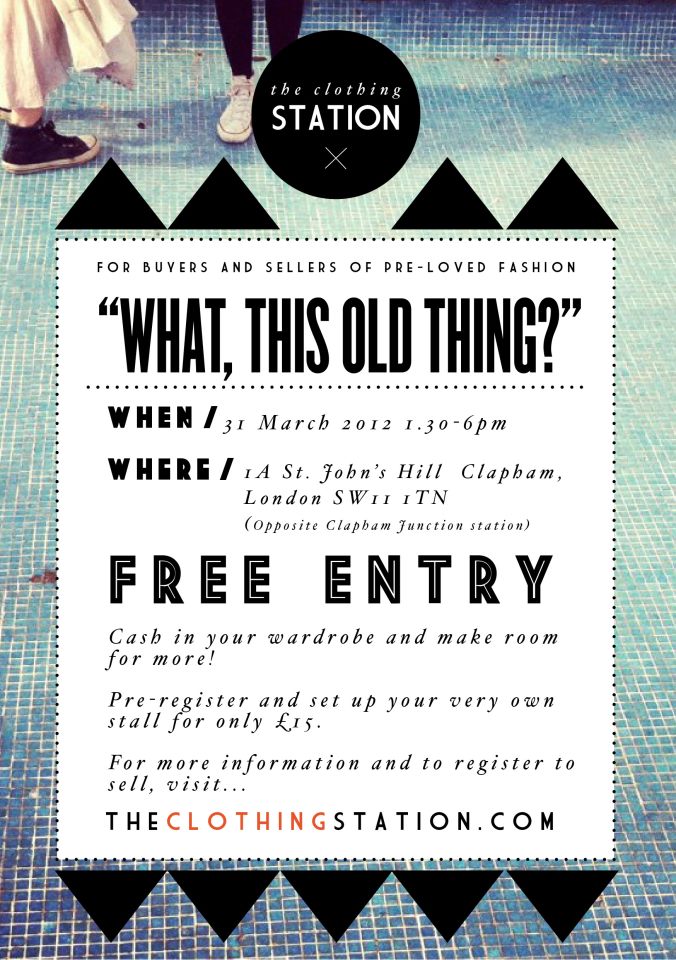 I have had 4 Ikea bags full of clothes and a stack of shoes to put on eBay for the best part of a year now, luckily I have a lot of storage space so I don't have to see it everyday. I came this close (puts thumb and forefinger a millimeter apart) to slinging it all, that was until I received an email about The Clothing Station; a new indoor market to be set in South London for buyers and sellers of pre-loved fashion – YEEEESSS!!! I can clear out my spare room, pack up the car (at a decent time I hasten to add), and drive a few miles "down the road" to sell all of my pre-loved belongings!
The Clothing Station was recently established to fill a gap in the market, the inaugural market day, aptly dubbed 'What, this old thing?' is taking place at Wessex House in Clapham Junction next Saturday 31 March from 1-6pm.
When asked to comment on the choice of location, Jess Daniell from The Clothing Station adds:
"While there is a strong clothing market presence in east and north London, south London is lacking in this department. We want to introduce a concept where local people can find high-quality and affordable fashion from like-minded sellers. Whether you come along as a buyer or seller (or both!) it will be a fun afternoon and you'll hopefully leave with a few new treasures for your wardrobe."
Almost everyone has items of clothing hanging in their wardrobe that they've grown bored of but don't want to simply give away for free! Sellers can pre-register for a stall at the event online at www.theclothingstation.com. The Clothing Station will provide table and marketing collateral and, at only £15 per stall, it's hard to think of a reason not to start making room for new summer ensembles. Entry for shoppers is FREE!