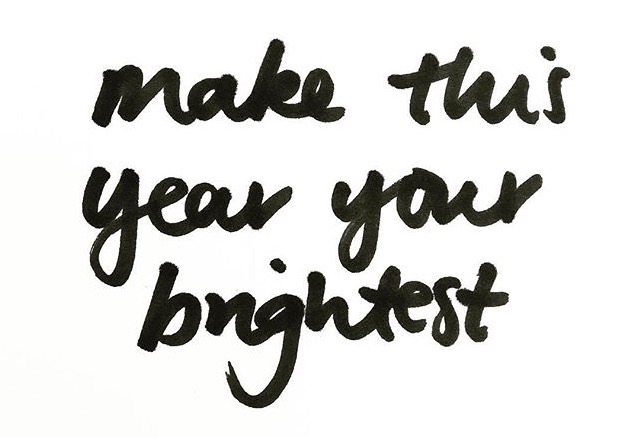 I've never really been a resolutions kinda gal, not to say I am now; however, this time last year I wrote a blog post highlighting the things I wanted to do, and change about myself in 2015.  When I re-read the post last week I realised that I had accomplished most of the list without even trying or thinking about it!
So I've decided to do it again for 2016; I was already a firm believer of "speaking things into existence", this totally solidified that belief.
See my 2016 goals after the jump!
1. Look Good Naked!
The age old cliché, the January fitness burst.  No but seriously, my clothes are tight after all the festivities!!  I really fell off the work out wagon after completing my 10K, also the weekly travels to and from London really take it out of me.
So with that said, I have to really carve out some time to work on my body.  I'll be picking the running back up, and mixing it up with Insanity and maybe some Yoga.  A couple of friends have mentioned how amazing Pilates is, and they both do it with the same company in London; soooo, I'm thinking of setting up some regular Pilates dates.  It's always more fun with a friend right?
2. Travel
I didn't leave the UK for the whole of last year, our last two holidays were cancelled the first due to Ebola, and the second, terrorists.  This year it's on!!  5 is my favourite number, I'm thinking it may just relate to the number of destinations I visit this year.  From 0-60 right? Well why not?!
3. Journey to Waist-length
I harped on about getting back to nipple length, and now I'm a few millimetres past that, the next step for me is waist-length.  If you're a curly girl you'll know, shrinkage is a real bitch!  There are different levels of shrinkage though; while my curls aren't super tight, my hair still shrinks to about 30% of it's length.  70% is great when shopping but not when it comes to my hair!  It's nipple length when stretched; neck length with a wash'n'go.
Now I want my hair to be at least armpit length when curly; so I'm estimating it needs to be waist-length when straight.  Do I think this can happen in a year?  Damn right I do!  I've ordered some new hair products to help me along the way, (I'll do a post on when they arrive) as well as some new shears.  My last cut was in July, so I'll give myself a good trim (up to an inch), then start from there.  After the trim, I'll have approximately 8 inches of growth to go!
4. Content!!!
As well as Project: Look Good Naked, I have to make time to create more content, both blog posts and videos.  I also have to document my journey to waist-length, so that's a good start!
5. Read More
Not just on the internet! I need to get back into reading books before bed, I really think this'll help with my sleeping as well.  Although one night I did stay up until 5am to finish off a juicy book.
6. Continue to Grow & Conquer
Last year I said "love myself", and while it wasn't a conscious thing that I did, I do have a little more self confidence.  So this year, I will make a conscious effort to remember this Roald Dahl quote
"If you have good thoughts, they will shine out of your face like sunbeams, and you will always look lovely."
It's not really about looking lovely though; if I think good thoughts, then I'll feel good, right?  Emitting good vibes, brings good vibes!
Here's to a fabulous year!