Vintage superstores have been a fashion go-to in major cities in the past decade but Bristol has yet to establish one. Recognising this gap in the market and a desire for affordable vintage in the city, Shop Dutty founders decided to launch The Gold Mine – an exciting new pop up vintage superstore located in Stokes Croft.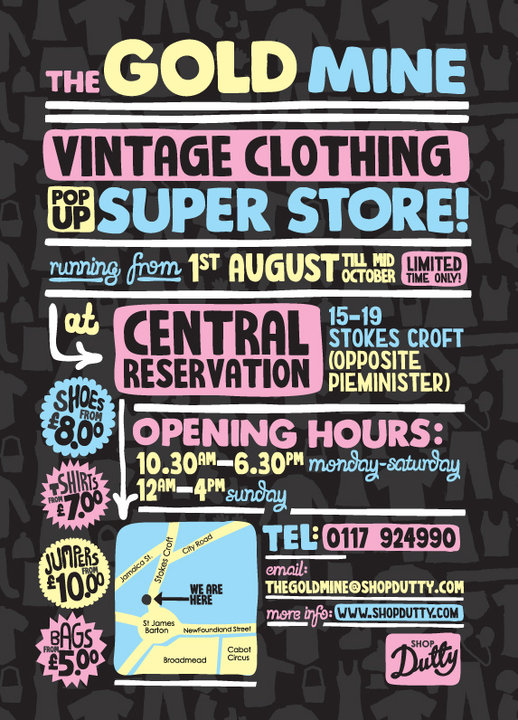 The ethos behind the Gold Mine is simple – provide a wide range of vintage fashion pieces from the 1950s up to the 1990s under one roof. With 7 years vintage fashion experience between them, the girls have an eye for gems and have worked hard to source high quality trend led pieces. Shoppers can expect to get dresses from £8, skirts from £5 and jackets from £15.
The Gold Mine will be housed in the the heart of Stokes Croft – opposite Pieminister in the building which previously held the 'Central Reservation' art space. The superstore will be a fun and colourful space withl decorations, music, and a place where you can drop your bags to grab a cup of tea and a cup cake.
Founders Louisa Jones and Joh Rindom are fast becoming a driving force in Bristol's fashion scene – between them they founded and run clothing boutique Shop Dutty, set up fashion events collective 'The Fash Pack' and have been featured in Vogue and Grazia magazines. The Gold Mine is set to be a similar success and forms part of a wider initiative – a not for profit organisation 'Dutty Enterprises' which aim to support women in fashion.
The Gold Mine runs from August 2nd until October 14th. The opening evening is this Sunday 1st August from 7pm – drinks supplied by Turning Leaf Vineyards and music from local DJs.
OPENING: 1st August – 14th October
LOCATION: 15 – 19 Stokes Croft, Bristol. BS1 3PY