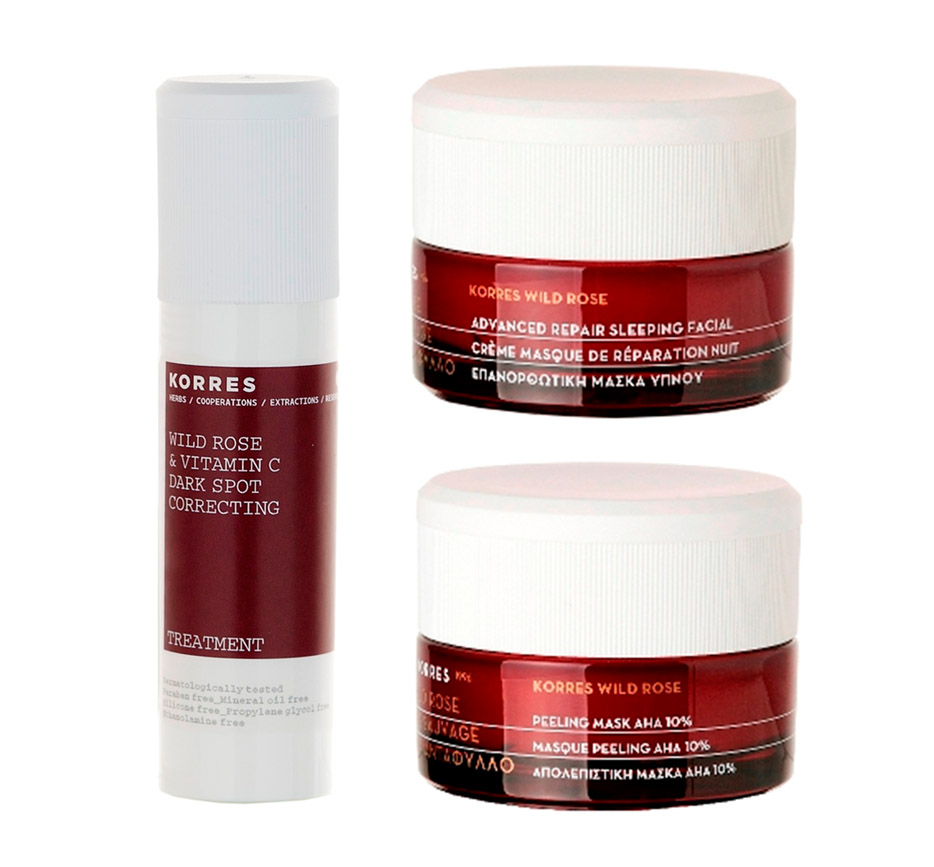 Greek skincare brand KORRES have developed a new collection that improves skin texture, makes skin more radiant, and reduces dark spots; now who doesn't want that?? The brand introduces a new skincare category featuring three Corrective Treatment products which provide instant and long term results. Focusing on the clinically proven benefits of Wild Rose,  which is especially high in Vitamin C content – nine times higher than that of an orange.
KORRES WILD ROSE / ADVANCED REPAIR SLEEPING FACIAL £26
INNOVATIVE BEAUTY SLEEP
IMPROVES SKIN TEXTURE AFTER A SINGLE APPLICATION
SOFTER, SMOOTHER SKIN BY MORNING
BEST SELLING KORRES PRODUCT IN THE US
A breakthrough in beauty sleep.  More than a mask, more than a night cream,  it enhances natural cell renewal overnight, offering rejuvenating action on multiple levels.  The combination of Wild Rose oil and stabilized vitamin C for extra potent skin brightening,  reinforce the natural cell renewal process while sleeping, delivering petal-soft skin by morning.  Its weightless soufflé texture melts instantly into the skin offering an exceptionally soft-mask experience.  The complexion gets "recharged" and becomes continuously brighter, more even-toned and exceptionally radiant. 97% of women reported increased skin texture after a single application.
* KORRES WILD ROSE / PEELING MASK / AHA 10% £26
SKIN MICRODERMABRASION, ANTI IRRITANT ACTION
DEEPLY REJUVENATED, MORE RADIANT SKIN AFTER A SINGLE APPLICATION
The exceptionally effective combination of alpha hydroxy acids (AHAS) offers deep exfoliation while protecting against redness and irritation.  The natural origin AHA in combination with pomegranate enzymes,  peel away the dead skin cells of the outer skin layer  and remove impurities [dead cells, dirt, excess sebum] to enhance natural cell renewal and soften the appearance of fine lines.  The strong moisturizers – Hyaluronic Acid and Aloe deeply increase skin moisturization levels by hydrating and soothing the skin.  The complexion becomes brighter and rejuvenated with visible results after a single application.
* KORRES WILD ROSE & VITAMIN C / DARK SPOTS CORRECTING TREATMENT £26
2 WEEKS ONLY TO REDUCE DARK SPOTS NATURALLY
OVERALL SKIN BRIGHTENING ON FIRST APPLICATION
Based on 100% natural actives, the Wild Rose & Vitamin C dark spots correcting treatment is an all-in one solution product that helps prevent and remove every dark spot type.  Boosted in a dual targeted action through two systems [dark spot preventing & correcting and overall skin brightening], it delivers intensive radiance benefits for a healthy, even-tone skin, with immediate results. 81% of women recorded instant radiance upon first application.
The new Wild Rose Corrective Treatment products retail for £26 each and are available to buy in-store and online from Debenhams/www.Debenhams.com.