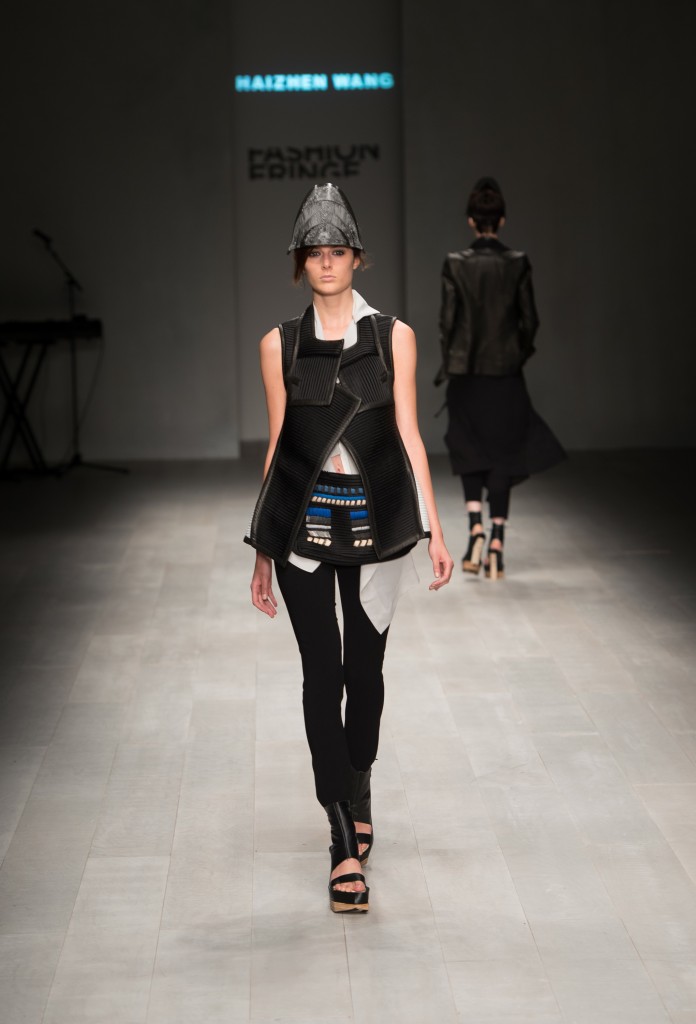 Designer, Haizhen Wang, was selected as the winner of Fashion Fringe 2012 by Christopher Bailey, Fashion Fringe Chair and Burberry Chief Creative Officer.
Accompanied by fellow Finalists, Teija Eilola and Vita Gottlieb, Haizhen Wang debuted his winning collection to London Fashion Week at Somerset House, with Fashion Fringe. Following an exciting performance from young musicians Bastille, Haizhen Wang was chosen by Christopher Bailey as the overall winner of the award, receiving the coveted 2012 trophy designed by Jessica McCormack.
Haizhen Wang will now join the ranks of other notable Fashion Fringe winners including Erdem, Basso & Brooke and Corrie Nielsen. The winner receives support worth over £100,000, which includes financial backing, business planning advice to establish their business as well as further mentoring and a fully equipped studio at Somerset House for two years.
Haizhen Wang said on being selected, "I'm really excited. It's absolutely fantastic. It's such an amazing opportunity to win. It's my career's turning point. I hope everyone enjoyed the show."
Speaking about his chosen winner, Christopher Bailey said, "Tonight has been a truly wonderful example of the incredible energy and original creativity flowing through London and Britain at the moment.
I was so honoured to Chair Fashion Fringe in 2012 and to work with the team to help support and unearth the next generation of exciting designers. It is a privilege to work with Colin McDowell, he has always been such an incredible supporter of young British talent and being involved in the selection of the 2012 winner has been an inspirational and humbling experience.
The level of talent and skill showcased not only by this evening's winner, Haizhen Wang, but also finalists Teija Eilola and Vita Gottlieb as well as the entire Fashion Fringe alumni throughout the selection process, has been remarkable.
I am so excited about charting the progress of Haizhen, this is only the start of his journey! His collection showed an incredible level of originality and craftsmanship. The support and nurturing that Fashion Fringe provides will give Haizhen a strong framework to continue to really grow as a designer."