Pre-fall is my favourite season, all the layer-able and interchangeable collections.  It's not just the clothes I love though, I also love pre-fall perfumes!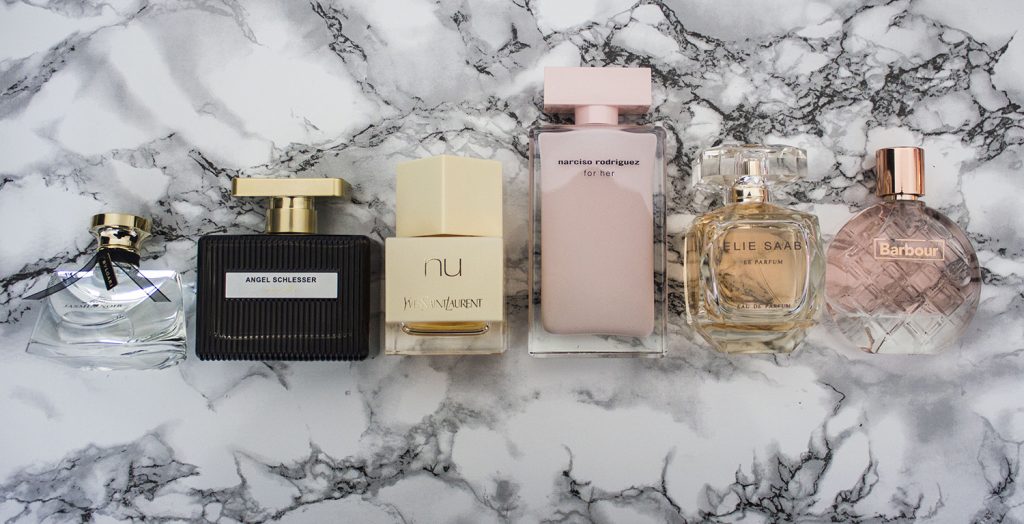 Let me tell you about some great pre-fall perfumes as we're fast approaching that mild time of the year, where it's neither hot nor cold.  A time where a lighter, summer fragrance is not so effective, yet a deeper fragrance would be a little too heavy for this time of year.
1. Bvlgari Mon Jasmin Noir
I bought this when on holiday in Miami a few years ago, it was an instant fave and always brings back great memories of the vaycay. It's a luminous and seductive fragrance. Modernity and sensuality of this fragrance is achieved by blending notes of lily of the valley, Sambac jasmine, musky nougatine and vibrant woods.
2. Angel Schlesser Pour Elle Sensuelle
Sensuelle Pour Elle is a new one, it was an instant hit and I've received many a complement while wearing it. The scent belongs to the woody, floral cedarwood family. The fragrance opens with notes of bergamot, spicy red berries and white peach. The heart includes white flowers of lily, jasmine, orange blossom and cedar. The base features tonka bean, patchouli, cypriol and suede.
3. Yves Saint Laurent Nu
A deep and sensual fragrance. A fresh bergamot top note combined with cardamom. Heart notes are wild orchid, jasmine, warm pepper; base notes are sandalwood, musk and vetiver.
4. Narciso Rodrigues For Her
This has been in my top 5 scents for years! A sophisticated powdery scent. Opening up with notes of rose and peach. Amber and musk remain at the heart; the fragrance dries down to patchouli and sandalwood.
5. Elie Saab Le Parfum
This fragrance is an ultra-feminine, flowery-woody composition; opening with notes of orange blossom. Jasmine is in the heart, including both Grandiflorum and Sambac. The base consists of cedar, patchouli and rose honey accord.
6. Barbour
A fruity yet floral fragrance opening with notes of red currant, and spicy pink pepper. An elegant floral blend of rose, jasmine and blush peony are complemented by musks and sweet vanilla, with rich notes of vetiver.
Do you have any favourite perfumes you like to wear at this time of year?