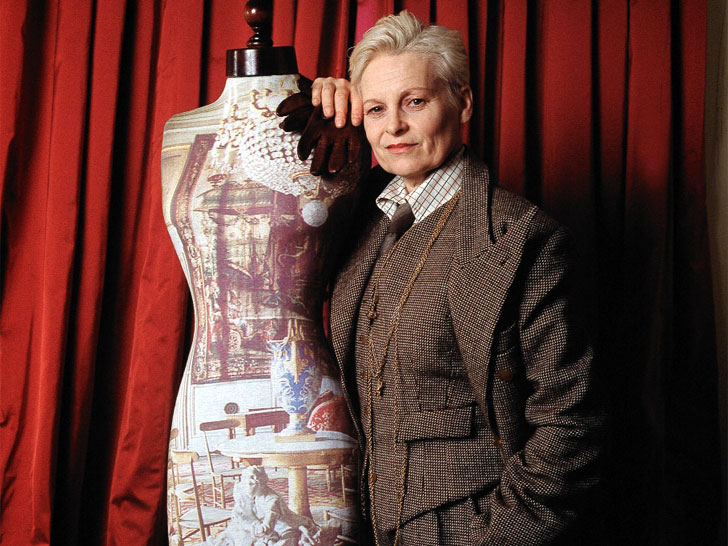 Organisers of the Scottish Fashion Awards have announced today that Dame Vivienne Westwood will be inducted into the prestigious 'Hall of Fame' at the 9th annual awards ceremony, which takes place this evening at 8 Northumberland in London.
The glittering gala and Scottish banquet will kick off the international fashion season and will be co-hosted by The Secretary of State for Scotland Alistair Carmichael MP alongside awards founder Dr Tessa Hartmann and presented by TV personality Laura Whitmore.
Over the last 9 years the awards have inducted a host of high profile names into the Hall of Fame who have made a significant contribution to Scottish fashion and industry including Stella Tennant, Rankin, Albert Watson, Colin McDowell MBE and Sam McKnight.
Dr Tessa Hartmann said: "Dame Vivienne has had an undeterred loyalty and unparalleled love and passion for Scottish textiles and fabrics, which she has consistently used within her collections throughout the years. She personifies the powerful and subversive originality for British fashion and has done more for Scottish textiles than probably any other designer in this generation. Her brand name is synonymous with the tartan pattern and her fascination for this iconic fabric is unrelenting."
"By using a mix of different tartans, her ensembles explore the rich depth of colour and diversity of the traditional checked pattern that is adorned around the world. She even created her own clan and tartan named MacAndreas, named after her husband and design partner, Andreas Kronthaler," continued Hartmann.
But it wasn't just tartan, her love affair of all Scottish fabrics can be seen through the decades with her use of Harris Tweed and knitwear that she incorporated into her collections.
Running a global empire that comprises her Gold, Red and Man label, and Anglomania lines, knitwear and accessories, complemented by her significant impact her tireless campaigning for human rights and environmental issues – namely 'Climate Revolution', position her as one of the most powerful designers of our time and the perfect honouree for the Scottish Fashion Awards Hall of Fame 2014.
The Secretary of State for Scotland Alistair Carmichael MP said; "The Scottish fashion industry will be forever indebted to Dame Westwood, who has established a lasting legacy for Scottish textiles, yarns and fabrics."
The glittering black tie gala this evening is set to be attended by a host of celebrities and fashion stars including Christopher Kane, Holly Fulton, Tali Lennox, Pam Hogg, Twin Atlantic, Tallia Storm, Pixie Lott, Jean Campbell, Jenni Falconer, Sam McKnight, Amy MacDonald, David Gandy, Oliver Cheshire, industry heavy weights and fashion editors.