Key looks that will be hot on the fashion radar in the coming months
Spring is coming and that can only mean one thing. (Actually, we take that back, it can mean many things: lambs, daffodils, Six Nations Rugby, International Women's Day, one step closer to summer, the end of winter and many more…)
In this context, spring's sole signifier is: fashion. As the daffodils and crocuses sprout up from the soil, so too flower patterns seem to blossom across all manners of skirts, blouses and – more often than not – the ubiquitous maxi dresses from the likes of high street favorites like Next, which continue to enjoy longevity in fashion's famously short memories.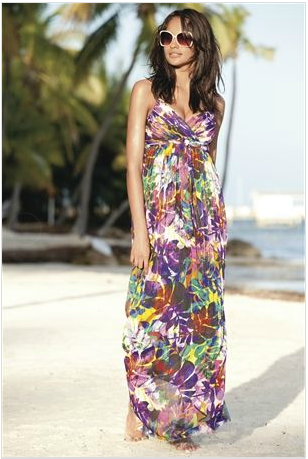 Tropical pleat maxi dress from Next, £45
Indeed, this year we see the maxis embrace another trend – tropical or Havana – think eye-popping beachside prints straight out of a slightly cheesy hotel: flamingoes, palm trees, sunsets, hibiscus flowers. We want bold brights – florals on acid if you will – and with these, accessories come big and bolshy too – think equally loud headscarves and bandannas, or neon plastic slippers and shoes.
There's also the softer side to the flower power of 2012. Pastels are once more a must have on the palette, and as well as gentle florals and small petal patterns, we're also seeing a lot of mixing of pastel shades, such as peppermint greens with soft pinks or sky blues, very gentle yellows too.
Those looking for a retro twist can pick up with spring 2012's taste for paisley, as showcased in one of Vogue UK's style summaries of the year's trends. If you're really ready to go for it, double the paisley trend with the latest fashion must-have – a power suit.
From Primark to Armani, blazer and tailored trouser suits are ten a penny in huge patterns, from far-out 1960s florals to hot acid yellows. If you're up for causing a splash this season, then pick out a real show-stopper, pair with a plain white t, slightly pointed-toe flats or brogues, and a small gold chain. Instant summer cool.