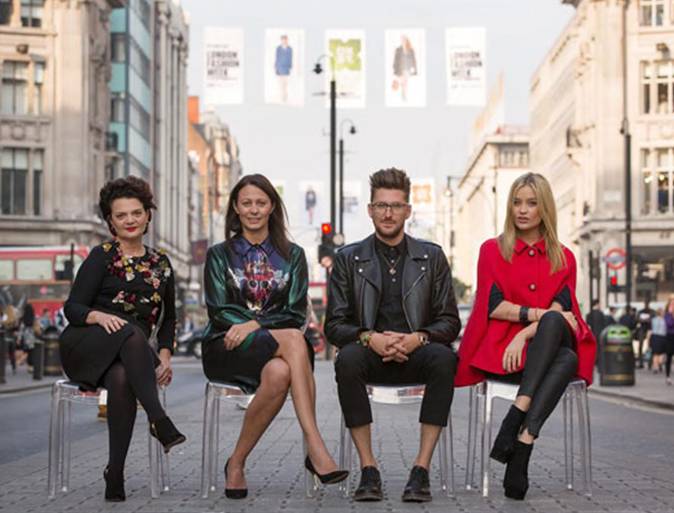 Yesterday, British fashion royalty Lulu Guinness OBE and Henry Holland joined forces with TV fashion icon Laura Whitmore and British Fashion Council CEO Caroline Rush to launch OXFORD STREET FASHION SHOWCASE – the second year running of the most significant fashion campaign in the history of the world-famous West End street.
12 foot high fashion flags, spanning the 1.5 miles of Oxford Street, feature catwalk shots from House of Holland, Topshop Unique, Vivienne Westwood and Mary Katrantzou featuring their A/W 14 collections.
With a projected £500million expected to be spent on the street during the month of September – when the capital plays host to globally renowned London Fashion Week – this time of year sees the most monumental spending rush on fashion in the retail calendar. Hence the industry's famous faces are out in force to support the front line of the British fashion success story.
THROWING OPEN THE INDUSTRY DOORS
From 12th September, the Oxford Street Fashion Showcase campaign – in partnership with the British Fashion Council and Oxford Street's prestigious flagship stores – will give shoppers and aspiring fashionistas a rare insight into the UK fashion industry.
Oxford Street's famous suite of household names – including Selfridges, Topshop, River Island, House of Fraser, Miss Selfridge and Gap – will offer shoppers an array of one-off experiences and in-depth insights into the world of fashion. The stores are hosting more than 25 educational 'style seminars', chaired by recognised fashion authorities alongside experts from behind the scenes.
Among those featuring are model and businesswoman Jasmine Guinness, style savvy presenters Laura Whitmore, Becca Dudley, Jameela Jamil and Laura Jackson, creative directors such as Yasmin Yousef (Miss Selfridge), and digital fashion pioneer Caroline Issa, editor of Tank magazine. These events will be supporting the UK's fashion agenda, focusing on the British Fashion Council's central pillars of education, innovation and digital, in both nurturing new talent and celebrating the world's most venerated fashion influencers.
The Mayor of London Boris Johnson says: 'London is at the cutting edge of fashion, which is one of our greatest industries. The genius of our designers generates handsome dividends for our city and the news that £500m will be spent on Oxford Street during September alone is an astonishing statistic. This second Fashion Showcase promises to be an event that truly exemplifies the talent and creativity to be found in the capital.'
Richard Dickinson, CEO at New West End Company, organisers behind this major fashion campaign, says: "We're incredibly proud and excited to be launching the second year of Oxford Street Fashion Showcase with the support of so many heavyweight fashion faces and in partnership with the British Fashion Council. September is the most crucial month in the global fashion calendar and Oxford Street is an iconic global fashion hotspot so it gives us the perfect opportunity to celebrate a schedule of events designed to inspire and educate the fashion stars of tomorrow"
Caroline Rush, CEO British Fashion Council commented: "Oxford Street Fashion Showcase is about celebrating the excitement of London Fashion Week and the creative contribution of the British designers whose collections are often the starting point for the global trends that define London as the best shopping destination in the world."
Nigel Oddy, COO at House of Fraser said: "We are delighted to work with the British Fashion Council to bring the excitement of London Fashion Week to our customers. Events like these are what make Oxford Street a world class fashion destination."
Henry Holland, Fashion Designer, commented: "Oxford Street has been important to me throughout my life for different reasons – from nostalgic trips to see the Christmas lights to having my collection bought by world-class department store Selfridges. So I am thrilled to be asked for the second year in a row to support Oxford Street Fashion Showcase as I think it is so important to support the British Fashion industry from top to bottom – noone in the world has a high street like London."
Mary Katrantzou, Designer, whose AW14 designs are gracing the flags, said: 'The Oxford Street Fashion Flags are the perfect showcase of the incredible talent we have here in Britain.  The BFC have been such a great support throughout my career and the work that they do in nurturing new talent is the reason why British fashion is so relevant today."
Lulu Guinness, OBE, comments: 'If you start at Selfridges and make your way to Top Shop and beyond you can see pretty much every fashion brand in the world. There's really nowhere else like it and I am delighted to get the opportunity to celebrate one of the top destinations in the capital.'
SCHEDULE OF EVENTS:
Friday 12th September
9 – 10am
Oasis
Start your day with an early bird morning tea at Oasis, as you join award winning ceramic designer Peter Ting & Oasis Senior Designer Kate Sawdon in conversation for the launch of Flutter by Peter Ting for Oasis. Plus you'll leave with a lovely free gift!
9:30- 8pm
John Lewis
When it comes to London Fashion Week beauty is just as important! To make sure you stay on top of all things beauty John Lewis will be hosting 8 days of activity in an exclusive bespoke area within their Beauty Department created just for the Oxford Street Fashion Showcase. Seven of your favourite brands; Clarins, Liz Earle, Japaonesque, Origins, YSL, DIOR and Philip Kingsley will present demonstrations, master classes and talks of their most iconic, leading and innovative and exclusive products. That's not all; there will be a Men's only day where the name of the game will be Men's grooming products! Plus if you're feeling lucky when you shop in the beauty department during the Oxford Street Fashion Showcase  you can enter into a prize draw for the chance to win one of two (one for the fellas and one for the ladies) bespoke shopping experiences including a treatment in store, personal shopping appointment and £2000 gift vouchers!
12-6pm
GAP
If you're not one of the lucky few to attend the talk on the 13th September, you can head into the store between 12th September – 14th September from 12pm-6pm. Where you can join 'jeans for you to complicate' workshops and receive a free denim distressing kit when you buy denim on the day, so you can put your new found skills to practise! If you fancy showing off to friends and family you can jump in the photo booth and share your creation of social media!
6:30pm
House of Fraser
If you're budding fashion journo you're going to love this! Meet and greet with Jasmine Guinness to celebrate the launch of House of Fraser's journalism competition. House of Fraser is launching a social media competition giving you the chance to get up close and personal in an interview with Celebrity and Fashion Icon, Jasmine Guinness! The winner chosen by an expert judging panel will be mentored by the House of Fraser PR team in the run up to the interview on Friday 19th September in one of the stores plush personal shopping suites
Saturday 13th September
2pm
GAP
What better way is there to get stuck into fashion and style than with a talk with Lisa from Sew Over it; the one stop shop for all things sewing! On Saturday 13th at 2pm you'll have a chance to hear Lisa talk about her journey from design to the craft that is sewing, her amazing business, the history of personalisation and why it is so important to modern people. She'll also touch on the denim heritage of Gap and then give her top tips on how to achieve great personalisation. Enter below for a chance to bag a spot for yourself and a plus one!
3pm
French Connection
Get in the party mood for London Fashion Week ready at French Connection with a live DJ set by MTV's Becca Dudley!
4pm
The May Fair
Chat it up with fashion aficionado and highly-respected Editor Caroline Issa at The May Fair hotel! This five star luxury venue is the official hotel for London Fashion Week, so expect no less than stylish surroundings and a fashion focused Talk and Q&A with all the juicy details of Caroline's industry experience and her incredible rise from Editor to a leading member of the fashion pack.
Sunday 14th September
3-5pm
Boots
If you're a fan of No7 this little gem is right up your street, as you can meet the brains behind the clinically proven Protect and Perfect Serums. Join them in store to experience a free skincare consultation, or a free Colour Match made service at Boots Sedley Place Oxford Street.
4:15pm
Selfridges
Bag one of three pairs of tickets to view the  Advanced Style showing at Selfridges' Everyman cinema. Advanced Style examines the lives of seven unique New Yorkers whose eclectic personal style and vital spirit have guided their approach to aging.
4:30 – 6pm
Miss Selfridge
Gain major style points as you cosy up at Miss Selfridge with the lass who had tongues wagging for her super cool V festival look this summer; MTV presenter Laura Whitmore! RSVP for the chance to be a part of a super special and exclusive styling session with lots of personality as well as  insight into her celebrated style. There are only 35 spots available so keep your fingers crossed you're one of the chosen few!
Monday 15th September
12:40pm
Selfridges
Bag one of three pairs of tickets to the Breakfast at Tiffany's showing at Selfridge's everyman cinema!
6-7pm
Topshop
Following its coveted SS15 Unique show you'll have a chance to head into the Topshop flagship store to join Laura Jackson for an intimate styling session. The presenter and Fashion lover will dish out tips on how to get the catwalk look and replicate outfits worn by Topshops FROWers from the Topshop autumn collection. You'll walk out feeling, thinking and maybe even looking like a fashion icon if you can't resist a shopping spree once the session is over!  Topshop will be hosting London Fashion Week activity in 214 Oxford Street from Friday 12th September all the way through to the 16th.
Tuesday 16th September
11am-3pm
The Body Shop
Get to know The Body Shop's latest products to drop this autumn during intimate sessions with its expert beauty consultants! Head down to the store where they'll share beauty tips, give you a makeover and explore new products such as Colour Crush Nails and the new Drops of Youth Eye.
6-7pm
Warehouse
Warehouse will be hosting Jameela in store for an hour on  Tuesday 16th September, giving customers the chance to  meet her and ask about her AW14 edit
8pm
Evans
Be the first to watch 'The Design Collective for Evans' catwalk show from the window of Evans' flagship store at Marble arch! Join them at 8pm on the 16th September to catch this exclusive fashion revelation!
Wednesday 17th September
5-6pm
River Island
River Island will be hosting a competition for 2 customers to win the chance to receive a £500 shopping spree with its secret ambassador (TBC) and it's in store styling team at our flagship Park House in London. The ambassador shall take the winners through the latest AW14 trends and pieces in store, and they will have the chance to spend their prize on the night. Complimentary tote bag will be given out to visitors on the night Design Forum Tote Bag. Their activity will also include an in-store DJ.
6-8pm
New Look
Stylishly solving the wardrobe issues of unpredictable British Weather, New Look has partnered with Glamour to host the ultimate autumn forecast style clinic to ensure 'come rain or shine' you will stay fashion savvy and on top of the trends! You'll be welcomed into the world of New Look's new season collection as Glamour puts together autumn looks for both males and females, share hero lines and pick out personal faves! There will be goody bags up for grabs for the 50 lucky attendees plus a chance to win your dream autumn wardrobe!
6 – 7:30pm
Primark
Hangout with Primark at a Q&A session with lecturer in Fashion Retailing Victoria, and from time to time you can catch her blogging on In The Frow; a cool blog about all things beauty and fashion! Get to know the  beacon of Fashion knowledge as she spills the beans on blogging, hauls, fashion trends and fashion courses. 15 lucky Primark and In the Frow fans and a friend will have a chance to attend this exclusive Q&A session at a secret London location. Plus each guest will receive an amazing Primark goody bag full of AW14 treats and a £100 gift card to spend in either of the Oxford Street stores at Marble Arch and Tottenham Court Road. For your chance to win a place enter your details at www.primark.com<http://www.primark.com>!
6pm
Miss Selfridge
Ever wondered how Miss Selfridge comes up with a killer premium collection like those amazing summer embellished dresses we all had our eyes on? Here's a chance to join Miss Selfridge Brand Director Yasmin Yusuf as she talks you through the inspirations, design process and more about what goes into creating its signature premium ranges. Plus be one of the first to see the new collection for Christmas launching exclusively at its Oxford Circus flagship store ahead of the nationwide launch in October.
Thursday 18th September
11am
Mango
Want to know more about the story behind fashionista favourite Mango? Join us on the third floor of its  store to hear Country Manager Karen Little talk you through the history of Mango, including how the co-owners brought this amazing Spanish brand to life. Plus you could bag a stylish new job as you will be given the opportunity to leave your CV and covering letter for various opportunities of all levels and departments within Mango.
3pm – 4:30pm
G Star
Get an exclusive sneak peek into the story behind G Star Raw's  'Raw for the Ocean'  project and collaboration with Pharrell Williams who is known for his amazing style as much as his music! Then you can have a nosey around the collection and try the pieces that catch your eye while sipping on G Star Raw's very own champers- yup that's right! It wouldn't quite be a celebration of Gstar Raw collaboration with Pharrell without being given a chance to win a pair of tickets for his October concert at the O2.
4-6pm
Simply Be
10 exclusive tickets are up for grabs for an afternoon with the editors at Look Magazine and the Simply Be team in their brand new flagship store on Oxford Street! To celebrate the launch of Look magazine's AW14 collection for Simply Be, they're offering a chance to win a must have ticket to this private style Q&A, and a browse through the collection whilst sipping on champagne! Winners will also receive two pieces of the Look collection of your choice, a luxury goody bag plus much more!
6-8pm
Pandora
Be in the know of the happenings at Harpers Bazaar as you settle into a discussion with its Retail Editor; Jo Glynn in the Pandora Lounge.
Friday 19th September
1pm
House of Fraser
The winner of the social competition launched on the 12th will be chosen by an expert judging panel, and will be mentored by the House of Fraser PR team in the run up to the interview on Friday 19th September in one of the stores plush personal shopping suites. After the interview Jasmine Guinness will then take part in a Q&A session on the shop floor for fans and fashion enthusiasts!
3pm
John Lewis
Join John Lewis for a style seminar with Amanda Seabourne, Co-Founder and Managing Director OF 'Damsel in a Dress' on Friday 19 September! Head to this event for insider information on the new AW14 collection and how to be the belle of every ball!
3-5pm
Coast
To celebrate London Fashion Week 2014 Coast are giving you the chance to attend a one-on-one style clinic with Coast Creative Director Neil Hendy, or Coast Head of Design Kim Elliot!  Between them, they share tons of industry knowledge and expertise, and are also talented stylists in their own right; so you know you'll definitely be in the right hands. One lucky winner and a friend will not only have the chance to spend an hour with their choice of director, but will also win a handy £200 each to spend in-store. This is an amazing chance for you to learn from one of the High Street's most talented creatives and get inside knowledge about Coast's new limited edition collection, launching in line with fashion week. To enter, email rsvp@coast-stores.co.uk<mailto:rsvp@coast-stores.co.uk> before September 12th with your choice of director and what you're most looking at getting out of the session! Remember to include a phone number so they can get in touch. Good luck!
4:30-9:30pm
Warehouse
Celebrating the Oxford Street Fashion Showcase in style, Warehouse 264 Oxford Street is opening up their exclusive VIP styling room for 10 lucky customers. This is your chance to win the ultimate in store styling experience with top stylist, Kate Rose Morris plus winners will walk away with their chosen outfit for free! To win a Warehouse Style Session tweet @WareStyle using #WareStyleSession to and tell them your style dilemma. Wait there's more, if you're one of the first 50 people to hit up Warehouse 264 Oxford Street on Friday 19th September from 4:30pm, you can pick up a personalised illustration on a free exclusively designed clutch bag.
Facebook, Twitter & Instagram: @Oxfordstreetw1
Visit http://oxstfashion.co.uk/ for the full campaign event schedule
Conversations around the launch can be followed using the hashtag #OXSTFashion